why it matters, what it means and where it is going
As the economic world turns upside down, the issue of trust – in business, governments, media and pressure groups in particular – has returned as perhaps one of the most urgent challenges of our time and one that has no borders. This can also be seen in the broader context of confidence – by customers, employees, shareholders, and also communities – in business policy and its translation into practice. Corporate Social Responsibility (CSR) has provided opportunities for companies to align their activities with broader societal expectations. However, there is still a view that this is window-dressing and does not go to the heart of the business.
There are many different definitions of 'corporate citizenship' and 'corporate social responsibility'. The Commonwealth Business Council (CBC) uses the term corporate citizenship with a definition developed from the work of the World Business Council on Sustainable Development: "Corporate citizenship is the commitment of business to contribute to sustainable economic development, working with employees, their families, the local community and society at large to improve the quality of life of all stakeholders". For the Federation of Pakistani Chambers of Commerce and Industry (FPCCI), CSR is "the strategic and practical link between inclusive development and economic growth realised by business behaviour that generates a trustworthy reputation with the commitment of key stakeholders. Its effectiveness is directly dependent upon an organisation's implementation of its values, corporate governance, business relationships and impacts".
According to the FPCCI, CSR should be viewed as an umbrella term for a variety of activities, which share the following features:
Companies have a responsibility for their impact on society and the natural environment, sometimes beyond legal compliance and liability of individuals.
Companies have a responsibility for the behaviour of others with whom they do business (for example, suppliers).
Business needs to manage its relationship with wider society, whether for reasons of commercial viability or to add value to society.
There are seven reasons why CSR matters:
Moral and ethical reasons-to 'do the right thing'.
Sustainability of the markets companies rely upon for income.
Brand image and reputation.
Employee/stakeholder motivation.
To enable the company to respond proactively to changing stakeholder agendas and be able to cooperate effectively under a range of business conditions.
To account positively on its performance to stakeholders in a way that will enhance the company's reputation.
To provide managers with a framework for managing the business in a more holistic
manner.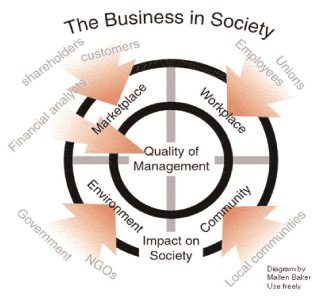 Stakeholders and Society
There is currently an almost bewildering array of international CSR initiatives. However, stakeholders such as governments, businesses, and civil society groups have identified a range of significant weaknesses in current approaches to promoting CSR. These need to be remembered as an increasing number of companies in Pakistan pursue a 'beyond philanthropy' model of CSR:
An over-proliferation of CSR initiatives at the international level and lack of clarity about how these initiatives relate to each other;
An excessive focus on getting businesses to make commitments to CSR and not enough focus on enabling them to implement them;
An absence of credible monitoring and verification processes;
A lack of effective mechanisms of redress for communities affected by companies that flout national or international norms on sustainable development or human rights;
A lack of engagement with developing country governments and their sustainable development priorities (for example, economic development and poverty reduction);
A failure to bridge the governance gap created by weak public sector governance of the private sector in many developing countries;
Limited impact on sustainable development goals; and
A lack of government involvement and/or investment in international CSR initiatives, which is contributing significantly to their underperformance.
Despite the volumes of paper and the number of events, the CSR (and corporate governance debate) in Europe and the USA while contributing to heightened awareness of the issues has significant drawbacks which are seldom acknowledged.
Eight Problems with CSR Today
1. Reputational risks of CSR advocates: variable standards and a lack of transparency by a growing number of (western) NGOs which undertake advocacy, consultancy and third- party auditing, all too often in tandem, continues to constrain confidence in the processes involved.
2. A lack of understanding of how corporate governance links to CSR: There is an imbalance in the CSR debate which fails to distinguish where CSR relates – and does not relate – to corporate governance. In this area recent developments by the CBC (see below) and also the OECD (cf. the Policy Framework for Investment) are of note. At the same time, the significance of developments in Asia, especially Japan, which links the two areas is being increasingly recognised. Moreover, in developing countries it is important to highlight not just why but how responsible behaviour and good governance can contribute to a more favourable investment climate.
3. A lack of understanding of what CSR means – and how it is perceived – outside a European / North American / Christian context: This has several dimensions. As Canon in Japan has noted, "the Anglo-Saxon debate on corporate responsibility seems to be centred only on their historical and social criteria, which naturally deal with Catholicism, Protestantism and Western European Individualism". In addition, there is a risk that a strong and sustained focus on China and India does not crowd out visibility for innovative practice – and an appetite to learn – in other countries in South Asia.
4. A weak understanding of the dynamics of international trade and how diversified exports from developing countries for supply chains of global companies can contribute to SME development and poverty alleviation: The private sector is the main driving force of industrial development in virtually all countries and – through changing patterns of international production, investment and trade – shapes the economic globalisation process. A vibrant private sector building on the combined strength, linkages and relationships between large, medium, small and micro enterprises, is an essential prerequisite for triggering economic dynamism, enhancing productivity, transferring and diffusing new industrial technologies, maintaining competitiveness, contributing to entrepreneurship development and ultimately poverty reduction, and reduced social and business risk.
5. A lack of sectoral specific context: A profusion of questionnaires from a growing number of (western) rating agencies with a 'one size fits all' approach for diverse sectors is resulting in questionnaire fatigue on the part of companies.
6. A lack of explicit focus on productivity: Traditionally, the productivity debate has focused on its input-oriented economic and technological aspects. This view is being increasingly challenged. The increasing focus on sustainable development, corporate governance, social responsibilities and ethics, and social auditing and standards represents a significant shift in the growth paradigm which acknowledges that social conditions also affect the rates of productivity growth. The approach of the Asian Productivity Organisation (APO), of which Pakistan and India are founder members, has helped to highlight the link between CSR and productivity in an Asian context.
7. An insufficient focus on capacity-building, training, and development, especially in developing countries: A unique gathering of global companies, major investors and international policymakers at the UN in Tokyo in November 2003 agreed that there has been too little focus in CSR and governance in these areas. Management education can play a critical role – by building the human capacity and management capability. Events on CSR and corporate governance, whether in Europe or Asia where experts parachute in with set piece presentations and negligible understanding of context, are no substitute for activities which build the confidence and trust as well as develop the capabilities and harness the creativity of those directly involved, especially decision-makers among policymakers, companies, and investors from developing countries. In this, a trusted regional inter-governmental intermediary such as the APO which now spans a range of 20 Asian countries is key and much-needed. The SAARC Chamber can also play a role in sharing knowledge and building capability at a regional level.
8. An industry which has issues with training, quality, transparency, and measurement: Although now changing, many people who work in CSR – as suppliers and consultants – often lack a sufficiently broad or deep private sector background and are too often from NGOs or academia.
However, it is clear that the CSR agenda also has some important strengths:
The high levels of commitment shown by some key leadership companies;
The capacity for innovation and openness to change shown by a range of international CSR initiatives;
The openness of leadership companies and CSR initiatives to working in partnership with a wide range of stakeholders; and
The growing recognition that a CSR agenda must address public sector governance issues and scale up the impact of CSR activities to improve the delivery of sustainable development at a systemic level.
The elephant in the room is getting bigger
There is one area where CSR – certainly as perceived in the West – has too long been ignored but where alienation, articulation and anger make this no longer possible: minority rights and status. As Amartya Sen, a Nobel laureate and chair of the Commonwealth Commission on Respect and Understanding (2007) said, "civil paths to peace also demand the removal of gross economic inequalities, social humiliations and political disenfranchisement, which can contribute to generating confrontation and hostility".
The business case for connecting CSR to the status and empowerment of minorities is clear – it is based on moral fairness, the need for social stability and cohesion but also recognises that as economic power shifts, India and the UK will need to connect more, not less, to centres in the Gulf and beyond. As the CBC Guidelines on Business Principles (2007) made clear, "a wide perspective is now seen as essential for directors of high performing boards in which diversity is not just desirable in itself but also for ensuring an organisation is better equipped to leverage opportunities from changing trading relationships in emerging markets". By showing leadership in this area, international and local companies can change a reputational risk into a reputational opportunity.
Reference
-A. Zaman, 'Made in Japan – Converging Trends in Corporate Responsibility and Corporate Governance,' Royal Institute of International Affairs, London, 2003. See: www.chathamhouse.org.uk/publications/papers/download/-/id/137/file/3110_madeinjapan.pdf
-SustainAbility Gearing Up (report for UN Global Compact Meeting 24/06/04)
-UN report available at:-
www.henleymc.ac.uk/henleyres03.nsf/files/CORR_ReportUNIDO_041103.pdf/$FILE/CORR_ReportUNIDO_041103.pdf. Meeting supported by UK Embassy in Japan, UN, Cable & Wireless, Japan Business Council in Europe and Reuters.