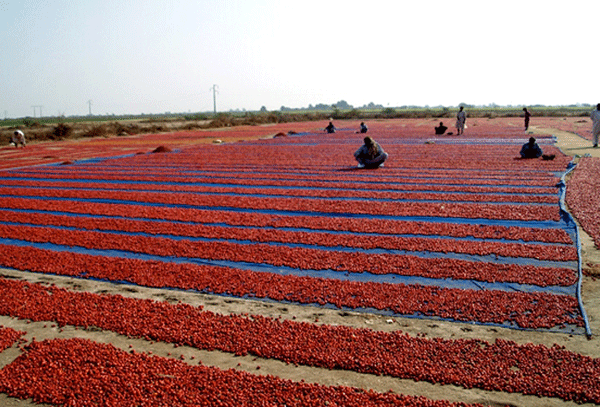 Introduction
Red chilies are widely used in South-Asian cuisine since last many decades. Unfortunately red chillies in Pakistan undergo Aflatoxin contamination, which can occur in the fields during the process of harvesting, post-harvesting, drying and storage. Aflatoxin is produced by fungi growing on the chili plant and fruit, and is carcinogenic. At least 13 different types of Aflatoxins exist where Aflatoxin B1 is considered the most toxic. Pakistani chili powder is failing international tests due to high levels of Aflatoxin, resulting in loss in export potential. This study addresses the Aflatoxin issue pertaining to red chilies in Pakistan, highlights the effort of National Foods Limited to address this problem, the importance of Chilies as a commercial product and results of research work done in Kunri field. It is expected that this study will help in alleviating this problem and give readers a clear idea of feasible solutions.
World market for chilies
India is the largest producer of chilies in the world contributing 25 percent of the total world production, of which only 4 percent is exported because of high domestic consumption. Besides India, other major producers and exporters are China, Pakistan, Morocco, Mexico and Turkey. Major importers of chilies from Pakistan are Gulf States, the US, Canada, Sri Lanka, the UK, Singapore and Germany. It is exported in different forms that are: fresh chilies, stalk less chilies, chili powder and oleoresin, as another form.
Export of red dried chilies from Pakistan has declined from Rs1.127 billion (during 2003-2004) to Rs846 million after European Union food authorities have detected the presence of aflatoxin (Pakistan Horticulture Development and Export Board (PHDEB). Its production fulfils 88 percent of the country?s requirement. Chili not only meets domestic consumption but also helps in earning foreign exchange. The potential for increasing exports of whole, powder and crushed chilies in consumer packs is very high, provided we meet the stringent quality requirements of importing countries by preventing contamination from external sources during harvesting, post-harvest handling, processing and storage.
China, India, Spain and Peru are the largest producers and exporters of chilies with the export market share of 27%, 16%, 11% and 9% respectively in the world. The value of total import for this product in the world is estimated to be US$ 602,343,000.
The Aflatoxin issue
Aflatoxin belongs to a group of fungal toxins known as myco-toxins. It was discovered some 30 years ago in England following a poisoning outbreak causing 100,000 turkey deaths. Mycotoxins have received considerable attention due to their significance in agricultural loss and human health. Amongst the mycotoxins that are known to cause human diseases, aflatoxins have been studied the most.
Aflatoxin poses a potential threat to food safety. As aflatoxin is epidemiologically implicated as carcinogen in humans and an environmental contaminant which is widespread in nature, it?s possible chronic toxicity is of greater concern than acute toxicity.
Aflatoxin maximum allowable limit
Aflatoxin maximum allowable limit (in Parts Per Billion ? PPB) in regulation of various countries is given below:
USA 20
CANADA 15
EU 05
BRAZIL 30
AUSTRALIA 15
JAPAN 10
CHINA 10
INDIA 30
IRAN 10
MALAYSIA 35
In Pa1kistan, the Aflatoxin level in chilli crop varies from 02 PPB to 100 PPB. With this level of Aflatoxin; we cannot compete in the international market. A lot of work is required to improve the quality of chilli crop.
Role of National Foods Limited
NFL is Pakistan's largest single purchaser of raw-red chilies, an essential ingredient for many of its products. As part of its Sustainability Strategy, NFL has undertaken a planned effort, starting at the grassroots level, to support quality improvement and enhanced production of red chili in Pakistan. The initial stages of this effort include knowledge sharing and trust building activities. National Foods played host to a large group of chili stakeholders in Sept 2008 – including chili growers, research specialists and concerned NGOs.
NFL has pioneered post-harvest techniques to reduce Aflatoxin levels in red chilies. The company developed a Value Chain Empowerment business model for red chili detoxification and modified drying. The objective of this business model is improvement in the quality of red chili and in production and expansion of Aflatoxin-free chili in the country. As part of its sustain-ability strategy, linkages were identified and developed, between the company's growth and stakeholder engagement, with the objective of bringing sustainable economic benefits to the wider community. NFL has gone through a lot of effort to understand and solve the Aflatoxin problem. One of the techniques, using geo-textiles, proved to be a success.
Geo-Textile Pilot Project
Objective:
To eliminate or reduce Aflatoxin to minimum levels without compromising other quality parameters like color and pungency. The project was run on Lab scale for a three months period and validated in field (with collaboration from a large Kunri farmer) during the two month harvesting period.
Fresh chili was spread on geo-textile on muddy floor while parallel fresh chili was spread on muddy floor as conventional practice is conducted in Kunri fields. Validation part was conducted over a 150 square yard area (with and without geo-textile blue cloth as seen in the photo on page 18)
Commercial Scale:
Then the geo-textile experiment was run on commercial scale for approximate 80 MT, shipment was sent to England in January 2010.
Results
Internal Test Report of National Foods Lab showed the chili powder sample to be within EU limits for Aflatoxin & microbial contamination.
Report from PCSIR (Government accredited Lab) showed the chili powder sample to be within EU limits for Aflatoxin and Pesticide Residue.
Report from CAMPDEN BRI EU lab Research showed the chili powder sample to be within EU limits for Aflatoxin.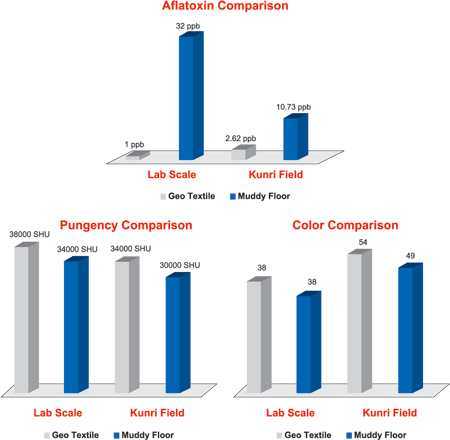 First export of test product:
A chilli powder shipment of 20 tons was sent to England in January 2010. Test results from receiving port came at the end of February 2010. The shipment passed the required Aflatoxin levels! To conclude, the techniques successfully pioneered by NFL need to be reapplied on a wide scale with the help of the local farming community. Additionally, Pakistani Food Laws should bring the allowed Aflatoxin levels at par with inter-national standards, including India and the EU.