The 'business case' for CSR is a leading topic of discussion within the larger CSR debate, all over the world. It is encouraging to note that several companies in various different countries have moved well beyond discussion, into planning and implementing strategies to embed CSR into business operations. Many in fact are already even reaping the benefits. If CSR reporting is any indicator, the figures for CSR reporting amongst the top 100 companies are nearly 90% in the UK, over 80% in Japan and about 60% in the USA. It is a rapidly growing trend that is by no means restricted to these 3 countries, and even in some Asian countries like Malaysia, CSR reporting is mandatory for all public listed companies.
Whether CSR reporting is mandatory or voluntary, the strategy for embedding CSR into the business which precedes reporting, needs first of all a well-researched conviction that this is needed and beneficial. Conviction leads to commitment, which in turn spells the success of the 'business case' for CSR.
This article, while not a case study per se, examines how one company in Pakistan is driven by such a commitment and is undertaking a project that aims at significantly reducing its environmental footprint, while paying back into the company directly.
It is an excellent example of the business case for CSR, which other companies can also follow, developing their own models in line with their own businesses.
Tetra Pak Pakistan, a group company of the world?s leading food processing and packaging solutions company, Tetra Pak, started its operations in Pakistan 29 years ago in 1982. The growth since then has been quite spectacular. And in March 2011 Tetra Pak Pakistan commenced production at a new state-of-the-art factory, set up with an investment of nearly Euro 100 million. Throughout this growth period, the company has ensured that its business runs in an environmentally sound and sustainable manner, believing in "responsible industry leadership, creating profitable growth in harmony with environmental sustainability, and good corporate citizenship." This business ethos of course comes down from the parent company which has for long followed a triple bottom line approach to its business.
For example, in line with its Environmental Policy, Tetra Pak has instituted forestry guidelines. The ultimate goal is that all wood in the paperboard the Company buys comes from forests independently certified as responsibly managed. It has an engaged approach and has made voluntary commitment to the European Union to combat illegal logging. The company is making continuous efforts to develop more sustainable models of consumption and production. For consultation and implementation of forestry programme, Tetra Pak is associated with organizations like WWF, Forest Stewardship Council (FSC) and the High Conservation Value Resource Network (HCVRN).
To analyze the impact of packaging and processes throughout the supply and consumption chain, the Company uses scientific procedures like Life Cycle Assessments (LCAs), generally known as cradle-to-grave assessment. Recycling is one of the techniques implemen-ted by it to reduce its environmental footprint. Paperboard supplied through sustainable forest with necessary strength and stiffness is used to produce packages. After consumption, these cartons are collected and delivered to paper mills. Fiber and poly aluminum are separated and then recovered fiber is used to make printing paper, paper bags, tissue paper, liner-board for corrugated boxes and other similar products. Tetra Pak sets ongoing targets for increase in recycling and recovery of its cartons. Over 27 billion Tetra Pak cartons were recycled worldwide during 2009.
In Pakistan, Tetra Pak has initiated and supported used beverage cartons recycling projects for a number of years, even going on to win the Environmental Excellence Award at the prestigious Asian CSR Awards in 2009 for its recycling initiative. Now Tetra Pak Pakistan is focusing on an area, reduction in energy usage, which is deeply significant for a number of reasons. Not only is this the 'need of the hour' all over the world, especially for high energy usage businesses, it is particularly vital in the Pakistani context, where the country is facing a huge shortfall of energy of 3000 to 4000 megawatts, or about 25 percent of demand, and with no long-term solution in sight. Any business that works towards significantly reducing its energy consumption is therefore doing a national service. Then, globally too Tetra Pak has been continually working towards reducing energy usage and in 2009 Tetra Pak reported to have accomplished 25 % improvement in energy efficiency from 2002.
Following this global lead, Tetra Pak Pakistan conducted thorough scientific research into its energy usage, both at its factory and its head office, to identify various opportunities of energy conservation. This initiative to drive environmental excellence was incepted during January 2011.
The core idea behind this study was to understand the current status of energy consumption, identify possibilities to conserve energy and recognize possible alternatives, all with the objective of formulating internal guidelines for energy consumption and conservation.
Methodology:
Two separate teams were constituted for the work at the factory and the head office. Each team comprised of three people who were in charge of three separate divisions, named illumination study, load flow study and photovoltaic study.
Considerable thought and planning went into deriving the methodology for this study. The first step was to comprehend the situation and collect data. Accurate data collection in fact proved to be biggest challenge faced by the team, but it was clear that without accurate data, the whole study and its findings and recommendations could be severely compromised. Although standard procedures were used to analyze the energy audit reports, load flow and light level; the research team initially faced difficulty in making modifications which were required to plug in various instruments for data collection.
At first the internal energy guidelines of Tetra Pak were thoroughly examined. Then load flow study for consumption dynamics and energy audit reports were evaluated. For the head office previous electricity bills were taken into consideration. Research was conducted to ascertain various options of alternative energy. Later on the team decided to focus on solar energy as Lahore?s wind velocity of 5.4 m/s is insufficient for wind power generation.
Data management:
Energy analyzers were utilized to record and collect data which was later tabulated on Excel sheets. Accuracy was ensured by using calibrated instruments. Results were measured and calculated through physical measurements at different intervals.
Analysis:
Currently the factory has a yearly electricity consumption of 20,545,500 kilowatt ? hour (KWh), while the head office consumed 536,880 KWh during the previous year. These figures equal to 10.40 kilotons and 242 tons of carbon dioxide footprint respectively. The yearly expenditure was calculated to be Rupees 257,747,300.00 for the factory and Rupees 6,312,122.00 for the head office. Through close examination, the team found out that the laminator at the factory was consuming the most energy at 46 percent of total consumption.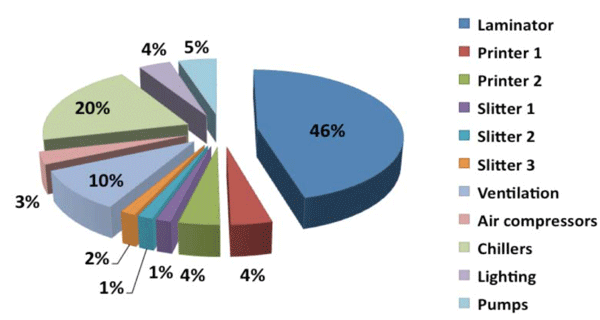 Chillers were the second highest energy consumers on the list. Further breakdown of energy
consumption at factory is given in the graph (page 15).
Following data collection, evaluation and analysis, specific measures were recommended by the project team to reduce energy consumption without affecting operational efficiency, thus reducing the environmental footprint of the company and bringing about savings in costs for the Company. The measures recommended included:
1.Improving chiller set point:
Chillers are refrigeration systems used to cool a process fluid or dehumidify air in commercial and industrial facilities. When used recklessly, chillers have high level of ozone depletion potential (ODP) and global warming potential (GWP). To minimize such effects, the project team of Tetra Pak suggested that the chiller set point must be fixed at 12 degree Celsius, from the previous setting of 10 ?C. This one step alone was calculated to result in a saving of 345,000 KWh every year in electricity consumption and a cost saving of up to Rupees 4,347,000.00. And equally significantly, it would result in a decrease of 172.50 tons of carbon dioxide (CO2) emission.
2. Installation of movement detectors & light level optimization:
Over designed lights scheme was resulting in extra heat and high energy consumption at both the factory and the office. After evaluation it was discovered that the required lux level was 500 for both sites, whereas the current lux level was between 1200 and 2000! Lights load in the working areas at factory was 30 KW. The team realized that there is a good possibility to take off 10 KW lights load without compromising the luminance level. It was therefore proposed that by switching off extra lights and installing movement detectors at factory, the Company would be able to save 450,000 KWh energy and Rupees 5,670,000.00 every year. Additionally, 225 tons of CO2 will be reduced, ultimately contributing to the overall effort of minimizing the environmental footprint. For the head office it was concluded that by switching off energy saver lamps 29,040 KWh energy would be saved and 13.10 tons of CO2 would be reduced.
3. Compressed air optimization:
Improving the efficiency of air system was identified as another area where saving in energy was possible. The study concluded that reducing leakages and positioning the set point at 6.50 bar instead of the present 7 bar will help to conserve 360,000 KWh of energy and Rupees 4,347,000.00 per year. It will also cut down 172.50 tons of CO2 emission.
4.Regulating air-conditioning usage:
Multiple types of air-conditioning units were consuming 54-60 percent of total energy. Therefore following preventive actions were recommended:
a.Standardizing set point at 26 ?C will help save 36,000 KWh and contribute to reducing 16.20 tons of CO2 emission.
b. Improvement loading versus occupancy of 1 hour will save 1,880 KWh and reduce 5.40 tons of CO2.
c.Reducing off-time loading to critical need was estimated to save up to 33,264 KWh and reduce 15.0 tons of CO2.
5. Alternative energy:
As discussed earlier, Lahore, the city where Tetra Pak Pakistan has its factory and head office, has a wind velocity of less than 5.4 m/s which is not feasible for wind power generation.
Photovoltaic (PV) systems which use solar electric panels to directly convert the sun's energy into electricity for the day-time need, excluding air-conditioning load, was found to be a better option, as the average peak sunlight available in Lahore is 5.5 ? 6.0 KWh/m? per day. In summer, it goes as high as 6.0 to 6.5 KWh/m? per day, and in winters it can come down to as low as 4.5 to 5.0 KWh/m? per day. The team advised that by shifting to alternative power generation options, Tetra Pak would be able to save Rupees 20 million annually.
The total investment required for installing photovoltaic systems was estimated at Euro 1 million, with the payback period for this investment estimated to be 15 years for the factory and 20 years for the head office. With photovoltaic system CO2 reduction would be 284 tons and 45 tons for the factory and the head office respectively.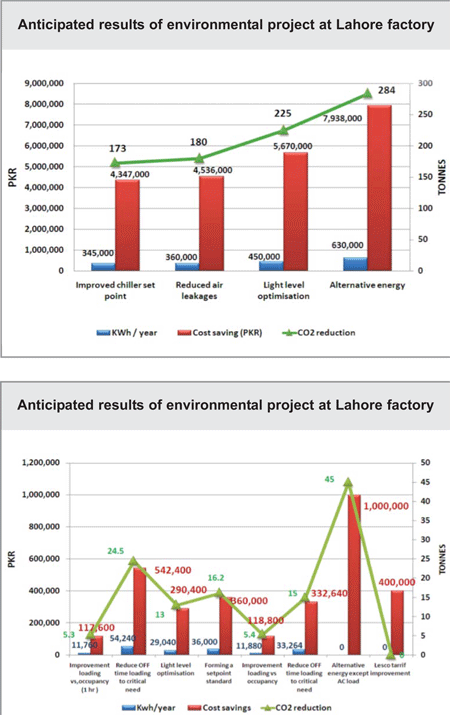 Conclusion:
The environmental study carried out by the designated team has far-reaching and long-term positive benefits for the Company. It is fully in line with Tetra Pak's global approach to business as summed by Dennis J?nsson, President & CEO, Tetra Pak Group in these words: "the key areas of focus for us are customer satisfaction, employee well-being, human health and safety; facilitating increased recycling in order to obtain value from used packages; the choice of materials and energy, and the total environmental footprint left by our products."
The study has now been presented to the management for budget approval and initiation of the recommendations. A WCM team will be formed to monitor the results once the implementation of the recommendations commences. If all the recommendations are followed up, the savings in energy consumption, carbon footprint and costs will be substantial, at 1,961,184 KWh, 986.4 tons and Rupees 25,652,840 respectively.
This environmental project has a clear triple bottom line base, relying on active participation for its success on the company's employees and resulting in both quantifiable and qualitative
benefits for the Company, the environment, the society and the country.