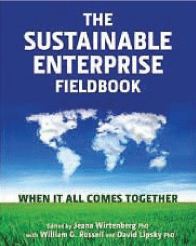 "In the world of today, managers and leaders of organizations, in both the private sector and civil society, are being challenged as never before to find ways to play a pro-active role in addressing the concerns of sustainable development". They are often overwhelmed by a shower of conflicting messages from the media, shareholders, customers, employees, and NGOs.
The Sustainable Enterprise Fieldbook is useful for managers as it teaches them how to strike a better balance, moving from an "either/or" mind-set to one that holistically embraces social, environmental and economic issues simultaneously.
The Sustainable Enterprise Fieldbook, a realistic and practical hardback, has been put together by an outstanding assortment of experts from business (Microsoft, Sony, Philips, and AIG), consultancies, and academia. It has been edited by Jeana Wirtenberg [PhD] with William G. Russell and David Lipsky [PhD] in collaboration with The Enterprise Sustainability Action Team. Its aim is to teach and guide leaders, managers, practitioners, students, and professors in every sector of society, and in every industry, to create a successful and sustainable enterprise.
Each chapter demonstrates – through models, tools, cases, stories, and examples from a wide range of companies – how to integrate sustainability into the day-to-day realities of running a business.
Managers are coached, facilitated, and guided to enable them to create a better balance between the short and long-term, to help them become change agents in their organizations and to provide answers to the question 'How do I make a difference?'.
The Fieldbook begins with Part 1, titled 'Understanding Reality', which includes an inspiring introduction and overview. It is stated that the book captures the essence, energies, experiences and best practices that emerged through the collaborative efforts of our community of co-authors. The purpose of the book, how to use it, current reality [the true condition of our world today], sustainability practices, etc., and an overview of the book, part-wise, can be found in this section of the book.
In Section 2, titled 'Preparing the Foundation for a Sustainable Enterprise', John D. Adams describes Mental Models as "the constructs we bring to any situation that we are attempting to impact. They include what we know – what we value – what we believe – what we assume – out of which emerges a context for action or inaction'". A case study [Appreciative Inquiry case study: Executive MBA candidates] is cited by Theresa McNichol.
Appreciatibe Inquiry (AI) focuses on assets, resulting in the uncovering of a wealth of latent talent and creativity that was just waiting to be tapped. Using AI, individuals in systems start to work beyond mere function and co-create an entity that excels.
Section 3 focuses on the topic of 'Developing a Sustainability Strategy'. In essence, this chapter defines the unique qualities of sustainability strategies, lays out the business case for corporate sustainability, provides examples of customized ways in which firms are pursuing a sustainability advantage, and describes a seven-step model for structuring the sustainability strategy formulation process.
Part 3 of the book, titled 'Embracing and Managing Change Sustainability', features sections on managing the change to a sustainable enterprise, employee engagement for a sustainable enterprise, and sustainable enterprise metrics and measurement systems.
Part 4, titled 'Connecting, Integrating, and Aligning Toward the Future', features sections such as Sustainable globalization and Transorganizational collaboration and sustainability networks. Sustainable globalization represents a breakthrough and a fundamental change in how people approach doing business in a global world in the 21st century.
Part 5 is the final part of the book and it includes one section: 'A New Beginning – When it All Comes Together'. Written by Jeana Wirtenberg, David Lipsky and William G. Russell, they talk about arriving at a new beginning, which "contains the crucial possibilities of creating a sustainable future; success is our only option". The writers discuss the common threads that run through the entirety of the book that hold some keys to accelerating the progress of sustainability. They also discuss sharing of the Sustainability Pyramid with the readers, which was developed as a part of a study of the world's most sustainable companies.
The Sustainable Enterprise Fieldbook offers an ingredient that has been missing in the vast outpouring of information on organizations and sustainability: a holistic integration of solutions, which will make the journey personal for each reader. It is comprehensive and focuses on the human side of sustainable enterprise. It is a must-read for anyone trying to make sustainability happen in the real world.