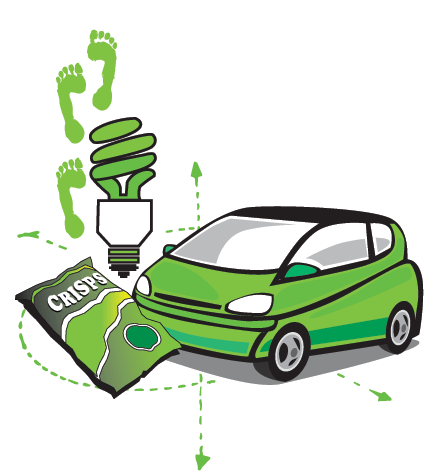 Business is turning green globally. From cars to credit cards to light bulbs, and even potato chips, environmentally-friendly versions of products and services loved by consumers for decades are hitting the market. Driving the trend are two key factors: consumer demand for green alternatives and increasing stakeholder scrutiny of companies' environmental footprints.
Recent examples include Toyota's stunning success with the Prius hybrid car which has prompted all major automotive manufacturers to launch plans for green cars, HSBC's green credit card launched in Hong Kong made from recyclable plastic and donating a portion of purchases to an innovative programme providing schools with green rooftops, and Walker's potato chip packets stamped with Carbon Trust logos indicating the company is working to reduce its carbon emissions. Every major light bulb brand now offers an energy-efficient alternative.
These products and services are underpinned by a nascent yet budding green awareness among consumers, at least in developed market segments. It is a movement which is in full bloom in developed Western markets such as the US, Europe as well as Australia and already shifting into wealthier developing economies in Asia such as Hong Kong, Singapore and even China. In the next phase, over coming years the "green as a lifestyle" trend will transition and take firmer hold in South Asia including Pakistan. The trend is important because consumers are making behavioural changes based not only on responses to growing environmental threats but because it is developing a fashionable appeal, making it hip to be green. Already leading Hollywood celebrities such as Leonardo DiCaprio and Brad Pitt are championing environmental issues in a serious but sartorially-appealing manner – not to forget Mr. Schwarzenegger with his hydrogen-powered Hummer. It won't be long before more Bollywood stars take up the green cause.
It all makes good business sense. Green products are often sold at a premium, both for the added value cycle and to compensate for the higher costs associated with mitigating environmental impact and complete life cycle considerations. Market research suggests that consumers are willing to pay a higher price for socially-responsible products; however, this can only be quantified through in-market testing. A BBC poll of 22,000 people in 21 countries (of which Pakistan was not one) found that people in developed economies are willing to make lifestyle changes to support green products and green taxes to tackle environmental problems such as climate change. The survey, carried out by GlobeScan, found high levels of support for green taxes. Furthermore, the survey found that "83% of respondents accept they will definitely or probably have to make lifestyle changes to help tackle climate change, while a majority in US and Europe are resigned to increased energy costs as a primary means of limiting global warming". Such attitudes are increasingly effecting consumers purchasing decisions, due to the rise in public concern and activism around climate change.
Companies must proactively adapt to these blatant realities – the sooner they do, the more competitive they become.
With this ever-growing focus on climate change, consumers are also examining energy efficiency as a product attribute or as a factor in their purchasing criteria. According to a ReputationZ study conducted by Hill & Knowlton and market researchers Millward Brown in late 2006, climate change headed the list of issues consumers in the UK have heard a lot about recently. It is in this environment that companies and brands recognise the opportunity in seeking to build or enhance their bonds with green consumers.
The greening trend is not just occurring at the brand or product level, it's increasingly being viewed by companies as a responsibility – and an expectation of stakeholders, including a growing group of financial investors. Amid concerns about global warming, NGOs, media, the public and some governments even are putting pressure on corporations to reduce their carbon emissions. At the same time, executives are realising that a green corporate positioning can actually be good for the bottom line. The benefits are twofold: long-term cost savings from lower energy consumption and increased goodwill among stakeholders including consumers and government. This trend is driving investments in energy efficiency, and innovation towards the path of creative solutions.
Awareness of the need for action is strong but when it comes to eco-efficiency there is much work to be done. A Hill & Knowlton survey of 420 senior executives from China, the US, Canada and the UK in 2007 found that while a majority of senior technology leaders from around the globe (82%) closely monitor the issue of global warming, most do not have a defined energy strategy to deal with it (65%). The risk is clearly evident and winners will be those who seize the opportunity while it remains an opportunity – it is already an undeniable risk for many players.