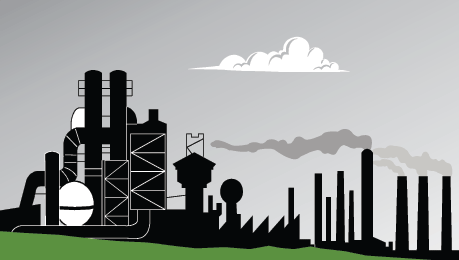 It is now a well known fact that we, humans, are systematically ruining our planet by disregarding the damage done by industrial pollution and our wasteful life style.
An average car, with a 1000 cc petrol engine, produces about 160 grams of greenhouse gas carbon-di-oxide (CO2) per km, besides many other pollutants. Our inefficient power plants tend to ensure that we produce more than 1 kg of CO2 whenever we use only 1 kW (power) load for one hour (typically, a single 1.5 tons air conditioner uses 3 kW). And this is not taking into account the very high line losses of our utilities which would increase CO2 and other pollutants further by 30%. (Line losses are power transmission and distribution losses mainly due to overloading of power cables and transformers)..
In November 2006, the then-Government had taken a bold step in approving Energy Efficiency and Conservation Laws, by acceptance of the fact that energy efficient applications would be given priority when sanctioning our heavily subsidized Sui gas supply. Even though these were approved in the Economic and Co-ordination Committee of the Cabinet (ECNEC), no notice was taken by anyone and the authorities continued to sanction gas for extremely inefficient installations.
We cannot remain oblivious to the basic need of reducing our CO footprint, especially when emitted from industries and commercial buildings. Concerned publishers on the other hand are printing books (even Harry Potter) on certified paper made from well-managed forests while large stores are asking suppliers to reduce packaging material.
Our entrepreneurs cannot afford to continue to ignore even the most basic, common-sense approach to environmental awareness. We use the world's most polluting sources, furnace oil and coal as an economical source of energy, without calculating in the real costs to ourselves and the society we live in. Though coal is basically used by most cement plants, furnace oil is used by most WAPDA/PEPCO and private power producers, accompanied by some industries that have not been able to get gas supply.
Worse still, these highly polluting fuels are used in extremely poor efficiency processes, thus compounding the problems of environmental degradation – and resulting in considerable health costs and loss of production due to poor health and absenteeism.
Biggest Polluters: Furnace Oil Power Plants?
The biggest polluter prize could perhaps be given to power plants fired by furnace oil. Most of our local furnace oil based power plants are of a low-efficiency type with high CO2 emissions, in addition to other pollutants. Most of our furnace oil in use is imported, which often has a high sulphur content. However, in Pakistan, these plants tend to lack desulphurization units.
The result is enormous damage to the environment, with really no solution in sight since these power plants have been designed with a disregard of even minimum environmental protection.
All low-efficiency furnace oil power plants will have to be 're-powered' to accommodate a combined cycle design, with a change of fuel to gas if the pollution levels are to be controlled in the long term (and short term).
This gas, in turn could be sourced from our nation's planned pipeline gas or future 'coal-gas' from Thar coal.
Thar: Must Be Pivotal Point of Our Energy Planning
The solution to our energy dilemma has been with us for many years but various lobbies with seemingly vested interests in the import of furnace oil have ensured that till now our own vast coal deposits at Thar are ignored.
As a side – had Thar coal been developed with sensible technologies, all talks of huge hydel power projects (involving enormous environmental complications and very high costs) would have become redundant.
Now that Thar must become the pivot of our future energy planning, we have to be careful how we use our low-quality coal since both coal mining and coal-based conventional steam power plants could very well materialize into a nightmare for anyone concerned with the ensuing high pollution levels.
Real progress towards energy security and environmental protection can come only when both the government and private investors confirm the development of environmentally acceptable coal-bed methane for power plants. For those aware of the gas supply network in the UK in the 1960s (when North Sea gas fields had not been discovered), the base was "coal gas" – which met their requirements for many decades.
The advantage of coal-bed methane for power plants is that they provide energy security from our own vast energy source, early initial power plant installation at the best location with minimum requirements of water (very scarce resource in this area at present) and a possible up-gradation to combined cycle power plant operations when an on-site economic water source becomes available.
Second Place:
In-house Power Plants Average at 1/3 Utilization Not lagging behind in environmental damage are the hundreds of in-house power plants being operated by many industries and large commercial buildings, all over Pakistan. Although it is difficult to estimate the number of in-house generators installed in various industries and large commercial buildings throughout the country, the writer believes it is safe to state that these are producing around 1000 MW of power. Almost all of these power plants are, again, low-efficiency types, with only one-third fuel energy being utilized. To top that off, they spend further, considerable energy and scarce water to get rid of the remaining two-thirds of waste heat.
How can an energy-deficient country and its struggling economy sustain these power plants? The results are there for everyone to see: exorbitant costs of production despite heavily subsidized gas supply, making our products uncompetitive.
Just as importantly, they cause serious environmental damage, which again in turn begets significant health-related costs.
Third Runner Up: Industrial Steam, Hot Water Production Installations
Similarly, inefficient production of steam and hot water in industries and large commercial buildings is another major source of air pollution – and increased costs. The American Society of Heating, Refrigerating & Airconditioning Engineers (ASHRAE) estimates that a typical gas-fired fire-tube boiler for a 10 ton-per-hour steam output consumes the same amount of gas as a Cogeneration System would use for the production of a 10 ton-per-hour steam output – but, with an additional 3 MW of power generated, 'free' of any extra fuel costs. Since no data is available specifying the availability of Sui gas to conventional boilers for steam and hot water production, it is difficult to quantify how much total power (free of additional gas, and thus free of additional pollution) could become available, but this figure could be estimated at around 1000 MW. Investments for additional power (free of gas costs) would normally have a simple payback period of 3-4 years. In some cases, especially in composite textile units operating 24 hours, 7 days a week, this period could be as low as 2 years.
Our latest grandiose living philosophy has resulted in acceptance of chilling indoor environments in summer as opposed to perhaps sensible airconditioning in essential areas only, resulting in a magnitude of wastage which even rich countries can not afford. Even the country-of-plenty is ensuring energy and water efficiency. Moreover, green buildings are often the norm for new industrial construction in developed economies, based on basic feasibility analyses.
However, almost all Pakistani air-conditioning applications are based on inefficient technologies. This applies to industrial process requirements or large commercial buildings for offices, hotels, hospitals, airport terminal buildings and so on. Most of these airconditioning applications use very low efficiency systems and these cause environmental havoc, besides exorbitant costs of energy – costs that are still rising, beyond currently unacceptable levels.
All is not lost though; there are some examples of responsible environmental behavior that can match the very best anywhere. When a major car assembly plant in Karachi decided to add indoor environment temperature and humidity controls in their paint shop, they did not follow the "norms" by adding over a thousand tons of cooling, using inefficient chilling and heating processes which would have wasted considerable Sui gas supply, besides resulting in increased pollution levels and costs. They insisted that the entire indoor environment conditioning should be achieved through utilization of waste heat from the planned power generators and this cogeneration system should ensure CO2 depression in considerable quantities compared to conventional KESC supply and gas-based central air-conditioning system.
Similarly, a large Pakistani bank chose to install an efficient cogeneration system in their main office in Karachi to ensure economic generation of power and production of chilled water for central airconditioning in an efficient manner and thus considerably reduced their CO2 footprint.
These are excellent examples of CSR since both positive economics and environmental protection were addressed, perhaps beginning with commitment at the highest corporate level. While soaring energy costs were arrested in these examples, the consequent pollution and social costs were mitigated simultaneously: the inherent, big-picture harmony that CSR is all about.