Business Ethics is quite simply applying the basic principles of ethics in the realm of business where profit is the key consideration.
By Dipankar Gupta
Publisher: HarperCollins India
216pp. Rs. 395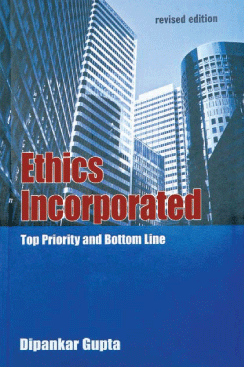 Globally, Business Ethics has been a much talked about term recently and efforts have been made to even incorporate it in the syllabus of business administration courses. What is the concept behind Business Ethics? It is a practice which should be perceived by employees as something which they can incorporate in their everyday routine – it should not be constituted as a means of control by management. When a company stresses on conformity rather than principles, it does more damage than healing.
These are some of the underlying concepts explored in detail in the book "Ethics incorporated – Top Priority and Bottom Line" authored by KPMG's Dr Dipankar Gupta. It demonstrates how ethical business practices are not only good for the bottom line, but also for employee morale and productivity. This book inspects business ethics from an organizational perspective and will do well as an introductory book on the subject for students, executives, managers and leaders.
The author, Dr Dipankar Gupta, heads the business ethics and integrity services practice of KPMG in India and has been associated with the practice since its inception in 1999. Dr Gupta has been influential and active in setting up business ethics systems in domestic and multinational companies in India. He has also taught at the Jawahar Lal Nehru University and Delhi School of Economics. Dr Gupta has also been a researcher and teacher abroad. He acted as the Visiting Leverhulme Professor at the London School of Economics and as the first occupant of the Visiting Asia Chair at Institut D'Etudes Politiques de Paris in 2004. Dr Gupta has written over 10 books on various social and political issues and is also the author of articles that have been printed in scholarly journals in India and abroad.
His book "Ethics Incorporated – Top Priority and Bottom Line" gives a keen insight on the basic principles of corporate accountability and ethics. It carries practical and interesting examples drawn from European, U.S and various Indian companies. Dr Dipankar Gupta has done a praiseworthy job in discussing issues such as corporate governance, corporate social responsibility, as well as the connection between business ethics and social reform. Even though he writes specifically for Indian companies, the lessons that surface are globally relevant.
In general, elevating the standards of business and bringing business ethics to the forefront is what books such as Gupta's will help do in the long run. The book speaks in depth about the strains of contemporary competition that make it vital for top executives to secure popular acceptance to norms and practices within an organization. Several useful guidelines are also included in the book, to help executives on a number of significant issues ranging from how to design a mission and vision statement, to the making of a Business Ethics manual, as well as to the mapping and calibration of existing attitudes, feelings and values of co-workers within the organization.
The book emphasizes that the context of corporate leadership has altered enormously in modern times. Leadership in today's day and age requires skills which were not standard in the past. Thinking in terms of ethics is equal to thinking leadership and therefore it is vital that business ethics programmes be driven from, and at the top level. KPMG's support to this book shows their commitment towards incorporating strong ethical values within their own organization as well as in organizations on a global front.
This book strongly promotes that Business Ethics be clear and effective – there are illustrations on how norms and values can and should be made practical and usable on an everyday basis. Dr Dipankar Gupta, explains, "Business leaders today need to actively give thought to the content and operational aspects of their ethics programmes. Ethics programmes need to be 'live' and not be weighty and cumbersome pieces of paper behind which their purpose is lost." Gupta further adds, "A corporate unit is not just a site where profits are made and jobs are performed, it is also a culture producing unit."
"Ethics Incorporated – Top Priority and Bottom line" is a valuable read for decision-makers in organisations of any size wanting to design and implement a business ethics programme based on global standards. The book highlights and extends on the fact that business ethics helps organizations to run cohesively by substituting surveillance and fright with leadership and contribution. However, it would have been helpful if the book would have been slightly more user friendly in terms of its structure and pace. The reader is overwhelmed by an abundance of information right from the start.
The author argues in favor of Business Ethics at two levels in this book. The first is the analytical and conceptual one, and the second is to show how Business Ethics can be put to work as a standard and lasting device for business executives. Ranging from the creating of an ethical manual, to the resolution of ethical dilemmas, to corporate social responsibility and governance, to questions of vendor monitoring and child labour, the book reveals how Business Ethics can help in every circumstance to add to corporate efficiencies and to the bottom line.
The importance of the stakeholder perspective has been well explained and it has been rightly stated that the most admired companies today have swung their concern from shareholders to stakeholders.
Comparing ethics in sport to that in business is another interesting and clever insight. The author says that we would do better if our business was run like sport – an easy admission of one's error usually slides away without leaving distasteful recollections. Transparency has been stressed upon in making the practice of ethics effective.
The "red flags" as the author terms it, are early warnings useful in detecting problems. The only way citizens can protect themselves from corporate frauds is to be able to read red flags when they spring up.
Ethics does best when it is initiated at home, at the workplace, and with colleagues – business leaders are team leaders who recognize that talent is not located just at the top. The book illustrates how if top management has a clear focus on ethics, it instigates more competitiveness, creativity, cohesion and direction in business practices.
At times it seems as if the author is a little too cynical and comes across as someone who believes that adopting corporate ethics will solve all business problems. This perspective may be slightly na. Corporate Ethics is just one aspect that could certainly lend a hand at making the business environment more effective.
The author finally concludes that having little ethics is a hazardous thing and an organization should go the whole way. Appealing subtitles and eye-catching highlights in bold print make the book easily readable. Carrying a lot of direction on ethics, the book is a bit short on illustrations. The language is simple and easy to understand. Students and practitioners of management are likely to find the book useful in the current context.