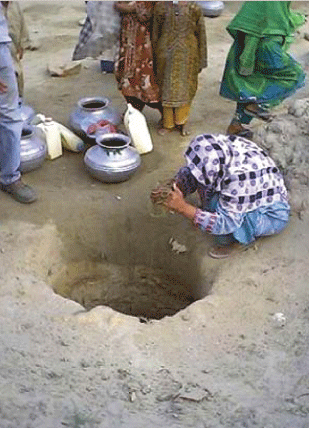 In a small fishermen village, at nightfall, off the coast of Sind, children gather around a solar powered LED light pole to read; women gather to sow; and men gather to discuss the day gone by. This is a village which has never seen electricity.
In the same village a wind turbine harnesses the coastal breeze to produce electricity that powers a motor that pulls up potable water. This is a village where women would dig a well themselves – often at great risk to their lives – and then wait for hours for their turn to gather water.
In the same village women, dressed in colourful, traditionally embroidered kurtas learn the art of masonry and of low-cost construction for a school of bamboo and mud for their children's education. Their children observe their mothers as they learn to use newly acquired tools to lay the foundations for the bamboo structure of the school.
Later this same school served as a life-saving shelter when a cyclone hit their village and tore down their thatched huts. The newly constructed school was the only structure in the village to survive the gale force.
Pit latrines for men and women are constructed at the corner of the same village for greater hygiene.
A green patch nearby, using drip and clay-pot irrigation techniques, demonstrates how fruit trees and other vegetation can grow with the least amount of sweet water – a scarce, essential resource.
This village is Abdullah Goth, Kemari Town, Karachi District, Sindh with a total population of 1,200 inhabitants where the founder and CEO of Indus Earth, Shahid Sayeed Khan drove me in his Suzuki jeep at dawn. There are many other villages – in hundreds – like Abdullah Goth along the coastal areas of Sind and Balochistan in Pakistan. Each has a community organization that works together with Indus Earth in an effort to improve the quality of life for their people.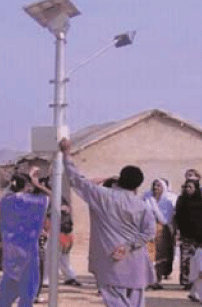 Financially supported by partner institutions such as PPAF [Pakistan Poverty Alleviation Fund], WWF [World Wildlife Federation], CIDA, and the Japanese government, Indus Earth took up the challenge of poverty alleviation for the poorest of the poor in 2001 with the simple, and matter-of-fact slogan: 'It needs to be done!' and a mission statement "To facilitate a movement to raise living standards by enhancing the quality of socio-economic conditions through an integrated development approach." Other than the Village Rural Development Programme, Indus Earth is involved in other projects which include building check dams for irrigation, drought mitigation, technological innovations and smokeless stove project among others. The programme of using alternative irrigation techniques in a water-starved area is an interesting example of Indus Earth's participation and contribution in fishermen communities.
Income from the sea is on the decline owing to over fishing and pollution. Indus Earth suggested that as an alternative source they should look to the land. For example just by growing a coconut tree, an income of Rs. 5,000 can be achieved after the tree bares fruit. However, understandably, they were reluctant to undertake this exercise as the sea has for generations provided for them. So the Indus Earth team built a "demonstration" farm on four different locations of one acre each, planting chico, baire and coconut trees. Chico and baire began to bear fruits after three years. Coconut trees typically need two years to mature and bear fruit. All of the above used a drip irrigation system to minimize water utilization.
Pitcher irrigation is a very old method used mostly throughout areas where water is scarce. A clay pitcher, before it is finally prepared for carrying water, is buried in the ground. This 'immature' form allows water to pass through its porous sides, thus keeping the ground moist all around it for a radius of 3-4 feet. Any plantation within this moist ground will grow prolifically. The great advantage of this is not only its simplicity but also that "dirty' water can be used, such as washing up soapy water. The pitcher allows only moisture to go through thus acting as a filter.
In a country like Pakistan such a mission is nothing short of a daunting challenge. Political instability, rising costs of living, and religious strife are just some of the factors that create hurdles in the achievement of Indus Earth's goals. Nonetheless it is a challenge that has been taken up with a spirit that says there is no other option. Shahid Khan, an architect by profession, returned to Pakistan around fifteen years ago after having lived in the United Kingdom for most of his life. He came back with the dream of setting up such a development organization. Having been involved with developmental work in Africa, he had strong conviction that the same can be done for the poor of Pakistan. With steely determination and perseverance, and a hands-on method of working, Shahid divides his time between soliciting funds for Indus Earth, catching up with his team, and overseeing project delivery on the field. Working round the clock, the Indus Earth team is looking to focus on the coastal areas of Pakistan and thematically focus on potable and clean drinking water while also working with the fishermen community to help them build a better quality of life for themselves and future generations.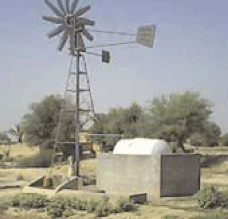 Indus Earth has also developed low-cost housing options for the earthquake affectees in Kashmir in 2007 in collaboration with other international organizations. They also distributed essential food and clothing to the cyclone affectees in Sind and Balochistan in the same year.
Indus Earth is also a member of the International Union for the Conservation of Nature and Natural Resources (IUCN) Pakistan, where Shahid Khan is currently the honorary Pakistan National Committee Chairperson. All its projects are environmentally friendly and promote a greater awareness of environmental issues.
In an age where people aspire to afford a ticket to the next shuttle to the moon, the poorest of the poor in Pakistan are being given a chance to overcome paucity of resources to give themselves and their children the basic necessities of life, appropriately.
For more details, please visit www.indusearth.org. or visit the office in Karachi, Pakistan.