Tatsat in Sanskrit means 'all that eternally exists'. Another meaning that would be relevant here is 'that what is fair' for 'Tat' means 'that' and 'sat' a prefix in Sanskrit means 'Fair'. And that is what this Jhangi family run enterprise seeks to offer to its customers. Located amidst the hustle bustle of posh Hauz Khas Market in South Delhi, a visit to this socially conscious store is an enriching experience for more reasons than one. A retreat for all your senses with its 'trademark' lemon grass aroma and serene music of Abida Parveen, the store showcases and sells a range of handmade products procured from NGOs, Self Help Groups, fair trade organizations and socially conscious companies from different parts of India.
God helps those who help others
Tatsat first opened its doors three years ago on the International non-violence day October 2, 2006 and has since come a long way. Prashant Narang, 29 years old, is the brain behind the venture and he explains how serendipity played a role in the setting up of this venture.
Their first partnership was formed on Orkut, a social networking site, when Prashant came across a post on 'social entrepreneurship' community by the Community Friendly Movement (CFM) while randomly surfing the net. Possibilities of collabo-ration struck him instantly and he approached them with his proposal to showcase their work in his store. CFM works to build equitable and fair partnership between marketers in developed countries and producers in Asia and other parts of the world. It was a first of sorts endeavour for both, as CFM had presently never sold their products in India.
Products supplied by CFM include fabrics, cloth bags,jewellery and lifestyle accessories. The partnership grew and so did their business. Through CFM, Tatsat found more partners and today sources products from over 24 organizations.
Business with benevolence
This journey for them started with an inventive idea to bridge the gap between market and artisans and continues to chart a remarkable path. Jyotsna, Prashant's youngest sister explains: "We were new to the business and knew little about the retail procedures. We visited all crafts exhibitions, trade fairs made regular trips to Dilli Haat to connect with people we could possibly source from. But things took time to come along. Slowly, organizations started coming to us on their own. Now our suppliers come from different parts of the country, they specialize in varied crafts and support diverse causes. And somehow we manage to put together these wide-ranging aspects under one roof".
Prashant goes on to explain the motivation behind their work, "we wanted to start a store that would not only promote shopping for a cause, but also create a business model that went beyond charity and actually upheld fair and ethical practice in trade. We want to be known for our quality and not just the causes we support". A supporter of fair trade, Prashant explains his point of view and the challenges he faces, "Unfortunately, people in India often look at trade with suspicion and think profit is a dirty word. Part of my mission is to change this perception. A mutually benefitting exchange is harmonious. It would be silly to not exploit this quality to make an impact at the grassroots level. When practiced with ethics, trade empowers people, something that charity may fail to do. And what can be better than empowering people by making them self sufficient rather than victimizing them".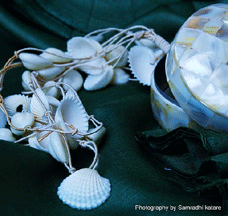 Global flavour, local price
Tatsat's collection includes a large range of products from traditional handicrafts such as fabrics sourced directly from the weavers in Jharkhand to modern jewellery with contemporary designs made in an urban slum. The most recent addition to their collection comes from a local craftsman, Narayan Singh from Delhi who makes blinds from bamboo. Singh made some blinds for Narang's home and asked if they could also help him showcase his work in their store. Today, Narang's samples are displayed in the store and customers can get blinds made to order.
There are quite a few interesting and rare products at this store. Amongst other beautiful things on display what catches one's attention are the Shibori fabric and sarees. Shibori is an ancient Japanese technique used to shape resist dyeing. Currently there are only a handful of setups in India using this technique. Another novelty is stationery product range made from elephant poo! Yes, you read it correctly. Don't worry, it doesn't stink. Recently they also got notebooks made from camel dung. Tatsat also vendsan attractive selection of natural fabrics, linen, lead-cadmium-free ceramic pottery, salt rock lamps, paper jewellery and recycled artworks.
A look at all the items on display in the store reveals the variety it encompasses. But for the Narang family there is a lot more to be done. Prashant recently travelled to Rajasthan to get a first hand understanding of crafts and their makers at the grassroots level. "We are constantly on a look out for new ways to procure interesting products and improve our collection," he says. As far as expanding the business is concerned he points out that this business model is not profitable enough to grow quickly. He stresses on customer affordability along with growth. However they are keen to find new ways to go forward.
According to Prashant, from a business point of view, the store's location is a blessing in disguise. He confesses missing out on foreign and plush clientele he would get if it were located in Greater Kailash or Khan Market.
However, being situated in a local market helps them reach out to the masses that on one hand will help business growth eventually and on the other, spread awareness about fair trade among people outside the intelligentsia and arty clicks.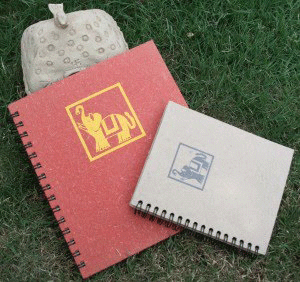 Stumbling upon this alternative store while you buy your daily supplies in the market could be an awe inspiring experience. The minimal décor of the store successfully reflects its philosophy, which is possibly a consequence of the fact that Prashant took charge of the task himself when the appointed contractor failed to show up. And watching enthusiastic Jyotsna, who is only in first year of college, manage the store demonstrates that setting up a business enterprise with a heart can indeed be labour of love.
Where there is charity and wisdom, there is neither fear nor ignorance. Where there is patience and humility, there is neither anger nor vexation. Where there is poverty and joy, there is neither greed nor avarice. Where there is peace and meditation, there is neither anxiety nor doubt.
Francis of Assisi