Corporate Summit on Climate Action
"Climate change is the serious most challenge of our times. Pakistan has already been ranked at 14th most vulnerable country that will be hit by the adverse affects of climate change particularly in terms of food and water security," said CEO Ali Tauqeer Shiekh at the first ever Corporate Summit on Climate Change held in Karachi on February 19, 2009. 
This event was organized by LEAD Pakistan. Many leading corporations such as Overseas Investors Chamber of Commerce and Industry (OICCI), PSO, ENGO have partnered with Lead Pakistan for the summit. The research partners for the summit included Boston University, USA, The University of Manchester, USA, International Business Leaders Forum, Global Change Impact Studies Center (GCISC), Pakistan and Pakistan Metrological Department.
Renowned international experts on Climate Change also spoke on the occasion. Supported by British High Commission, the summit has been able to gather good support from all the stakeholders including Government, Corporate Sector and Research bodies.
In addition to the role played by governments, social sector and other stakeholders, corporate sector also has to play an active role in this cause. Climate change is an equally significant threat for the corporate sector. The climate disasters may result in instability of workforce, unavailability of natural raw material and infrastructure. Consequently, there will be an increase in the cost of doing business, shrinking of market size and Foreign Direct Investment (FDI).
Organizations in Europe and UK have understood the need to mitigate climate change and thus are building partnerships with NGOs to strengthen their response to climate change and enhance their reputation. But there is lot to be done in Pakistan, he added.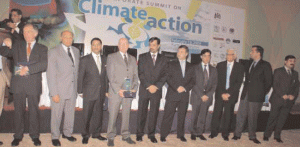 Climate change is an equally significant threat for the corporate sector. The climate disasters may result in instability of workforce, unavail-ability of natural raw material and infrastructure.
Federal Minister of Environment discussed the gravity of this situation and further stressed that we must act as early as possible and the time is now. City District Nazim Karachi, Syed Mustafa Kamal delivered his address at the inaugural session and talked about various development projects of Karachi.
Dr. Tariq Hassan, Board Member LEAD Pakistan welcomed the audience while Dr. Adil Najam, Nobel Peace Prize holder, a renowned international environmental expert and Professor at Boston University briefed the audience about the international climate challenges and insights of the climate response challenge.
The inaugural session was followed by the Technical and CEO session. Various corpo-rations presented their case studies during the session. "We have already taken the initiative of Corporate Social Responsibility (CSR) in our organization. The Bio-diesel project of PSO is an example of the same and we are all willing to contribute our share in this larger cause," said Tariq Razvi, GM Corporate Planning PSO at the occasion. 
Mr. Ramiz Ahmed Faraz, HSE ENGO Chemical briefed about the Clean Development Mechanism while presenting his case study.
The CEO session aimed to generate some serious thoughts from the top management and the commitment of corporate sector to Climate change. Chaired by Dr. Ishfaq Ahmed, Advisor S&T, planning commission and Chair Task force on Climate change, the session was attended by many CEO's including Hussain Dawood, Chairman Dawood Group, Mr. Parvez Ghias, CEO, Indus Motors and other distinguished CEOs.
LEAD Pakistan, one of the 14 member programmes of LEAD International, aims to solely bring the Leadership for Environment and Development (LEAD) programme – an innovative capacity building initiative – to Pakistan.
LEAD Pakistan has been working on the promotion of environ-mentally sensitive development since its inception.
Seminar on Tariff Mechanism for Renewable Energy Technologies
UNDP/GEF Wind Energy Project (WEP) in collaboration with AEDB held a one day seminar on "Tariff Mechanism for Renewable Energy Technologies" on February 9, 2009 in Karachi. The Phase-I of WEP which is currently underway, has been designed to remove policy and regulatory barriers and create an enabling investment environment for the development of commercial scale wind power projects in Pakistan. Some of the main outputs of the project phase-1 include effective policy and incentives, including piloting an appropriate tariff level and structure, applicable to wind power IPPs.
 
The core objective of this seminar was to enlighten the project stakeholders on tariff design, economic & financial cost analysis and components of Energy Purchase Agreement (EPA)/Power Purchase Agreement (PPA) for wind power projects.
The first session was on Tariff, Policy & Regulatory Issues and it was presented by Mr. Irfan Mirza, DG (Technical) AEDB, a speaker from the ADB, World Bank and Mr. Hasnain Zaigham, Registrar, NEPRA.
Following these presentations, Mr. Mayura Botejue, Consultant Renewable Energy presented a  Project Development Perspective to the participants. The second session on Financial Instruments was presented by Mr. Zammurud Abbass, Director Technical-NTDC, Mr.Bernard Chabot and Mr. Parvaiz Naim, KfW Bank.
The informative sessions helped participants understand the dynamics of tariff designs, mutually beneficial to the all concerned entities, and subsequently increase the viability of wind power projects in Pakistan.

CSR: Death and Rebirth Ceremony
An event was held in London on March 4, 2009 to commemorate the life of 'Old CSR' (known to many as Corporate Social Responsibility or CSR 1.0), who passed away peacefully in his sleep, another unfortunate victim of the global financial crisis.
Corporate social responsibility (CSR) is on the cusp of a revolution, in much the same way as the internet transitioned from Web 1.0 to Web 2.0.
After the coffin was respectfully laid down at The Hub Kings Cross, Dr Wayne Visser, Founder and CEO of CSR International, paid tribute to "a life well lived" and "a pioneer in his time":"Old CSR was a good person at heart, always willing to give to those in need. Some will remember him for his outlandish dress style – how he always loved to dress in green and show off – but that was part of his charm. We will miss him dearly, not least because he touched the lives of so many around the world. He leaves behind baby daughter, named CSR 2.0."
Visser's eulogy was followed by touching tributes from friends and colleagues, who each lit a candle in his memory. As the lights went up, flowers were handed out by Ms Clemence Viel and minstrel Mr Lenny Charles launched into a festive tune on the berimbau, Visser conducted a spontaneous naming and blessing ceremony:
"Some of you may be wondering who this innocent child is. Well, I just happen to know that it is none other than Old CSR's daughter, who with his dying breaths, he named CSR 2.0. She brings hope to our troubled world, for as the 'new CSR' of 'Corporate Sustainability & Responsibility', her life will be inspired by new world the principles of Connectivity, Scaleability and Responsiveness."
Tributes also poured in from those around the world who could not be there in person, but who attended the live web broadcast of event.
CSR 2.0 – coined by Professor Wayne Visser – describes how the concept and practice of corporate social responsibility (CSR) is on the cusp of a revolution, in much the same way as the internet transitioned from Web 1.0 to Web 2.0.
The transformation of the internet through the emergence of social media networks, user-generated content and open source approaches is a fitting metaphor for the changes business is experiencing as it begins to redefine its role in society.
As guests left the CSR International launch event, many were smiling – some bemused, some amused, but most hopeful, having just witnessed the birth of a new era of Corporate Sustainability & Responsibility. CSR is dead … long live CSR!
International CSR Conference
The first International Corporate Social Responsibility (CSR) Conference was held in Lahore, Pakistan in November last year with the aim of addressing the role of corporations private and public sectors both in the societies in which they operate.
This International Event was organized by the Faculty of Management Studies/ Center of Management Excellence & Research (CMER) at the University of Central Punjab, Lahore.
The purpose of the conference was to achieve a series of objectives, of which the most important is raising awareness on the vital role that national and multinational companies can play in the development of commu-nities, they serve.
CSR is the integration of business operations and values, whereby the interests of all stakeholders including business owners, employees, customers, and the share for community development are reflected in the corporation's policies and actions.
This conference on CSR highligh-ted many tracks of social responsibility, such as: Workplace; Media; Marketplace; Community Care; Arts & Culture; Environ-ment; Activism; and CSR Focused Activities.
The event included conference papers, company presentations on CSR focused activities, company exhibits, a panel discussion, interviews with CSR experts, and a workshop on CSR. This event enabled the participants to exchange and share their experiences and demonstrate how companies can contribute to the development of the communities for CSR in which the corporations are active.
The conference demonstrated practical experiences successful CSR models, activities and strategies from national and multinational corporations. The desired end result is tailor-made and effective CSR vision, strategies and plans of learning organizations for Pakistani-based companies which can create a long-term community involvement.
Sankalp 2009 India's First Social Enterprise and Investment Forum
Sankalp – India's First Social Enterprise and Investment Forum – was held on April 28, 2009 in Mumbai, will brought together various stakeholders sharing a common conviction that capital should be invested to create multiple bottom-line returns (financial, social and environ-mental) and not exclusively financial (profit-maximizing) or social (philanthropic) returns.
The event endeavoured to recognise and award truly impactful enterprises and catalyze investments in sectors such as agriculture and rural innovations, affordable education, healthcare inclusion, environment and clean energy, and highly scalable social models.
As a result of a nation-wide process, Sankalp 2009 received 315 nominations from enterprises active across India in these
High impact sectors such as agriculture, healthcare, education and clean energy have seen government' strategies fail… it is in these sectors that the demand for quality, affordable services has been met by innovation and social entrepreneurship.
sectors. Out of these enterprises, the final 15 received the Sankalp Award.
The forum generated significant interest from mainstream investors and industry experts some of whom have been on the jury to help identify the Sankalp Awardees. "Going through these nominations was a very positive experience and indicative of good things going on in this country", said juror Anal Jain of MVA Ventures; and "some really good ideas were coming through", commented juror Professor James Tooley, expert in Education.
Entrepreneurs, regional and international investors, funding agencies, business incubators, policy makers, corporate houses and leading thought leaders in this space came together as engaged stakeholders for the event with a primary aim to create a holistic ecosystem to facilitate catalytic growth in these recession proof sectors which yield lower longer term returns.
High impact sectors such as agriculture, healthcare, education and clean energy have seen strategies of the government fail and the big businesses just starting to engage effectively and it is in these sectors that the demand for quality and affordable services has been met by innovation and social entrepreneurship. Sankalp aims to catalyze growth in this gap.
Sankalp 2009 featured a stellar line up of luminaries and speakers including Naina Lal Kidawai, CEO of HSBC India, Vijay Mahajan, CEO of Basix, Anthony Bugg Levine of Rockefeller Foundation, Gurcharan Das (former MD P&G), Sarath Naru of Venture East, and Vineet Rai, founder Aavishkar. 
The event included town hall sessions with 50 enterprises selected through a competitive process to highlight instances of equitable growth that these social enterprises generate in this country and will culminate in the awards being presented to the fifteen finalists.
The key partners for the inaugural 2009 event include Rockefeller Foundation from the US, Rianta Capital from UK, National Bank for Rural and Agriculture Development (NABARD) and Rural Innovations Network (RIN). The forum is also supported by TiE Mumbai & VC Circle.
Sankalp 2009 Highlights
 Over 300 entrepreneurs engaged in 5 sectors listed above.
 100+ regional and
 international investors (detailed listings available on the Sankalp website – www.sankalpforum.com).
 More than 20 panels and  sessions to choose from.
 Lively debates and inspiring video showcase of 50 enterprises vying for the Sankalp Awards.
 Speakers such as Naina Lal Kidwai, CEO, HSBC | Vijay Mahajan, CEO, BASIX | Gurcharan Das, ex- MD (P&G)  Sarath Naru, Managing Partner, Ventureast |Vineet Rai, CEO, Aavishkaar |  Ashish Karamchandani, CEO, Monitor Group, India (and many more).
CSR Asia Summit 2009, Malaysia
Running for the 7th time in 2009, the CSR Asia Summit is an annual flagship event which aims to be the most innovative and challenging conference on CSR in the Asia-Pacific region. Amidst the global economic crisis, CSR is more important than ever. With the theme "Sustainable Business as the Road to Recovery", the event will explore key CSR issues and strategies to demonstrate leadership in times of turbulence.
With the theme "Sustainable Business as the Road to Recovery", the event will explore key CSR issues and strategies to demonstrate leadership in times of turbulence.
The topics will be focused on Asia and bring new insights for businesses, governments, NGOs and other CSR practitioners. It will be held from October 27 – 28, 2009.
This will be an eco-friendly conference focused on minimising ransportation impact and resource use.
 The Summit venue is strategically located within Kuala Lumpur's main Golden Triangle business and  commercial centre. It is well connected to the local public transportation system and is also within walking distance to all major tourist attractions.
 We encourage you to fly as directly as possible to the Summit venue and carpool or use public transportation to travel to and from the hotel.
 Most of our marketing  materials will be electronic; printing is avoided as far as possible.
 Delegate packs and handouts will be printed double sided. Recycled paper or paper that is third party certified for being sustainable will be used.
 Bottled water, disposable plates, cups, napkins, and utensils will be avoided.
 Use of disposable items is  discouraged; wherever possible, biodegradable or recyclable items will be used.
 Menus served during the Summit will mainly be based on local products and include a variety of vegetarian meals.
 Air-conditioning will be kept at a moderate temperature.
 As a hotel guest, we  encourage you to reuse your towels and linen. Recycle everything you can.
Compiled by Rutaba Ahmed
Journalists aren't supposed to praise things. It's a violation of work rules almost as serious as buying drinks with our own money or absolving the CIA of something. 
– P.J. O'Rourke