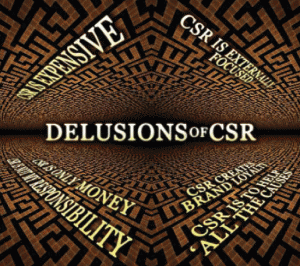 CSR is progressively becoming more than a trendy terminology in the corporate circles of Pakistan. A nascent but a burgeoning business practice, it is fast transforming business entities into responsible corporate citizens. Having roots in personal philanthropy by the owner(s) of the organization, CSR is slowly but surely getting matured into a science of its own having the power to influence the triple bottom-line (people, planet and profits) of the organization. Keeping in view the watchful eye of the emerging socially minded customers and with an increasing pressure to demonstrate socially responsible governance, organizations have started investing manifestly in CSR-based interventions. A survey of 546 public listed companies by Pakistan Center of Philanthropy in 2006 disclosed the increasing quantum of corporate philanthropy, one of the subsets of CSR. It showed that total donations increased 10 times from Rs. 228 million in 2000 to Rs. 2.3 billion in 2006 and the participation of public listed companies in corporate -giving increased from 54 percent in 2005 to 60 percent in 2006. It would be pertinent to mention that the study did not include donations made by private limited companies nor took in account spending in other CSR initiatives that are marketing related (that is, cause promotion, cause-elated marketing and corporate social marketing) and ones that are outside the typical marketing functions (that is, employee volunteering and socially responsible business practices) that could have made the total CSR contributions jump to an incredible number.
With this increasing practice of CSR, it would be advantageous if few of the myths and delusions relating to the subject were clarified. It would help the practitioners get more mileage of their current CSR interventions and the novices to gain a better understanding of the practice to enjoy a sustainable way onwards.
Delusion 1: CSR is Expensive
Yes it is, if treated as an expense. Many organizations and entrepreneurs avoid considering any CSR intervention as they treat it indulging into the activity that means continuous spending with fruitless ending. On one hand, getting into CSR doesn't necessarily mean a big time outflow of cash. It could be small noble acts that may be tied in intelligently to the service or product offering. For instance, socially relevant messages on the packaging or business correspondence; awareness programmes blended with promotions or community service recognition awards to clients/ customers, even to employees could be initiated. Such economical actions may even lead to cost savings.  On the other hand and more importantly, CSR spends are more an investment than a cost. They are investments in the care, the reverence and the revenues that are a natural outcome of the giveback to the community. It's necessary that the money spend on CSR causes should not only be incentivised by the tax exemptions the organization will get in return but by having a compassionate heart and a genuine will to be of help.
Delusion 2: CSR is Not My Responsibility
It is not, if you are not willing to make a difference in the lives of those who directly or indirectly get affected by the product or service you offer. CSR is not a mandate; nor is it an obligation. It is a call that comes from within by having the empathy to make the world a better place for your children and grandchildren. CSR is not a 'must have' but a 'good to have' option. It is a larger role of your company and yourself that transcends annual profit targets. It's all about you wanting to do more for your community than just selling a product, leaving a legacy in the end that lives a lot longer than the product you sell. Remember, CSR is not the number of zeros attached to the right side of the amount you put on the cheque, but it is the pledge to develop and benefit the community at large. 
Delusion 3: CSR is Externally Focused
Doing CSR is not merely a function of keeping in relationship an NGO with your accountant or bank, but goes deeper into your value system that maintains impartiality towards the recipients of affection and money. Charity begins at home. Your employees are as deserving of your care and compassion as any other cause of charity. As a matter of fact, their needs should be looked after first before venturing out. An organization can't claim to be CSR oriented if its corporate philanthropy serves the community but its employees remain desiccated of the basic human resources, benefits and support in needs of time.
A successful experience of CSR can only be enjoyed if supported and owned by the management and employees across the board in the organization. Employee welfare schemes, investment in skill building, promoting safe working conditions, are important for promoting employee well-being and motivation. How can a positive word of mouth be generated of any external CSR activity if employees of that organization speak ill of it?
Delusion 4: CSR is Only Money
No, it's not only money and the percentage of profit that goes into CSR. It is a way of life. It is a mindset. It creates an eternal value system for all stakeholders of an organization. CSR is a vision that serves as the nucleus of all organizational policies, procedures, practices and performance measures. It cannot be confined to a CEO who gets his pictures published every now and then while giving out cheques to a charitable institution or a department that publishes a sustainability or CSR report every year. It is a practice that should be reflected in everything an organization does – from its human resources' policies to marketing approaches, from manufacturing standards to storage conditions, to the supply chain. It even gets down to the responsible use of water, electricity, fuel, paper, gas and other corporate resources.
Delusion 5: CSR Creates Brand Loyalty
Pursuing CSR with an aim to improve your marketing competitiveness defeats its very purpose. When treated as a public relations exercise, CSR doesn't blossom to its entirety, hence it doesn't produce the desired results. Brand loyalty is only one of the countless benefits that you get in return for investing in CSR. It creates a sense of pride in your employees and a culture of goodness. CSR creates your integrity for vendors and clients. It enhances your respect and likeability in the community that serves to the bottom-line. It also pushes your competition to get into meaningful CSR activities, resulting in community development.
CSR attracts talented human resource to your organization and helps retain the one you have. It also creates brand loyalty but only if the price and quality is competitive. Only then can it influence a buyer to switch to your brand and the present buyer to remain loyal to your product. But CSR performed to create brand loyalty as a result is a short-sighted approach to CSR with short-lived benefit. It is the comprehensive CSR vision that ensures long-term success to the organization.
Delusion 6: CSR is To Help 'All The Causes'
True but treacherous. With deep pockets and aggressive vision to demonstrate exemplary CSR, organizations spend money all over and in too many charities in a manner that does not bring any concrete difference in any cause they invest their money in. Many organizations contribute to corporate philanthropy based on the whim, wishes or contacts of the CEO. Equally ironic, people responsible to facilitate CSR interventions in the organization do not take the hassle to go outside their cozy offices to check the real community issues.
Such style of spending may suit an individually based charity giving but proves self-defeating for a corporate doer. It does not only destroy the essence of CSR but brings back feeble returns, that makes organizations want not to waste more money on CSR causes.
Therefore, it is vital for an organization to define its own unique approach for its CSR ventures. If smartly planned, it should revolve around the products and services the organization offers or the community where it works. Convergence of the CSR funds in this way enables organizations to do project-based CSR intervention, and promote it on the corporate level and truly help the 'darling cause' along with favourable outcomes that encourage more spending. After all, CSR is all about having a will to create a difference but in an intelligent way.