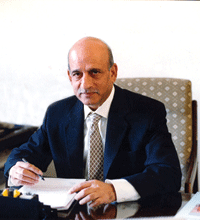 The soft-spoken, eloquent Kamal Hyat, Founding CEO and MD of the Pakistan Poverty Alleviation Fund (PPAF) recently shared with tbl his thoughts about poverty and our responsibilities in addressing it.
His focus is on the people his organization serves to benefit: those in poor communities. He urges everyone to spend time with the people in poor communities and learn from them; letting them show the way. He also thinks people underestimate the strength of values and the strength of small groups that are committed; and their power to change their circumstances.
And, when people work with rock-solid values, he says, "the world will not change them, but, they will change the world".
The Story behind PPAF
PPAF was formed under the aegis of the Planning Commission of Pakistan in 1999, but, designed as a private sector entity. Its name is quite self-explanatory: the PPAF works through almost 90 partner organizations in almost all areas, including micro-credit, water management and provision, health, education, skill development and capacity building.
Back then, "PPAF was one room and a briefcase," says Hyat about its humble beginnings – "Today eleven years later it enjoys an international reputation".
Banking-to-Poverty Alleviation: Why?
Why, from being a leader in the international banking industry, did he choose to move into the then unheard-of field of poverty alleviation?
Two things motivated him: "a. the will to see if we [the privileged] could really do something useful for the poor; b. to prove the world wrong when it thought that Pakistan couldn't have an institution as transparent and trustworthy as any in the world". At that particular time he envisioned an institution that would bring professionalism into the grant-oriented culture of civil society organizations, and make them sustainable.
"Now, ten years down the line, the vision is not mine," he elaborates. "It's the poor people's vision. They now look at PPAF as a friend. My vision now is: what can we learn from them. And how can we imbibe what we learn from them into the PPAF culture".
Perpetuating Poverty?
"Look at Pakistan's history," Hyat urges when asked who he might hold most responsible for the largely impoverished state the nation seems to be in. –"Basically we have the ingredients of an elitist non-caring state. We continue to develop more and more in that direction," he says, candidly.
"There is no harm into developing into an elitist state, as long as the elite know what their responsibility is. Unless they invest in their people, their elitism would come to naught."
Where do Corporations Fit In?
In the world that we?re living in today, keeping environmental and social considerations in mind are key to corporate success, Hyat thinks.
Companies could play a very large role in poverty alleviation.
How? For instance, he says by "trying to improve their products in the light of the environment and linking with companies such as tbl and PPAF,". And, he adds, educating people truthfully about their products.
"They need to be constantly aware that a product that meets environmental needs and the needs of society is bound to be more popular even from marketing perspectives," he adds.
"The elite generally are unaware of the plight of the poor," adds Hyat on a more macro-level note. "Corporates need to develop a culture that understands that the people that buy their goods are by and large poor. And you [the seller] need to care for them. "They should not look at them as a market for commodities alone but look at them as people who might thank you for what you?re doing for them. Make the connect between service to the people and marketing."
"Corporates," Hyat ponders, "are too busy making money".
"The corporates must accept their responsibility to the people of Pakistan," Hyat adds, and in doing so become acceptable entities.
Highest Impact: Mindsets
When asked about the organizations impacts to-date, Mr. Hyat counts changing mindsets as the highest area of impact: both, of those who work for PPAF partner organizations and the communities. He believes PPAF's commitment to human resource development enabled the transition to take place..
Building hope, he says, is the next step. And, Hyat takes pride in the fact that 93 percent of PPAF's money actually goes to the poor "in the form of projects, building capacities, providing services and loans, and building physical and social infrastructure".
"We are not waiting for the trickle down effect but are talking of a trickle up possibility," he emphasizes.
What does this quantify into, we ask? PPAF's work reaches 95 percent of the districts in Pakistan: 127. That means that they work in almost 80000 villages of the country with 242000 communities. They've given out over $ 550 million in micro-financing – with 100 percent repayment.
Now, we can begin to imagine why PPAF is the largest social fund of its kind in the world today.
Communities: Centre-piece of Action
When asked how PPAF has achieved this impact, Hyat believes it is because PPAF focuses on what communities themselves believe they need to break the vicious cycle of poverty.
"We must follow the communities and not lead them," he adds. This, he says, manifests itself by their social mobilization process: PPAF asks partner organizations what they want, who in turn ask the communities what their needs are.
One experiential measure of success that Hyat urges everyone to see for themselves is the difference in the communities PPAF works with. "That blank expression you see in the eyes of poor people," says Hyat, "is replaced by a brighter look, and a bigger smile."
Our biggest asset, Hyat often says, are "the poor people of Pakistan, and the young people of Pakistan".
PPAF Model Replicated Globally
The Pakistan Poverty Alleviation Fund model is now being set up in Nepal and in Malawi. Teams from both countries – and from Afghanistan – have visited the PPAF to learn from its experiences.
Stemming from the success of the PPAF model, there is a growing interest to set up "Apex" organizations in other countries.
What You Can Do
The central issue here, Hyat says, is sensitizing people to the idea that there is 'something bigger than yourself'?
A hurdle in mobilizing people, he finds, is the fact that people tend to be very self centered with serious ego problems.
With a non-caring leadership or institution, people just can't perform, he adds. Our job, as human beings and especially as heads of institutions – is to try and bring out the best side of people. Not to moralize but lead by example, and reward according to merit.
PPAF is essentially a facilitative, not a regulatory institution, its principle objective is to lay sound foundations for civil society partner organizations to develop – in that sense .
"We're like seeds, not like large trees that do not permit anything to grow under them," analogizes Hyat.
Vision for the Future?
Officially, PPAF's vision is: "Restoring hope, securing the future, ending poverty".
"We have the belief that the key to change is in changing the mindsets of all the people we work with, especially the poor- we must replace despair with hope, insecurity with the rule of decency and law, only by doing so we can contribute towards the development of Pakistan, and take it to new heights".