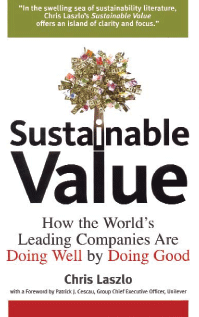 I was quite excited when Greenleaf Publishing sent TBL a copy of Sustainable Value hot off the press for us to review. Written by Chris Laszlo and published earlier this year, its first few pages are filled with impressive enough praise from academics and business people alike, including a foreword by Patrick Cescau, Unilever's Group CEO.
Perhaps what sets the book apart is that it begins as a 'story'. It's light reading. It's fun reading (ok you can discount that a little bit because I am a nerd). It doesn't dive into the heavy business-case-for-sustainability kind of talk. It's a fluid read. Something you can take on the plane and actually look forward to reading.
It starts with the story of Deena, the Chief Executive of a plastics-based industry. Her company is delivering exceptionally high financial returns. Its stock is selected in the 'Vice Fund'- based on the idea that 'sin' stock are highly profitable activities that yield above-market financial returns joining the ranks of the worst environmental performers in the oil and gas sector, tobacco or adult entertainment. She is a character whose choices most business readers can thoroughly relate to.
By the time readers have shared her 'aha' moments in her -and her company's- journey to more sustainable, ethical corporate citizenship, they're fully primed to read the section that follows: four companies' sustainability case studies, including Walmart's.
I would say my favourite part perhaps remains The Sustainable Value Framework. If you are a visual person, like me, then try skipping merrily to Section 9. Here, my initial excitement was again justified. It is a basic sustainability concept captured and articulated in a visually convincing and appealing manner – at least for a business audience.
The catch is, this book's ideal reader is s/he who needs to be convinced of the business case for sustainable practices. Clearly, that means it has a huge readership in Pakistan. But, how likely are the people that need to be convinced in the first place, of actually picking up a book like this? And then, to read it through and derive the value that lies between these statistics-packed pages (a vital element of any good writing in this genre, in my opinion)? I don't know if it was intended for such a readership, but I do believe, that it is at this early level of sustainability understanding that it adds the most value.
Sustainable Value is also a good book to read if you're feeling low, in need of inspiration. And I don't mean the fruity kind, I mean the quantitative, qualitative kind that not only propels you into action but gives you some pointers on how to stay in action.
The latter, however, is perhaps a weakness of the book. The core of its toolkit, 'the eight disciplines' comes across as a bit underdeveloped. It is a framework that gives the feeling that it is tailored from a generic management background without a true Sustainability agenda toolkit as a real part of it. But again, it remains a framework for beginners to at least start bouncing off of.
The bottomline: read it for conceptual clarity and sustainable inspiration. And stay in that top-right quadrant where there is true sustainable value creation!