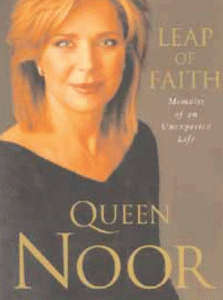 The Hashimite rulers of Jordan, descendants of the famous Grand Sharif of Makkah, have played a pivotal role in recent history. Jordan, with its ancient ruins and rich cultural heritage, is situated in one of the most politically volatile areas of the world. Ever since the Balfour Declaration, it has faced a number of crises: the Palestinian refugee influx that strained its meager resources, the Arab-Israeli wars fought partly from its home ground, the unenviable role of mediator that it played during the Gulf War.
Given the role thrust upon Pakistan in the War against Terror, with its corollary of displaced  thousands and civil strife, Queen Noor's auto biography makes a moving and inspiring read – with many parallels to draw for a Pakistani reader in particular. Written in a flowing first-person narrative by Queen Noor and published in 2005, 'Leap of Faith: Memoirs of an Unexpected Life' holds great inspiration for those who wish to make a positive impact on the people and environment surrounding them.
 
An Arab-American by descent, Lisa Halaby was a graduate of the first co-ed class of Princeton. Contrary to popular perception, King Hussein of Jordan did not marry her because of her blond beauty. Halaby, an architect and urban planner of remarkable intelligence and perception, combined a sensitivity and spontaneity that appealed to him and made him give her the title of Noor Al Hussein, which translates as 'the light of Hussein'. Her memoir is a dedication to her beloved husband and his land and people; interwoven with her efforts to alleviate the problems faced by Jordanians and the Palestinian refugees.
 
Queen Noor vowed not to become 'just a figurehead … spending (her) time simply opening bazaars and expositions'. She faced a conservative Islamic society that frequently marginalized women, neglecting their education and healthcare, and a people that struggled to make ends meet in a country that had scarce resources in the vast tracts of its deserts. She drew on her own work experiences and sought  the advice of local and international experts to improve literacy, healthcare and child nutrition, making Jordan's progress in these fields by the late 1980s exemplary in the developing world.
 
She successfully combined her status as queen and social responsibility to her people by initiating internationally acclaimed projects such as the Bani Hamida  Project that aimed to empower women and improve the conditions of their remote villages by promoting local handicrafts. Queen Noor also actively supported her husband's concern for environmental protection under the banner of the Royal Society for Conservation that was the first and, for a long time, only environmental protection organization in the Middle East.
As early as 1978, it had reached out to various international organizations for assistance and designated 6 protected areas that generated income for local communities from conservation-based activities and provided on-the-job training  for conservationists around region. She aimed to integrate and develop abandoned ruins and villages by promoting tourism and local culture – the Dana Wildlife Reserve is cited as an example.
Like Pakistan, Jordan faced a booming population. Education and child welfare were of crucial concern. For this purpose, she established and chaired a National Coalition for Children that coordinated and promoted partnerships between all public and private institutions involved with children affairs to deal with issues such as child labour, urban poverty, youth and culture, and smoking among teens.
Another significant problem facing developing countries is the lack of career counseling provided to students. Drawing on her own privileged educatio-nal background, she set up the Royal Endowment for Culture and Education that helped provide career counseling and awarded scholarships in the light of Jordan's specific manpower needs.
Queen Noor shared and supported her progressive husband's vision for regional peace and Arab unity. For this purpose, she sought to give a broader perspective to Arab identity by conceiving the ideas for the popular Jerash cultural festival  and the National Music Conservatory that attracted students from all over the Arab world.
What is striking about the various undertakings mentioned in the book are the fact that the events and projects were self-sustaining and involved the local people and their history, culture and knowledge.
They were designed so that the participants themselves felt a sense of ownership and pride in its success, so much so that a Beduoin, surprised and pleased at the success his wife made as a traditional rug weaver, asked NGOs involved in micro-financing the project if they could arrange for him another wife like her! Also, Queen Noor does not take all the credit herself. Other members of the royal family, the Jordanian intellectuals and even the village women who are offered micro-credit are applauded for their efforts in the progress of Jordan.
 
The world view presented in the book is, of course, personal, but she does present a deep understanding of the impact of media on world politics and therefore development funding and refugee assistance – a vital uderstanding that Pakistani leaders have yet to develop to their advantage 
Her accounts of the Palestinian refugee camps and the effects of the Iran-Iraq war and the Gulf war on the civilian population of Iraq and the unscrupulous false stories planted in the international media and willfully believed in and repeated by world leaders is distressing.
 
'Leap of Faith' is remarkable as an account of the commitment and passion shared by King Hussein and Queen Noor to bring peace to the war-torn Middle East, greater Arab unity and a better understanding between Arab nations and the West, while constantly struggling to provide and sustain economic, social and cultural upliftment to Jordanians. Pakistani leaders specifically first ladies have much to learn from her life story, dedicated to public service rather than living the fairytale life of royalty.
Perhaps Pakistan's 'first men' can also learn from this legacy.