TNS Kumari leaves her shift at the Bodyline plant in rural Horana in the afternoons to get home to her daughter and infant son. Her husband takes care of the children in the morning and he works the afternoon shift at the same plant. They have a new house, a car, some land and even a couple of cows. TNS grew up in Horana, and her life as a manager at MAS is vastly different from her poverty-stricken childhood with her widowed mother who worked on a rubber plantation to support her and her five siblings.
TNS was one of the first sewing machine operators hired when Bodyline opened. After working for a few years, getting married and having a baby, she was promoted and offered management training. The catch was that she would have to move to the US for six months. She had never been to Colombo on her own, lived alone or even driven a car! With her managers' encouragement, TNS practiced her English, got her driver's license and got on the plane. A well-educated executive might take an expatriate assignment like this for granted. But these types of opportunities are not usually handed out to sewing machine operators from rural Horana.
Company Profile
MAS Holdings is one of Sri Lanka's largest apparel manufacturers, employing more than 40,000 people in 29 factories in 5 countries. Annual revenues are US$ 700 million. The company is privately held and owned entirely by the Amalean family. Chairman Mahesh Amalean, the eldest son of five children, held the CEO title until 2004. The current CEO and Deputy Chairman is middle brother, Sharad, who had previously been the CFO.
MAS comprises four business units: MAS Intimates, MAS Active, MAS Fabrics and MAS Investments, a separate non-apparel business.
Sri Lanka
In Sri Lanka, 85 percent of the textile industry workforce is female and approximately 350,000 women work in 848 factories. In addition to the US$2.8 billion that textile exports bring into the country each year, 600,000 Sri Lankan women work abroad as domestic workers and send home US$1.2 billion in remittances. Combined with tea, Sri Lanka's second largest export, these three female dominated industries are responsible for 24 percent of Sri Lanka's GDP.
Female garment workers are stereotyped as "Juki Girls" – a derogatory name that comes from a popular brand of sewing machine – and they come from rural villages and move to the free trade zones to find work in the garment factories for $2.20 per day. Since they have moved away from their families, the young women live in crowded hostels and have to deal with life issues, many of them for the first time. Many do not have proper nutrition or reliable transportation to work. Because they do not live with their families and have little life experience, Juki Girls in the free trade zones are often perceived as easy prey or "loose"women, and some are even subject to sexual abuse.
Strategic Corporate Social Responsibility at MAS
Any employer that violates provisions for the minimum wage, overtime, child labour, occu-pational safety and health, workers' compensation or other industry regulations is instantly labelled a 'sweatshop'. In recent years this has become a major concern in the textile, clothing and footwear manufacturing industries. In the textile industry, where the labour force is predo-minantly made up of women, some sweatshops have been found to force their employees to take birth control pills so as to avoid maternity leave. Work days can stretch from 12 to 16 hours without mandatory breaks.
Although the problem of sweatshops and child labour abuse have declined markedly since the year 2000, in the manufacturing industry child labour and unsafe working conditions still remain a significant problem. According to the International Labour Organisation (ILO), 230 million children across the world were engaged in some kind of econo-mic activity in 2006, representing about one-sixth of the world's population of five- to 15-year-olds.Since its first products came off the production line, MAS has been concerned with the standards of treatment of its employees as well as their working conditions. Credible employment practices are in place, including the strict enforcement of child labour laws – no one under the age of 18 is hired by the company. MAS provides transport, air-conditioned facilities and free meals for its 45,000 employees. The working day is monitored and conforms to eight-hour periods with the possibility of two hours overtime per day. Its factories are specifically built close to neighbouring villages in rural Sri Lanka, unlike other manufacturing facilities in the region.
This enables thousands of working women to remain in proximity to their homes, instead of moving away and living in boarding houses to be able to work, a phenomenon that has created a subculture known as "Juki girls", a derogatory term derived from the brand of Japanese sewing machines frequently found in garment factories. MAS also puts safety in the workplace at the top of its priorities. In 1995 one of its facilities won the Sara Lee Corporation's 'Millionaires Club Award' for achieving 30 million standard hours without an accident in the workplace.
The company has its own "MAS Standard", a document setting out standards and a clear code of conduct that are aligned with the UN Global Compact.
The Birth of "Women Go Beyond"
As it benchmarked itself against key competitors and marketed itself to potential clients, MAS  began to realize that its approach to labour stood out when compared with prevailing industry norms. It took its role as a socially responsible corporation to heart, and looked around to see how other companies that were making similar efforts incorpo-rated their socially responsible practices into their brands. Reebok was promoting human rights and had underwritten Amnesty International's 'Human Rights Now!' world concert tour in 1988, which it followed through with an annual 'Reebok Human Rights Award'.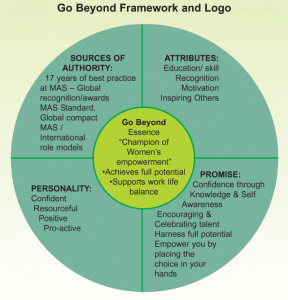 In the cosmetics field, The Body Shop pressed on with its five core values, including a ban on animal testing, support of community trade for its product ingredients, activating self-esteem, defending human rights and protecting the environment. Heinz and Toyota were also model brands for MAS as they progressed with their respective goals to promote family values and social advancement.
The Women Go Beyond project was launched in November 2003 as the company's flagship stra-tegic corporate social responsibi-lity initiative and was rolled out to 15 apparel-manufacturing plants with 18,000 employees between December 2003 and May 2004. The programme was centrally managed and functioned with a network of Women Go Beyond champions – one in each plant – who, with a multi-functional team, implemented monthly programmes and together coordinated company-wide projects and events such as the annual 'Empowered Women of the Year' awards.
Fernando and his colleagues designed the programme to touch three dimensions of its employees' lives: personal motivation and care of employees, the community surrounding MAS (notably women and children), and society as a whole. Internally, the programme aimed to promote career advancement by its contribution to skills-learning and knowledge-building through tailored training programmes.
Employees received training in computer skills, English language skills and leadership abilities. Women Go Beyond also sponsored programmes to train women in balancing work/life issues, using emotional intelligence, communicating effectively and managing stress. 'Balancing the Multiple Roles of a Woman' was specially designed to educate all employees in how to juggle their responsibilities as employees, mothers, daughters, wives and sisters.
Personal care, grooming and other health and beauty techniques were highlighted in a 'MAS-Unilever Getting More Out of Life' programme launched in 2005, which has since seen more than 1,500 employees certified in beauty, health and hygiene skills. In addition to enhancing social skills and poise, it encouraged sport, talent and skills development. 
Rewards were an important part of the process, with quarterly and annual opportunities to recognise excellence among high-achievers in the workplace. MAS rewarded women who had achieved exce-llence in terms of career, acade-mics, sport, science, commerce and the arts, on a quarterly basis and via the aforementioned annual 'Empowered Women of the Year' awards. 
Outside the plants, Women Go Beyond also aimed to advance academic talent in the surroun-ding communities and strongly influenced programmes of environmental sustainability. MAS supported community university entrants and potential sporting talents.
It also contributed to sustainable development education in all the community schools, providing support for the United Nations Environment Programme's YouthXChange, which disseminated information on leading sustainable lifestyles as part of its new flagship programme 'MAS Eco Go Beyond' focused on youths aged 15- 18. Since its launch in June 2006, the programme has taught sustainability to 15,000 youths in 30 rural schools in locations close to MAS plants. It has rewarded the best schools making progress in this area, as well as handing 'MAS Eco Go Beyond Sustainability Awards' to school clubs that enter this annual event. 
Some of MAS' joint venture partners also opted to become directly involved. For example, Gap decided to partner MAS' efforts in community outreach, resulting in the 'Gap Go Beyond' programme, a series of workshops for local women entrepreneurs in the communities surrounding the MAS plants. Ethical and sustainable manufacturing is another issue confronted by MAS in its joint project with Marks & Spencer to build a "green plant" in Thulhiriya, Sri Lanka.
The design of the plant allows it to conserve a maximum of energy and natural resources, for example by using solar-powered energy systems, harvesting rainwater to meet part of its water requirements, maximising natural light sources to reduce electricity usage and implementing low-energy cooling systems in place of air-conditioning. The plant became operational in April 2008. 
Expanding Potential From a Sustainability Angle
The 'Gap Go Beyond' programme, which included sustainable development education, and had spawned a project commonly referred to as the 'MAS Eco Go Beyond' programme.
Designed to teach school children aged 15 to 18 years the concept of sustainable development, Eco Go Beyond asked them to consider why sustainability was important in their own lives and for the future of the planet. The outreach programme had begun in May 2006 in five communities that housed MAS production facilities. The Minister of Education gathered the principals from 20 schools for a presentation of the programme. Initially, schools were selected for participation based on the following criteria: proximity to relatively large strategic business units in either urban or semi-urban areas (within a 10- to 15-mile radius); girls or co-ed schools with classes up to university entrance level; those with links to MAS, either children or siblings of employees; and those expressing the interest and/or willingness to start the initiative and carry on in the long term. The selection adhered more or less to these standards but a number of others were ultimately included in order to ensure a cross-representation of schools. 
Two months later, MAS representatives and the school principals had set up a programme in each of the participating schools addressing three prongs of sustainability education.
The students were then divided into groups to develop mini-project proposals that were elaborated for six months. Each school then adopted one of the mini-projects for further development over the next six months, and at the end of the year the top achievers were recognised at an awards ceremony, with the participation of the Ministry of Education. Thanks to its strong organization, the participation of the Minister of Education and all the school principals, the programme had extended to over 30 schools, reaching a total of 15,000 youths.
Measuring Impact
By 2005, just two years after its implementation, Women Go Beyond had already caught the attention of a number of worldwide bodies. The American Apparel and Footwear Association had awarded MAS its 'Excellence in Corporate Social Responsibility for Women's Issues' award, a first for an Asian company. The programme was also highlighted as "good practice" in a United Nations publication on maximising the benefits of corporate social responsibility. When examining the programme's internal impact, Fernando saw that by September 2006, the various Women Go Beyond programmes had impacted each worker an average of 4.2 times, with a total of 447 programmes implemented. To dig even deeper into the results, MAS decided to commission a study from Lanka Market Research Bureau in the spring and summer of 2006, measuring Women Go Beyond's progression and impact. It targeted directors, managers, supervisors and workers, conducting interviews and asking for questionnaires to be completed in both English and Sinhala languages.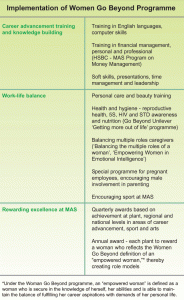 Study Results:
Internal Impact  The directors and managers as a group found the Women Go Beyond programme to be important for several reasons, including its focus on women, the values it helped them assimilate, and the fact that it served as a differentiator for MAS in comparison with other apparel anufacturers in Sri Lanka, India and China. 63 percent said the programme had positively changed their personal lives, a figure which rose to 82 percent in the 2007 survey. Perhaps the most positive information came from the workers: 71 percent indicated that Women Go Beyond "made a significant difference" in their lives, and in 2007 this figure rose to 85 percent. The survey results showed that the workers were, indeed, highly familiar with the programme. MAS made constructive use of the study results to reinforce its efforts to educate employees about the programme where needed.
External Effectiveness
The study also included an external component comprised of a series of in-depth interviews with key customers, including Gap, Unilever Sri Lanka, Marks & Spencer and Victoria's Secret. Each of the companies agreed that it was important that MAS met standards for ethical sourcing.
One Marks & Spencer represen-tative said, "I could see the good work MAS has done to enhance the careers of these women, who would have started off as machinists and progressed houses and improve their lives therein."
The Women Go Beyond programme was rated as highly positive by each of the companies and was interpreted as a strength not only for MAS but also for the industry as a whole and the employees that produced the goods.