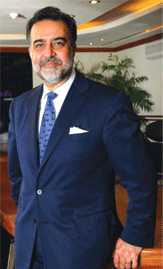 Khaliq shares his personal and professional passions
Passionately responded Zouhair A. Khaliq, CEO Mobilink, when TBL asked him how he feels about CSR. It is part of where we come from and a part of our religion to look after our environment and our people, he continued.
If you look at it from the corporate perspective, when you work as hard and long as we have and have been blessed with the success that we've had, it is only natural to feel that you want to give back. To Khaliq, the company's social investments are directly related to the communities that have helped Mobilink be the success story that it is today.
99.9 percent of our staff is Pakistani, Khaliq said. When we use local people, it encourages them, it's an investment again we demand a lot of them.
Again, it's a passion  it' ll permeate everything you do, said Khaliq about his own ethos personal and professional. To him everything is a manifestation of their philosophy: from the Pakistan-centric approach in their planning and imaging, to their socially inclusive products, to the fact that the drivers to the CEO all enjoy the same corporate cafeteria meals for Rs. 25.
Trio of Success
Khaliq delineated a three-pillar strategy that spelt the success of Mobilink  and its profitable sustainability. This journey to success started about five years ago.
Hi-tech Infrastructure
Mobilink has invested heavily in their core service. He estimates that over 90 percent of their investments have been in this area  about USD 2 billion in the past four to five years, and a total of USD 2.5 billion to-date. The company plans to invest an additional half a billion in the infrastructure in the coming year.
Talent
Of the remaining 10 percent, he estimates that almost equal amounts are invested in the other two pillars: the people behind the company, and projecting the reality that they have worked hard to fix.
The company started five years ago with 500 people. We have today 5,000 people who work with us: brilliant, very talented individuals. In 10 years, people like us will be long gone – because we realise that this is for the long term, we invest in the people we hire today, Khaliq said.
We have invested heavily in the development of our teams, he said. The teams in turn help ensure the company's success. For instance, they help formulate five and ten-year plans. To-date each of the five-year plans have been exceeded another gauge Khaliq uses for their success, combined with the reality that Mobilink is the market leader.
It is CSR to me: each and every ad campaign that you've seen over the last 10 years has been devised, dreamt up and put in place by Pakistanis, Khaliq said. The actors have always been Pakistani. As have directors and producers. We've never been to Bangkok or Bombay; our ads are always shot in Pakistan.
Mobilink's reshaping lives slogan is truly embedded. They see it as a direct investment as well as a long-term human capital investment to work with local vendors or agencies and then demand high-level services from them, instead of choosing to take their business abroad. In a humble way, Khaliq feels that the company is helping them raise the bar in different sectors.
Every team member of Mobilink also volunteers their time and skills, about 250-400 hours, outside of their work hours another example of an immersed corporate ethos.
Imaging
Once you have the reality on the ground, you've got to project the reality, Khaliq said, taking us to the third pillar: perception management. It's taken at least the last two years towards shifting the perception following the phases of reality-management. Behind an image or perception, you've got to fix the reality first, that's why our focus has predominantly been on infrastructure, added Khaliq with only 5 percent of resources then invested in projecting the hard-earned reality.
But instead of spending on types of public relations that simply add clutter to our environment, the company prefers to keep its name alive in communities by engaging with them and providing core services that Mobilink can help provide through its newly-established Mobilink Foundation, initially endowed with Rs. 30 million from the Mobilink Chairman, Naguib Sawiris the first of its kind in the region for a telecom company, added Khaliq.
In the past 3 years for instance, the company has cut down its billboard advertising to 20 percent. To be honest, we've not missed that 80 percent, Khaliq said. To him, this is an instance of an integrated corporate philosophy. The teams realise that part of their direction is to reduce clutter while creatively keeping the brand alive.
The Fourth P in PPP's
Although many businesses in developing economies are hesitant to enter multi-stakeholder frameworks, Khaliq shares the secret to his success with Public-Private Partnerships (PPPs). A quality underrated by so many people, particularly in our oft-mad professional rush: patience. He believes that if you learn patience, there are so many things that you thought you couldn't do and now you can, because you learned patience.
I think it's always a challenge to partner with anybody, especially with government which runs at a different pace; but if you want to do things right, it is imperative – rather than to try and invest something in parallel, which would just be squandering resources, Khaliq candidly shared.
Most of Mobilink's socially inclusive services, for instance, are provided in conjunction with government bodies. For example, the company's lady health worker programme is carried out in conjunction with the Ministry of Health and draws on the resources of the international GSM Association as well. The projects two current pilots aim to tool up the Ministry of Health with a handset when they travel out to rural areas they can connect back into their facility for medical advice, supplies or emergencies.
For the Mobilink PCO, the company partnered with the National Bank of Pakistan. The cost of purchasing the Mobilink PCO, after vendor discounts, was about Rs. 6,000, an amount small entrepreneurs often cannot afford. Via an NBP-provided micro loan, the cost of entry has been lowered from about $100 to $19.
Measuring CSR RoI's
I think it's early days to start measuring, in specific terms, Khaliq said regarding CSR Return on Investments. The telecom sector faces extensive competition. Everybody's been out there pushing their products and services, some have tried to push only though lowered prices, he said. Mobilink has never been a price leader, but has managed to retain almost 50 percent market share, despite the fact that some people sell so much cheaper. I would like to think that it is also the image of Mobilink as corporate citizen, added Khaliq.
I think the constant refrain that I have is, as individuals and as corporations we need to recognise that it's up to us to improve the environment that we live in, the more we do for it the more we will see Pakistan flourish, Khaliq shared as a final note, adding that the prosperity of Pakistan is proportional to the prosperity of our businesses.