A general premise of economic freedom rests on the minimum role of the government in service provisioning. However there are services, or economic limitations of some recipients of these services, which make it difficult for the government to completely roll back from direct provisioning. This situation also arises where the private sector sees little economic incentives or experiences insurmountable regulatory restrictions. To counter these problems, a combination of public and private sector is used, commonly known as Public-Private Partnership (PPP). As such, an increase in the PPP based contracts or investments in PPP based contracts, reflects a greater level of economic freedom as these contracts increase the role of the private sector in traditionally public sector dominated areas.
The Government of Pakistan issued a comprehensive policy document on PPP titled Private Participation in Providing More and Better Public Services through Improved Infrastructure in 2007. It stipulates objectives, implementation structure, viability gap funding, and project life cycle with respect to PPP contracts. This document states that "many economically and socially worth projects lack the ability to raise the requisite revenues to ensure adequate returns for the investor risk."
The policy document further mentions the need of long gestation periods to ensure affordable tariff levels thus exposing the private sector to undue risk. According to the policy, "PPPs with appropriate arrangements in the sharing of risks in financing, operating and maintaining infrastructure services are a solution."
The national policy document also mentions following priority areas for PPP contracts:
Transport and logistics.
Mass urban public transport.
Municipal services (water supply and sanitation, low-cost housing and education and health facilities).
Small scale energy projects .
The federal government has already set up the Infrastructure Project Development Facility (IPDF) under the Ministry of Finance and proposed to make an Infrastructure Project Financing Fund. The IPDF has currently 12 projects, which are worth more than USD 2.8 billion, whereas additionally 23 projects have been identified. An official presentation
As governments turn to the private sector to provide services once delivered by the public sector, they must learn new skills. An increasingly common way is public-private partnerships units. Making the right choices on what roles such units play, where they are located, and how conflicts of interest are managed is critical in their success, states the International Finance Corporation.
notes: "There is a wide diversity in terms of how these projects spread across the four provinces." A sectoral breakdown of this investment is shown below: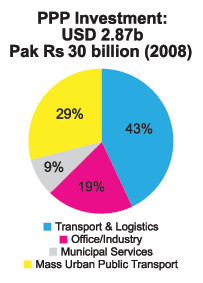 Provincial Distribution of PPP Investments
A tentative geographical distribution (based on a telephonic interview with concerned official) of PPP based investments shows that out of 12 pipeline projects, 3 are based in Islamabad, 4 in Sindh, 2 in Punjab, 1 in Frontier while none are based in Balochistan. There are two projects titled 'National Corridor' which cut across provincial boundaries and therefore cannot be attributed to provincial domain.
Devolved Social Services Programme
At provincial level, the most prominent examples of PPP framework are Devolved Social Services Programmes (DSSPs) administered by each provincial government independently with the donors' support. These programmes make up for capacity constraints of the local government to deliver efficient services and they also capitalize upon the user fee component, thus attracting the private firms.
The overall goal of the DSSP is to improve people's education and health, thereby helping to reduce poverty and gender imbalances.
The broad purpose is to increase school enrolment, and coverage with health and clean water and sanitation services. These objectives are to be primarily achieved by improving governance and financing of social services; that should result in increased access to basic social services, in particular for women; and improved quality, efficiency, affordability and sustainability of services.
The programme has 5 principal policy outcomes, namely, to (i) further administrative devolution of social services, (ii) improve social sector financing and flow of funds, (iii) promote participation, linkages, and public accountability, (iv) rationalize services and set minimum standards, and (v) encourage public-private partnership.
A Demonstration of Public-Private Partnership
Primarily due to its objectives, the DSSP in all provinces has attracted social sector players, that is, NGOs, though the terms of reference to contract a deal with DSSP does not bar for-profit firms. The NGOs have played a positive role in improving service quality at numerous schools across the country but obviously they lack the scale, which a commercial enterprise brings with it.
Public-Private Partnership represents a transition from an omnipresent government to a completely free private sector. It appears that if roles are properly defined, this may well lead to an efficient service provisioning based on the principle of financial viability, rational price structure and user-friendliness. The private sector must jump on these opportunities and enter this largely untapped, though admittedly rough, terrain.