Greener Gaming Computers
An eco-friendlier computer is just a mint tin and soldering iron away. Gaming computers are known to be expensive energy hogs. But what about returning to geeky roots and making a really cool, really tiny gaming computer, where much of the fun is in creating both the device and the games yourself?
Thanks to a handy kit – the YBox2 DIY Mini Network PC offered by Think Geek – you could have a crafty afternoon putting together an eeeeetty bitty computer, and countless hours programing cool games to play on it.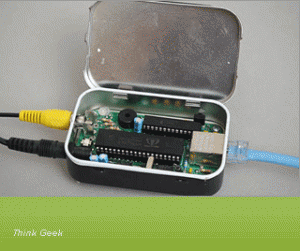 If you're really feeling geeky, you can green it up even more by skipping the kit and finding the necessary parts second-hand through resources like craigslist, thrift stores, or perhaps your own closet.
Don't let the minty fun stop there. There are lots of great geeky projects that involve reusing mint tins. Maybe you need speakers, or a solar charger for your computer? Yep, you can make those from found items and mint tins too.
Shanghai Pavilion is Built From Recycled CD Cases
The exterior of the Shanghai Corporate Pavilion, being built for the Shanghai World Expo which will be held next year, is made from recycled CD cases. Polycar-bonates are thermoplastics that can be heated and reformed, and the architects suggest that when the show is over the whole thing can be melted down again. At Archdaily, the architect describes another interesting feature:
The Shanghai Corporate Pavilion features a 1600m2 solar heat-collecting tube on the roof. These solar tube can collect solar energy to produce hot water up to 95°C. Ultra-low temperature power generation techology, a novel way to generate electricity through solar power. The power generated using this technology can be used for both the exposition and for every day.
Shared by TreeHugger, an online media outlet dedicated to driving sustainability mainstream
Eco-Friendly Fashion Can Reduce Your Carbon Emissions
Some of us could care less about fashion. For others of us, what we wear is an all-important integral part of our being. Funny then how green fashion so often gets thrown to the dogs when it comes to the sustainability discussion. This could be part in parcel to the fact that it doesn't contribute a large piece to the carbon emissions pie (transportation, commercial/residential buildings and diet do) – but the fact of the matter is that it still contributes.
Here are some ways to curb climate change, stylishly.
1. Clean Clothes Greener
 A study from the Institute for Manufacturing at Cambridge University found that 60 percent of the greenhouse gases generated over the life of one ordinary T-shirt originate from its typical 25 machine washing and dryings. The carbon emissions from energy used by the wash/dry appliances actually exceed the emissions from the T-shirt's creation from field to shelf.
2. Seek Out Sustainable Fabrics
 The manufacturing process for petroleum-derived synthetic knit pieces (think polyester and nylon) requires much more energy than it does to make more natural fabrics.
3. Like Local Eats, Wear Local Labels
 Just like the transportation of our food accounts for a piece of the climate change pie, so does the transportation of our duds.
4. Find Pieces that Pull Double Duty and Ditch the Dump
 So often, fashion is fleeting. The temptation to ditch outdated outfits for new and improved pieces is great. What's not great is that many of our discarded duds end up rotting in our brimming over landfills contributing to methane, a climate change accelerator.