Pakistan has an alarmingly high level of malnutrition; 24 percent of the population is undernourished. The most recent estimates by the United Nations Food and Agriculture Organization (FAO) state that 37.5 million people in Pakistan are not receiving proper nourishment. The issue is complex and widespread, with deficiencies ranging from protein to iodine, along with other health problems due to insufficient intake of these essential nutrients. But, what are the implications of these nutrient deficiencies for economic growth and development? Using household level estimates, the graph below shows that the macroeconomic costs are considerable in terms of year-in, year-out gross domestic product (GDP) foregone. For example, just three types of malnutrition are responsible for 3-4 percent of GDP loss in Pakistan in any given year, according to the United Nations Standing Committee on Nutrition (SCN) fifth report on the world nutrition situation.
Malnutrition in Pakistan is usually associated with poverty and the main causative factors include low consumption of food and foods with low nutritional value. The most common and significant nutrient deficiencies are given below:
Iodine Deficiency
This is a major public health problem in Pakistan and is a threat to the social and economic development of the country. The main factor responsible for iodine deficiency is a low dietary supply of iodine. When iodine requirements are not met, thyroid hormone synthesis is impaired, resulting in hypothyroidism and a series of functional and developmental abnormalities, known as "Iodine Deficiency Disorders" (IDD). Goiter is the most visible manifestation of IDD. Endemic goiter results from increased thyroid stimulation by thyroid stimulating hormone (TSH) to maximize the utilization of available iodine and thus represents maladaption to iodine deficiency. However, the most damaging disorders induced by iodine deficiency are irreversible mental retardation and cretinism. If iodine deficiency occurs during the most critical period of brain development (from the fetal stage up to the third month after birth), the resulting thyroid failure will lead to irreversible alterations in brain function. While cretinism is the most extreme manifestation, of considerably greater significance are the more subtle degrees of mental impairment leading to poor school performance, reduced intellectual ability and impaired work capacity. The recommended strategy for IDD control is based on correcting the deficiency by increasing iodine intake through supplementation or food fortification.
A WHO survey (1993-1994) on iodine status worldwide lists Pakistan as having "severe iodine deficiency" with 135 million people having insufficient iodine intake. Unfortunately, iodized salt consumption in Pakistan is at only 17 percent, according to the National Nutrition Survey, 2001-2002.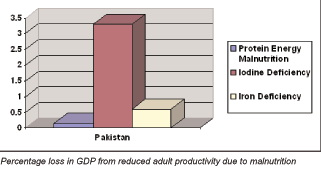 Iron Deficiency
It is well-documented that iron deficiency leads to impaired cognitive development and poor performance in school. Iron deficiency is one of the most prevalent nutritional disorders and has a large impact on economic productivity. Recent estimates of income foregone as a percentage of GDP are 5.2 percent for Pakistan, according to the UN report on world nutrition situation. This depends on the extent of deficiency and the returns to educational attainment in the labour market.
Protein-Energy Malnutrition
This is also very common in Pakistan and leads to a condition called kwashiorkor. Lack of protein can cause growth failure, loss of muscle mass, decreased immunity, and weakening of the heart and respiratory system. A survey by the World Health Organization (WHO) shows that the number of underweight pre-school children (0-5 years of age) in Pakistan is 40 percent. Such children often remain weak and undernourished throughout life.
Role of The Food Industry
The malnutrition issue in Pakistan is a major CSR opportunity for food companies since the possible solution lies in widespread availability of essential nutrients in low cost food products. Food companies can utilize their existing resource and development capabilities to develop low-to-moderate-cost nutritional foods. Using a bit of ingenuity, this can be achieved with low additional costs to the company and a long-term product investment with guaranteed gains.
The National Foods Limited Example
National Foods Limited (NFL) is a company which leverages triple bottom line (TBL) principles to create a successful business model.
A pioneer in the Pakistani food industry, ISO:9001 & HACCP certified NFL has been providing consumers with pure food products since 1970 and is the market leader in branded refined salt, with about a 90 percent share. In response to the iodine deficiency issue, NFL launched iodized salt in 1991. Then several years were spent in collaboration with UNICEF to promote the use of iodized salt across Pakistan. Result is that today half of the sales volume of NFL's refined salt is taken up by the iodized variant.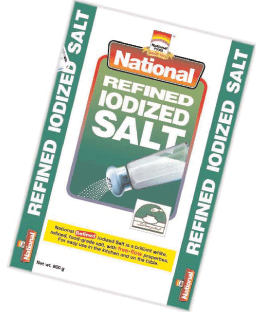 NFL has also conducted a series of seminars on nutrition at various educational institutions across Pakistan. Future plans include in-house development of low-cost nutritional meal solutions and improvement in the supply of raw ingredients at the crop-growing stage. With over 250 products in its portfolio and sales in 35 countries, NFL is dedicated to improving the well-being of society through continuous development of innovative food products.
Reference
United Nations Standing Committee on Nutrition (SCN). Fifth Report on the World Nutrition Situation: Nutrition for Improved Development Outcomes, March 2004.