Ever since 1972, 5th of June, has been celebrated as the World Environment Day. It was on this day that the United Nations Conference on the Human Environment was held for the first time. An interesting fact about this particular international day is that every year it is hosted by a different city in the world, with a different theme. For 2012 the theme is "Green Economy: Does it include you?"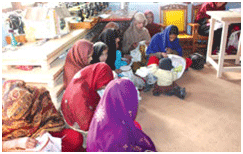 This is a highly appropriate theme for our planet today, considering that over 7 billion inhabitants of this world are almost at the point of no return, environmentally speaking. It is really the time for human race to make a decision.
The UN Environment Programme (UNEP) defines 'Green Economy' as "one that results in improved human well-being and social equity, while significantly reducing environmental risks and ecological scarcities." And essentially the second part of the theme 'Does it include you?' implies that now is the time for each individual to assume environmental responsibility.
For emerging economies like Pakistan, it is extremely important that women, constituting nearly half the population, are also very much a part of the wider development process. It is as important to educate our women and give them equal livelihood-earning opportunity, as it is to actively involve them in areas that majorly affect our future. Environment surely must rank amongst the top priority areas for engagement of our womenfolk.
There is enough empirical evidence to substantiate that women work as agents of change. Especially when they are educated, economically empowered and vocationally trained, the whole family as well as the larger society reaps benefits. According to a report by the World Bank, when income is in the hands of a mother, the survival probability of a child increases because mothers tend to invest more of their income in health and nutrition. In sub-Saharan Africa, agricultural productivity could be raised by as much as 20 per cent by allocating a bigger share of agricultural input to women.
Coming over to our own country, the Agriculture and Rural Development Department (ARD) of the World Bank Group reports that with respect to livelihood opportunities, over half of the women in Pakistan suffer 'poverty of opportunity' compared to one-third of men. So keeping these facts in view, You! takes a detailed look at an environment project that seeks to actively encourage women of the local communities in the project area into assuming environmental responsibility.
The project is now in its fourth year of execution by the World Wildlife Fund Pakistan (WWF) in the Ayubia National Park area, in the environs of Nathiagali, under a project grant by The Coca-Cola Foundation.
The project is for improving sub-watershed management and environmental awareness in Ayubia National Park, aiming at sustainable natural resource management and local communities' development. The 3 project sites – Namlimera, Kundla and Lundi Mandri – are located along the periphery of Ayubia National Park in Galiat Region of the Khyber Pakhtunkhwa province. This project first started off in November 2008 and was originally scheduled to end in June 2010. But subsequent to the positive outcomes and overwhelming support and interest of the local communities, the project was first extended up to June 2011 and then July 2012, with additional funding from Coca-Cola.
Watershed management undertaken through this project is helping in the conservation of water resources, thus reducing environmental risks and ecological scarcities. By creating awareness and educating local communities and visitors to the National Park, the project is also contributing to mitigating the loss of biodiversity. And by providing livelihood opportunities especially to women, human well-being and dignity, and social equity are being promoted; thus making Ayubia National Park project an ideal model of Green Economy.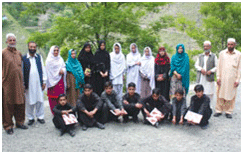 Community participation is vital for any development project to be successful and sustainable. By actively getting involved at various levels and stages, community members get a sense of ownership which helps in achieving mutually beneficial goals. Local residents of the sites have been mobilised for an effective role in sustainable natural resource use, watershed management and biodiversity conservation after awareness raising and capacity building programmes.
Concurrently the project is contributing in improving the locals' livelihoods. An interesting and very relevant feature of the area is that a majority of young able-bodied local men have migrated to the cities all over the country in search of employment and better earnings. As such involving the women of the local communities in development overall and in environmental concern becomes even more critical.
The project plan prepared by the WWF with active participation of Coca-Cola Pakistan has successfully focused on these matters. The women living around the project sites have been provided training for activities such as kitchen gardening or vegetables cultivation, gladiolus flower cultivation, fruit plantation, nursery raising, sewing, cutting and embroidery, and household poultry rearing. These trainings have greatly contributed in the empowerment of women and improving their livelihoods. Hundreds of local women have been trained in these fields.
The trainings are provided while taking into account the aptitude, interests and social conditions of women. In the first year of the project 187 female students were enrolled for a computer literacy programme. Then during 2010 – 2011 housewives were engaged to establish 38 small-size orchards. In the same period 100 households were provided with fuel-efficient stoves to reduce the use of fuel-wood taken from the National Park.
Other initiatives taken under this project include a roof-rainwater harvesting programme, to provide community households with fresh water for cleaning, washing and sanitation at their doorsteps, reducing the reliance of the local communities on the natural water springs in the National Park, while saving them the hours that are typically spent by local women every day, just in accessing water from natural springs in the hills and carrying it back to their homes. Up till now 30 small, water filtration units have been installed at these locations that provide clean drinking water to the communities.
However, to ensure longevity of the environmental conservation aspect of this project, it is important to sensitise the stakeholders about the functions and issues of biodiversity and natural resources. To achieve this goal, awareness programmes have been launched and various tools are being used such as presentations, lectures, resource materials and action oriented events and campaigns for the local communities along with tourists and students.
Under environmental awareness and education activities, high-school girls and teachers were trained in solid waste management. A teachers' training workshop was organised specifically on 'School Waste Management'. Various other awareness sessions were conducted in the local communities during which women were educated about preserving the environment. Four compost pits were established at two different sites so that the women knew about properly disposing the kitchen waste in order to keep the surrounding environment clean.
This simple review of one project involving women in the environment leads one to some important conclusions. First, it is vital that women are a part of the development process. Second, as far as the environment is concerned, in many areas, especially the non-urban areas, women participation in environmental protection can really be the game-changer. And third, the corporate sector can really be one of the principal agents of positive change, working in partnership with experienced and concerned NGOs.
What can the government do to further encourage the involvement of the private sector in environmental protection, beyond just obeying and implementing environmental laws shall remain the subject for another discussion. However, till then such dedicated efforts should be highlighted and appreciated so that we also replicate such projects – no matter how small scale – at an individual level for the betterment of our country.