"It's all about people."
Abrar Hasan
CE, National Foods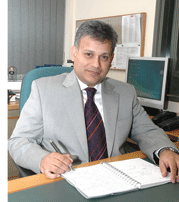 Abrar Hasan is the Chief Executive of National Foods, one of the largest multi-category food products companies in Pakistan. The company has graciously supported tbl since before it even sprang off the drawing board and is one of its 2 founder sponsors. And, for those three faithful years, tbl has not asked him his views on CSR!
It's about time.
CSR at National Foods?
"CSR really has become a normal day to day affair at National Foods, a part of our management practice. It is as important as generating that extra product. And our ethics themselves are a reflection of our CSR"? adds Hasan. That is the kind of commitment we have towards CSR: it is embedded within the organi-zation's way of doing business.?
[Oh, what music to our ears!]
There is a humane side to doing business, he continues. And no one should do business purely focused on revenue-driven activities or based on profit-driven approaches. This element is critical in the sense that it encapsulates the entire human spirit: it comes into play with employees; with various stakeholders; with flood-affected people in the current calamity that has overwhelmed Pakistan, and so on…
"Your business does not operate in a vacuum,"? he emphasizes. You need to address this side before your business can really shape up ? your business is driven by people.?
It is perhaps this clear understanding of the role people play" as employees, in the supply chain, as consumers and at the holistic level, as civil society, that has kept National Foods at the forefront of the industry.
Hasan believes that there is a national responsibility every individual has and must fulfil. Every citizen has to participate in nation-building, at whatever level and with whatever resources are available.
"Profit is Not Everything"?
In its corporate philanthropic measures, National Foods works with areas it has strategic strengths in.
For instance, about 38 percent Pakistani children under the age of 5 are victims of severe acute malnut-rition. Experts estimate that malnutrition reduces Pakistan GDP by a factor of 5? 7 percent by hampering normal physical and mental development. National Foods has been working for several years on developing a cost-effective, high-nutrition product variations of which it distributed more than 1.5 million servings of to flood-
affected people as well.
These are not really revenue or profit-generating products for us,? says Hasan. This is a commitment towards using our R&D strengths to address the effects of poverty.?
The company also looks at lifting the quality of life, for instance, through their Adult Literacy Program (ALP). In the year 2000, Mr. Abdul Majeed, the Chairman of National Foods, and one of its founders, introduced the Adult Literacy Program at the
company's factory for development of the mostly illiterate labour force. As of 2005, the program has expanded as a partnership between National Foods (funding of books, teachers, other operational expenses), a leading edu-cation sector NGO, The Citizen's Foundation (providing school buildings), and Literate Pakistan Foundation, the NGO which provides the curriculum, the teachers training and monitoring.
The ALP program has specially designed phonetic courses where adults can learn to read and write in Urdu, the national language, and do simple arithmetic in a short span of time (a course is for three months, two hours per day). The program helps previously illiterate people to advance in their careers while uplifting the community overall.
Community welfare and support is inherent in the company's approach to business. For instance when a production facility was set up at Muridke in the Punjab province, the company arranged for the provision of clean drinking water to the local community, through a filtration plant. The faucets, open outside of the factory, provide enough water for the whole village, with an estimated daily capacity of 35,000 Gerry-cans.
Value Chain Empowerment
National Food's value-chain empowerment initiative, challen-ging as it was, also worked. The company focused on the capacity building of farmers " those at very beginning of their product value-chain. The farmers were able to harvest improved quality and higher price-fetching produce. The company in turn diversifies its revenue-base by accessing more markets with its own higher standard products. Being the largest single buyer of red chilli in the country for its range of food products, National Foods piloted this stakeholder building concept with chilli farmers, and is now starting replication where flood-related damage is lower: with mangoes and kasuri methi.
Personal Social Responsibility – PSR
What would he recommend people do to mitigate poverty, we asked? In their personal lives, and through their professional work?
Hasan was quite clear in his thoughts on this: Take the people near you and help them, he said. that simple.?
On a daily basis just work with the people who touch you: their families; their health; raise their standard of living in some way.
If everybody does this a commitment towards betterment,? he believes.
Doing good should be a natural process, he opined. Whatever one's income is, one can do something. You don't need money to actually do good. He doesn't think it should be free either. Teach the people you work with along the way, he says. Inculcate that sense of responsibility in them too, in the spirit of developing the chain of positive behaviour.
Inspiring Instances?
Which led us nicely into the discussion on what in his work he finds most inspiring:
Watching people in his organi-zation grow,? was his immediate response. There are plenty of people in National Food's leadership positions now who have risen through the ranks – with the senior leadership personally contributing towards their deve-lopment. We have worked with them to bring them here – and they are now doing the same for other people,? he says.
And, they have the clear realization that the behaviour for success has to be honest, ethical and diligent. There is no shortcut to going through the painful grind.
For a corporate leader, business success becomes more meaningful if you are able to positively impact the lives of the people working with you.
I am glad I was given the opportunity to work with these people and to develop their lives,? Hasan stated, adding, This, is also a value chain. It is very inspiring to see human resources around you develop, grow and deliver. Then, they impart the same onto others.?
When you leave these are the people who will reflect your cha-racter you can always see a little bit of yourself in them. And this, actually, is your legacy
.