Professor Felipe b. Alfonso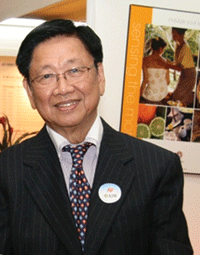 Professor Felipe b. Alfonso is currently the Vice-Chairman, Board of Trustees, of the AIM Scientific Research Foundation, Philippines, and the Executive Director of the Asian Forum for Corporate Social Responsibility (AFCSR). Two entities that he is inextricably linked with. tbl?s Editorial Director Khadeeja Balkhi and Editor- n-Chief, Zohare Ali Shariff had the opportunity to meet with Professor Alfonso during AFCSR 2010 in Kuala Lumpur. A man of rich experience and great learning, he had invaluable insights to offer in our dialogue with him, which tbl is now pleased to share with its readers.
The beginning
In 1999 Felipe Alfonso was nearing the end of his term, after 10 years, as the President of the Asian Institute of Management. Committed to carrying on working in the development field, he started a new activity in AIM ? the training of managers specifically for development. He perceived CSR as a bridge between management and development and the idea strengthened in his mind to establish a center for research in this field. Supported by the del Rosario Group and other businesses in the Philippines to start with, he approached the Ford Foundation in New York for further support in terms of an endowment. While he was informed that the Ford Foundation does not give endowments for start-ups, he persisted and persuaded the Foundation to reconsider – eventually succeeding in obtaining its support.
The idea to hold an international conference on CSR then took root because Professor Alfonso discovered that what CSR needed most was advocacy. "When we started off, people asked 'what is CSR'?" he recalled. And so the first Asian Forum on CSR, held in 2001, focused on this question to start off the advocacy mission. After 2 or 3 years, AFCSR saw that there was interest generated in ever widening circles. In later years then AFCSR broached implementation issues and people would come to the conference to explore the 'how' behind choosing and doing projects.
The first AFCSR event was a success by any measure in bringing to the front a subject area that was growing in importance throughout the world. Every year since then, the Asian Institute of Management and the Ramon V.del Rosario, Sr. Center for Corporate Social Responsibility have organized the annual event, with the ninth annual Asian Forum on Corporate Social Responsibility (AFCSR) held on October 21 & 22, 2010 in Kuala Lumpur, Malaysia on the theme ?Improving Business Competitiveness through CSR.'
The direction
"At the Ramon V.del Rosario, Sr. Center for Corporate Social Responsibility we first focused on strengthening the theoretical basis for CSR thoughts and concepts, as this will lead to better understanding and will help replication," Professor Alfonso shared.
The Center thus conducts research, case writing and training programmes. The governing idea is to develop materials and migrate these into existing programmes. Ethics was an area that deserved and received attention. Now the Center is trying to develop CSR cases that deal with finance and with marketing, so these could also be published for corporate use. CSR, in Professor Alfonso?s words, ?must be part and parcel of the whole system".
CSR: Bridging Silos
"Our management programme when first started, went out to rural areas for first-hand experience and to get a better understanding," stated Professor Alfonso. ?We talked to NGOs who were active in the areas where we went. Initially there was opposition from community organizations. ?Why do you want to find out?' they would ask us. 'You're a bastion of the establishment,' they'd state unabashedly. Today, one of those same community organizers is the Minister of Social Welfare in Phillipines. A friendship had been forged then, that lasted to this day: I think talking to us and working with us opened her mind to a lot of different possibilites. And so we were convinced that if we want to overcome social ills of society, we need to develop collaboration with NGOs and the community organizations".
"There was a time when the government felt it had the answers to everything," the Professor stated, outlining a trend he observed through his work . "Then civil society felt that, this is the way to do things. Then they found out they cannot deal with all social issues either. Then business came in and said we will do it. And they just don't have the skills to do these kind of things" ? any one group on their own.
"Now as a result of our efforts, public-private partnerships have developed. Instead of being separate silos, NGOS, business and government have started talking to each other."
tbl couldn't agree more! CSR, like any other field that has multiple and diverse stakeholders needs dialogue, networking and partnerships to be able to flourish. The AFCSR annual event itself proved to be an extremely valuable platform to share ideas and learning and discuss cooperation for a common goal, with CSR specialists from business, NGOs, government, academia, media and others. Altogether there were a total of 342 delegates who registered from 27 countries representing 245 organizations.
Discovering the Integral Nature of CSR
Commenting on when people started talking about integrating CSR into the way they do business, Professor Alfonso said, "Sometimes, I can't forget how it went with one of the corporations in the Philippines, the Jolly Bee fast food chain, the biggest in the country. Part of their agenda was the approval of a programme – trying to get approval for a process that ensures that they had an adequate supply of the kind of quality they wanted, of potato and rice. So they started talking to farmers and helping them to achieve the desired quality of produce. Jolly Bee began buying the produce of these farmers and decided that this is a CSR programme we would like to enter into. The wow moment came when it realized they didn?t need a separate budget for the programme, as this was integral to its production and supply chain. So Jolly Bee decided to
allocate 1 to 2 percent of the net profit of the company on an ongoing basis to the programme."
Future prospects
tbl: What in your experience are the greatest hurdles to the growth of CSR?
Professor Felipe Alfonso: "Lack of support from top management in companies, lack of resources and a lack of interest from the employees."
tbl: What will drive CSR in the times to come?
Professor Felipe Alfonso: "Necessity will lead CSR in the future". "What is happening is that an awareness is developing of common issues across regions."
tbl: And, advice on how to convince detractors?
Professor Felipe Alfonso: "For corporate skeptics of CSR, advocate the benefits to the bottom line; the business case". "This is why management is so important."
As an example, he talked about a geothermal energy generation company which carries out re-forestation under its CSR programme. This company, Professor Alfonso pointed out, can actually measure over time how the re-forestation is actually helping maintain the water table to a level where the company can continue to produce geothermal energy.
A clear example of the business case for CSR.