The year 2010 so far has witnessed several environmental disasters such as the BP oil spill, the massive floods across Asia and more recently, the toxic sludge in Hungary. The first questions that come to mind would certainly be, "How did it happen? Who caused this mess?" In the case of the toxic sludge in Hungary that wiped out all life in the Marcal river -I found out that it was the MAL Hungarian Aluminium Production and Trade Company (MAL Co.) From their website, MAL Co. articulates their strategic development plans, "… designed to create new jobs, …promote product restructuring,… achieve continuous improvements in quality with a view to creating the conditions of long term operation for the Group." As with most organizations or companies established, the vision for itself would be to operate for the ?long term?; for as long as it is able to, till the end of time. But is this possible?
What enables corporate longevity?
According to Arie De Geus? book ?The Living Company?, it may well be. The writer highlights the research conducted in Royal Dutch/Shell that sought to answer what enables corporate sustainability and longevity. The criteria for companies they had studied were:
large companies that were as significant as Shell in their respective industries
as old or older than Shell (itself established in the 1890s)
had "successfully weathered some fundamental change in the world around them, such that they still existed today with their corporate identity intact."
The Four Components of a Living Company:
Sensitivity to the environment represents a company?s ability to learn and adapt
Cohesion and identity… aspects of a company?s innate ability to build a community and persona for itself
Tolerance and its corollary, decent-ralisation, are both symptoms of a company?s awareness of ecology: its ability to build constructive relationships with other entities, within and outside itself
Conservative financing…: the ability to govern its own growth and evolution effectively.
The companies which met these criteria were few. The study found that the average lifespan of a Fortune 500 type company was only 40 to 50 years. Yet, companies such as Shell, Sumitomo, and Stora managed to flourish till today, with some tracing their origins as early as the 17th century! – as is the case for the Japanese company, Mitsui.
Imagine that! A corporate entity with the ability to sustain its purpose, values, identity for hundreds of years in spite of the major political and social upheavals that they faced in their surrounding environments. What enables them to do so? According to the study, four factors were found to be common. The first is being sensitive, attuned to, and remaining in harmony with the changes that occur around them.
Companies: Living Systems in a Wider Ecosystem
Though made up of a rich variety of individuals who are at times unpredictable and unfathomable, the living company, as Arie suggests, is a community of unique persona with the ability to discern its own "membership" and the ability to learn how to co-exist with other communities and within its physical environment.
Coupled with a sense of virtue and responsibility for today's actions affecting the future generations of itself and of others, it is this very ability to learn and adapt that has enabled Interface – a carpet manufacturing company to transform its operations towards reducing the environmental impact of carpet production.
The founder of Interface, Ray Anderson, first challenged the people in the organisation in 1994 to come up with a strategy to address this issue of environmental sustainability. Together, they actively learnt from experts, relooked at their own processes and a year later, charted their journey. "From real life experience, costs are down, not up, reflecting some 400 million dollars of avoided costs in pursuit of zero waste. The first face of Mount Sustainability. This has paid all the costs for the transformation of Interface." Ray Anderson at TED. (February 2009)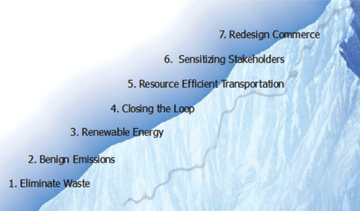 Aside from monetary gains, this journey is enabling the realisation of technological and process innovations such as post-consumer recycling technologies and reverse logistics. These innovations in turn benefit the industry, i.e. the "other communities" of the present and future.
Initiating and sustaining positive change
So, what does it take then, to turn from a MAL Co- type company to an Interface type? If I were to hazard a guess, (in view of limited information about MAL Co) at the fundamental level, it is not just about long term operation of "the Group" but a consciousness of the bigger picture, and a shared vision of a better picture that is rooted upon the positive, universal values of goodness.
In the case of Interface, the transformational leadership qualities of its founder had sparked the impetus for change towards a better, brighter picture. Inspired, the entire organisation became more attuned to this impetus, observed, learnt, experimented with some level of autonomy (and probably failed several times) but committed themselves nonetheless, and motivated each other to strive towards this shared vision.
The changes that the people of Interface went through must have been massive! At an individual level it requires a change in perspective, mindset and behaviours. While at the systemic level, changes in the structures and processes would be imperative in order to support their new strategy for sustainability. Change is often uncomfortable, at best – but what enables people throughout an organisation to sustain their initiatives and innovate as a living system?
Positive Core: Appreciative Inquiry
Recent developments in organisational development may provide some insights. Take the method of Appreciative Inquiry (AI) as an example. This process entails discovering the ?positive core? of an organisation through positively framed questions. Inquiry that is appreciative searches into the strengths of the whole, understanding what gives life, and elements that will enable a flourishing future state to be co-constructed amongst the members of the living system.
As a practitioner of AI, I have observed how this process brings positive emotions to the fore as individuals and groups share, listen and gain insights from past and present capacities. The shift in energy is contagious as people connect and relate to each other?s strengths, high-point experiences, beliefs, anecdotes, wisdom, and their hopes and dreams for the future.
A theoretical Model for Positive Organisational Change, proposed by AI founder, David L. Cooperrider, and Leslie E. Sekerka, proposes that this elevation of inquiry, and the collective expe-rience of positive emotions ? particularly Hope, Inspiration and Joy ? further propels them to search into what the best system could look like. Enjoined by a shared purpose and empowered by mutual support, members of the process are energised and moved to something beyond themselves. Through self-organising units, they 'give birth' to ideas, innovations emerge, and breakthroughs achieved.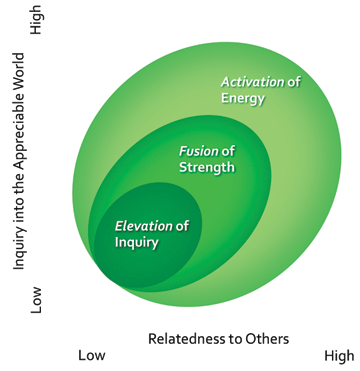 A Living System:Innovation Enabler
In summary, I would like to believe that every entity – corporate or not – is a living system with the innate wish to continue existing for as long as it possibly can. In order to do so, it has to remain relevant by creating value for itself and the larger ecosystem in which it exists. The entity does so by being attuned to its environment, inquiring, learning, sharing and creating a positive, conducive environment for the value creation process. As in the case of Interface, sustainability provided the imperative for positive change for the long term. While fulfilling their social and environmental responsibility, profits were reaped, but beyond that, value was created through innovation. And to come full circle, the very enabler of innovation ? is once again the recognition and acknowledgement that an entity is a living system. A living system with an unlimited network of strengths, capable of unleashing its unprecedented potential for growth, development, and lasting, positive impact.