Child Rights National Conference and Reel View Festival
Street children in Pakistan number approximately 70,000 and almost 50 percent of the children drop out of school because of rampant corporal punishment, poverty, financial constraints and abuse. A child as young as seven can be tried for committing a crime (the lowest age for criminal responsibility in the world), according to a press release issued by SPARC.
Speaking at the Annual Conference and Reel View Festival held on November 24, 2009 at the Pakistan National Council of Arts (PNCA) in Islamabad titled 'The Role of Electronic Media in Promoting Child Rights', SPARC Executive Director Mr. Qindeel Shujaat highlighted electronic media's positive role in bringing the issue of child rights to the forefront.
Speaking at the festival, Ambassador of Norway, Mr. Robert Kvile said that Pakistan is among the many countries which lag behind in implementation of the Convention on Child Rights. Pakistan also has laws and ordinances that arguably are in conflict with principles and provisions of the Convention.
Mr. Marcus Peter, Ambassador of Switzerland, while commenting on the issue of children in conflict, said that over the last two years a significant number of children, particularly girls, stopped going to school because they had received threats or because their schools were bombed, particu-larly in some parts of NWFP and FATA.
Director ILO Pakistan, Mr. Donglin Li while highlighting the efforts of International Labour Organisation in progressive elimination of Child Labour in Pakistan, said that SPARC has successfully drawn the attention of both policy makers and the public on the plight of margina-lized children particularly on those children who are toiling in labour and often under hazardous labour.
National Manager SPARC Media and Creative Unit, Fazela Gulrez shared that they were apprehensive about whether there will be sufficient entries to run in the festival for two days but it was a pleasant surprise to see the large number of entries sent by individuals, NGOs, INGOs and TV channels.
Mr. Jamal Shah, head of Hunarkada said that children are the saplings of today and they become the shadowy fruit bearing trees of tomorrow. He said our society is corruption ridden which has destroyed all the institutions in the country. But at the same time it is important to focus on this issue.
The speakers at the conference paid tributes to the media for highlighting social issues with particular reference to child rights and reiterated that the media can play a proactive role in the fight for child rights. Later the Reel View Festival showcased documentaries, songs and TV programmes focusing on child rights, which were submitted by various individuals, NGOs, INGOs and TV channels such as Dawn, Geo, ARY, Express, and Rohi to name a few.
Eco-Fabrics Sourcing Event
The Ethical Fashion Forum's Global Sourcing Marketplace, the first ever ethical sourcing marketplace, was held on Nov 20 and 21, 2009 at the Chelsea College of Art and Design.
The Global Sourcing Marketplace is run in partnership with some of the most established global networks of suppliers and experts in the ethical, eco and fairtrade fashion fields, including the Fairtrade Foundation, the World Fair Trade Organisation, Made By and the Textiles Environment Design project at Chelsea College.
Exhibiting at the event were over 30 ethical garment and textile manufacturers, suppliers of organic and fairtrade cotton, representatives of cooperatives and community groups, eco colour dye and printing specia-lists, suppliers to leading retailers, designers and pioneering brands.
The designers including Vivienne Westwood and Zandra Rhodes worked with fabrics and components sourced from African manufactures and community groups. Alongside this, designers worked with recycled and reclaimed materials to create the exclusive designs which were shown on the catwalk.
There were seminars held throughout both days whereby designers and suppliers spoke on a range of issues relating to sourcing and production.
For more information, visit:http://www.ethicalfashionforum.com/global-sourcing-marketplace
International Volunteers Day
Designated by the United Nations since 1985, International Volunteer Day (IVD) is celebrated every year on December 5. Mobilink, Pakistan's market leader in cellular services and a subsidiary of Orascom Telecom Holding, celebrated IVD and commemorated employees for maintaining the spirit of volunteerism throughout the year. The declared aim of IVD is to thank volunteers for their efforts and increase public awareness on their contribution to society.
Employee volunteerism is a core value of Mobilink's Culture of Excellence and employees are strongly encouraged to develop a humanitarian spirit. This is why Mobilink employees are sanctioned to clock an average of 4 to 5 dedicated hours per person per month during official working hours. The volunteers spent over 3,000 hours in 2008 in community service and have already clocked in 4,800 hours this year.
A key activity in 2009 was employee involvement in collection, procurement and distribution of relief items for Internally Displaced Persons (IDPs) of the Swat and Malakand District. Through their efforts, Rs. 3.5 million worth of essential relief goods were distributed to over 15,000 IDPs. This is in addition to the Mobilink Camp, set up with a Rs 81 million fund for 1,000 families of IDPs, also established and managed by a team of Mobilink employees in consultation with Emergency Response Unit and implementing partner agencies.
Outstanding volunteers were awarded trophies whereas certificates of appreciation were also distributed among the highly motivated torchbearers to recognize their relentless efforts. Torchbearers in other cities were also appreciated through similar ceremonies organized by Mobilink to mark IVD.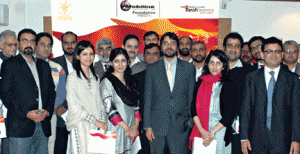 The Third Annual Sustainability Summit
Business is at a crucial turning point the short pause between the Copenhagen meeting and enforcement of the Carbon Reduction Commitment in April 2010.
Sustainability leaders urgently need to build workable strategies for climate change while continuing to satisfy customers, shareholders and the wider community. We are facing the most significant programme of investment and change in our lifetime.
How are businesses responding to the sustainability challenge? The Third Annual Sustainability Summit provides fresh thinking and thought provoking commentary from top executives and policymakers. It will bring together up to 150 business leaders to discuss the real implications of climate change on business. Hear from pioneers: the strategies they've used to become carbon-neutral while maintaining
competitiveness, and the false trails they've learned to avoid. Share insights from the world's most influential thinkers and policymakers, as well as the latest research from the Economist Intelligence Unit (EIU). There will be case studies from corporates on cutting-edge sustainability initiatives – both inspirational and informative.
Those leading the debate include:
Stefano Pessina, Executive Chairman, Alliance Boots
Gareth Llewellyn, Global Head of Safety and Sustainable Development, Anglo-American
Roger Harrabin, Environment Analyst, BBC
Tim Smit, Chief Executive and Co-founder, Eden Project
Jonathon Porritt, Founder Director, Forum for the Future
Anthony Giddens, Member of the House of Lords
Jeremy Hobbs, Executive Director, Oxfam International
Will Day, Chair, Sustainable Development Commission
Paul Polman, Chief Executive Officer, Unilever
Mark Wright, Chief Scientist, World Wildlife Fund
Delegates will have the opportunity to review findings from over 500 senior business executives – An exclusive EIU research report "After Copenhagen-Assessing the impact on business".
For further information please visit: http://www.economistconferences.co.uk/event/third-annual-sustainability-summit/176
Corporate Integration of Renewable Energy Conference
As corporations around the world continue to tighten their grip on expenditures, many are looking to reduce overall operating costs, through greater energy efficiency. By combining the right mix of energy efficiency programs co-generation of power, as well as the integration of on-site renewable energies, companies are seeing double digit returns on investment, and more.
These companies are finding that while increasing their efficiency and reducing their costs; they are also enhancing their stewardship,
their corporate sustainability, as well as reducing their overall carbon footprint. Creative uses of technology and energy can result in not only financial savings but in most cases also helps to create a bond with employees and local communities, all of whom value environmental stewardship.
The Renewable Energy conference, which will be held in February 1 2, 2010 in San Antonia, Texas, will bring together corporate leadership to discuss and debate the opportunities and incentives of incorporating renewable energy resources and sustainability practices into their organizations, and will not only provide tangible metrics for measuring results, but will also discuss the intangible benefits of such programs. Case studies will highlight real-life success stories of organizations creatively utilizing the resources at hand to generate power, and generate savings.
Keynote presentations will deliver inspirational discussions on the development of business cases for investing in renewable resources, and will enable attendees to truly delve into the barriers and challenges of these types of programs. Policy-driven presentations will also be incorporated into the agenda, so that participants have up-to-date details on state-by-state regulations, incentives, and the latest information on cap-and-trade as well as renewable energy credits.
Throughout the programme, sessions will also describe methods for developing stronger ties with employees and communities through the promotion of environmentally friendly practices. Several case studies will describe the impact that renewable energy and energy efficiency programs have had on employee retention and community outreach programs, creating a greater sense of stewardship within the
Sustainability leaders urgently need to build workable strategies for climate change while continuing to satisfy customers, share-holders and the wider community. We are facing the most significant programme of investment and change in our lifetime.
company and community. Overall, this renewable energy conference, like all Q1 program-mes, will develop a platform where participants can openly discuss their challenges and through dialogue with speakers and participants, will recognize pragmatic solutions to their problems. By bringing together high-level presenters who have real-time experience in the creative integration of renewable resources into their energy mix, this conference will be a must attend.
Topics to be addressed will include:
Making a business case for investments in renewable energy
Valuation of the impact of renewable energy and return on investment
Understanding state-wide regulations and opportunistic tax credits
Stabilization of operating costs through use of renewable energies
Recognizing the impact of cap and trade and renewable energy credits
Striving towards carbon neutrality as a corporation
Development of a corporate social responsibility strategy that includes renewables
Leveraging intangible value of social reputation and brand equity
Case study presentations with ROI metrics on the following areas:
Integration of wind generated electricity
On-site solar energy panels
Utilization of land-fill gas recapturing heat/steam
Establishing voluntary greenhouse gas emission reductions
Regulatory and policy considerations in working with the EPA
Power Purchase Agreements (PPA)
Finding and maximizing potential energy efficiency opportunities
Renewable Energy Certificates (RECs) also known as green certificates, green tags, or tradable renewable certificates
Carbon Offset: reducing C02 emissions
American Recovery and Reinvestment Act (Recovery Act)
1603 grants
48c tax credits
ISO 14001: Reducing your companies environmental footprint
Biomass renewable energy
Job titles of those that will find this programme most applicable include Chief Officers and Vice Presidents of:
Environmental Affairs
Sustainability and Corporate Responsibility
Global Energy Management and Environmental Operations
Environmental Health and Safety
For more information please visit:
http://www.q1productions.com/eventPages/event_PECONF-4001.php