Conference: Bringing Women Owned Enterprises from Micro to Small Calling for a Policy Wedge between 'Small' and 'Medium' Enterprises
Federation of Pakistan Chambers of Commerce and Industry in collaboration with Center for International Private Enterprise, a non-profit affiliate of US Chambers of Commerce working for economic reforms throughout the globe, recently organized a policy round table on "Bringing Women Owned Enterprises from Micro to Small" in Lahore, in which a large number of women entrepreneurs from various cities of the country participated which was addressed by SMEDA CEO, Shahid Rashid, Vice President of FPCCI, Mian Muhammad Adrees, CIPE Regional Director Andrew Wilson, CIPE Country Director Moin M. Fudda and FPCCI Women Committee Chairperson Shamim Akhtar.
There was a consensus among the participants that there is a need of a new policy to address the concerns of micro and small enterprises (MSEs) which are structurally different from medium scale enterprises. It may be noted that, according to a SMEDA survey, 84 percent of SMEs in Pakistan earns up to Rs. 500,000 a year as revenue, which would be considered small if not micro, where as the upper limit of revenue of a medium scale enterprise is Rs. 250 million. Paradoxically, the current policy treats 500,000 revenue enterprises and 250 million revenue enterprises under one policy and offers both arch types similar incentives.
The participants of the round table urged the policy makers to address this policy gap and as it turned out from the address of the CEO of SMEDA, which is the architect of SME Policy, the policy makers were keenly listening and expressed willingness to review the policy accordingly.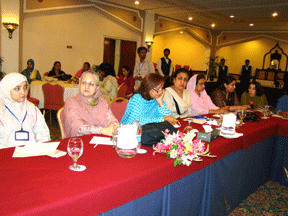 Informing the roundtable, SMEDA CEO Shahid Rashid said that the government will spend Rs 1 billion on 14 women business development centers. The planned business development centers would be built on the pattern of the Business Incubation Centre set up by the Small and Medium Enterprise Development Authority.
FPCCI Regional Chairman Mian Mohammad Adrees suggested in his address of welcome that back up services for credit programmes, including training in marketable skills and improved access to raw materials and new markets, should be provided to women entrepreneurs. They should be equipped with the knowledge to market finance companies like Visa, lovemoney.com and ING. He stressed the need to enhance access of women to credit lines at special rates through exclusive lending windows. He urged the banking sector to expand networking with NGOs to identify female borrowers and simplify their loan applications and loan sanctioning procedures
Addressing the roundtable, CIPE Director Andrew Wilson called for introduction of policy reforms at the government level to provide an environment conducive to enhancing women enterprises from micro to small to medium level businesses in Pakistan.
Contributed by Ali Salman
Newborn and Child Survival (NCS) Campaign
The Ministry of Health and Save the Children launched a campaign to mobilize action to reduce the number of preventable deaths of children under the age of 5. The launch of the Newborn and Child Survival Communications Strategy for Pakistan was held on October 5 in Islamabad. Speakers from Save the Children, UNICEF, and UNFPA were also present. The campaign, globally launched on October 5 in 35 countries, except Pakistan, where the Prime Minister's nonavailability to perform the honours has led to its postponement.
The NCS is a global campaign and in Pakistan is expected to be a platform, where different stakeholders from public and private sectors and civil society would join hands for the welfare of children.
The national maternal and newborn child health programme of the Ministry of Health would serve as the focal point for this campaign and 'Save the Children' will provide technical support for the implementation of the campaign.
Nearly 9 million children die every year before the age of five; that is almost one child every three seconds. The Vision of the MHSC campaign is a world in which every child has the right of survival, protection, development and participation. The Goal is that Millenium Development Goal (MDG) 4 is achieved. This means that child mortality is reduced by two-thirds by 2015, saving the lives of more than 5 million children each year.
In 2000, the world leaders agreed, making a commitment to 'reduce the under five mortality rate by two thirds by 2015' in MDG 4. Save the Children has a vision of a world where no child dies from preventable causes and where people will not tolerate a return to high levels of hild deaths. The campaign aims to build a partnership of private sector and public sector players equally committed to reducing newborn and child deaths.
Save the Children has four campaign pillars:
Dramatically increase its health and nutrition programmes on the ground. By 2015, it aims to reach 50 million children and women of reproductive age each year with adequate health and nutrition services and practices.
Policy and policy change that will challenge governments to uphold their funding promi-ses to strengthen healthcare systems.
Popular mobilization that will create a favourable environment for change by shifting world opinion on child mortality and making the preventable death of child unacceptable as slavery.
Income that will be generated which will be used to fund newborn and child survival programmes. Newborn deaths (those within a month of birth) nearly all 98 percent take place in developing countries. A 2005 report from the Lancet estimated that more than two-thirds of all newborn deaths (2.7 million out of 4 million each year) occur in just ten countries. And just four countries with large populations. India, Pakistan, China and Nigeria account for more than half. We need nothing less than a 'child survival revolution' and helps deliver massive reductions in child mortality. National governments and donors should become more accountable for their performance in reducing maternal, newborn and child mortality, particularly for the poorest.
"CSR Quest" World Tour
In 2010, Dr Wayne Visser – CSR writer, speaker, general enthusiast and sometimes critic will, travel to more than 30 countries in search of innovations, best practices and lessons in CSR, which he will capture and share widely and freely through online video, audio and written weblogs.
The purpose of the CSR Quest Tour is to connect fellow CSR students, professionals and enthusiasts, to collect the latest and best knowledge on CSR practices around the world, and to disseminate this learning as rapidly and as widely as possible. In doing so, CSR Quest aims to level the playing field of CSR knowledge and practice.
As Dr. Visser travels, he will offer 1-hour presentations and 1-day courses on "The Future of CSR", sharing the insights he has gained, not only from his CSR Quest Tour, but from over 20 years of studying, researching, writing about, consulting on and teaching CSR, in more than 30 countries. A typical 3-day programme would include:
A 1-day seminar/workshop on "The Future of CSR", a distillation of the best of my 3 Masterclasses.
A day of collecting, capturing and sharing CSR best practices, that is, meetings with the most progressive. leaders/companies/projects
A day of strategic consulting, that is, meetings with a few senior leaders of companies that are interested in 1-on-1 discussion.
A public talk on "The Future of CSR" (or a topic agreed between us) fitted into one of the 3-days.
The reason for undertaking the CSR Quest Tour is that the world faces some of its most serious challenges ever – from climate change and poverty to corruption and biodiversity loss – and yet CSR has, to date, completely failed to reverse these trends. If it is to remain relevant, CSR needs to adapt or die! Put another way, according to Dr. Visser, the "old CSR" needs to evolve, in much the same way as the internet evolved from Web 1.0 to Web 2.0. We need a "new CSR" – a next-generation version, a CSR 2.0 – if business is to tackle our global social, environmental and ethical challenges in any meaningful way.
If CSR 2.0 is to be the new DNA of business, there are, according to Dr. Visser's conception, two main strands – sustainability and responsibility made up of 4 critical elements: C (Connected-ness), S (Scalability), R (Responsiveness) and P (Purposefulness). These represent the Holy Grail of the CSR Quest.