Each region of the world has its common problems, and yet people in each country have found their own indigenous solutions to the issue of how small businesses should and can grow into mid-sized and then larger businesses.
Various models exist including bank financing, micro credit ala Grameen, Venture Capital (VC) and cooperative enterprises like those in India. Out of these, the most interesting one, and the one with greatest import in Pakistan is the Incubation model.
Incubation Background
Stanford, MIT and other tech universities in the United States have perfected the Uni-Incubator-VC eco-system, and despite claims to the contrary, this system has not duplicated well, by and
large, in other countries.
Government-run entrepreneurial development incubators exist in other parts of the world, however, the objective of such setups is more social development, rather than economic.
Incubation Experience in Pakistan
TMT Ventures, a pioneering Pakistani VC company, ran an incubation model for most of its investments. However, the incubator made the entrepreneurs all too cozy, and resulted in low performance of most incubated companies. This may also be the result of a non-existent VC eco-system in Pakistan.
Entrepreneurial Spirit
However, this does not take away from the fact that Pakistanis, like many people in third world countries, are imbued with an inherent entrepreneurial streak. This results from a lack of social support mechanisms, underemployment and a lack of reasonable employment opportunities for many.
Over time, many communities have developed strong cultures of risk taking and business development. Now, third generation entrepreneurs are present in the business space. Some of these are well known Gujrati speaking families, and some are not well known entrepreneurial clans from Central and Northern Punjab. Other business clans such as Nagoris in Milk production (doodh-walas) and Pathans (tea shops) also exist in large numbers.
Don't Industrial Parks Cut it?
industrial zones, parks and other facilitational setups by the government are in place for capital intensive industries throughout Pakistan. However, no emphasis has been laid on incubating startups. Pakistan Software Export Board's attempt at setting up technology parks presupposes a certain organisational size for park facilities to be accessed.
In any case, there seems to be no funding of any sort available to garage startups. Successful garage startups have been made on family savings or investment from angel investors, and even those have had difficulty in going to the next level. Most die within 11 months – which is the rental agreement period in Pakistan.
Need for a Neo-Paki Incubator
All things considered, there is a need for an incubation system that allows startups to be created and with a strong hand to guide them through the process of growth. Since there is no ecosystem to provide risk capital at the present time, the incubator itself must be financially viable.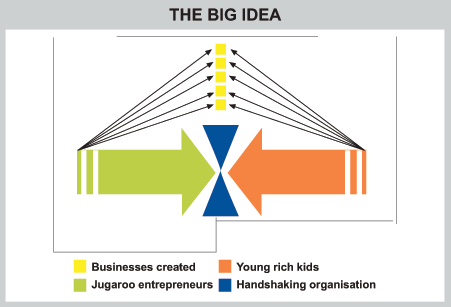 Target
Pakistanis are by nature risk takers. Many who have access to capital, especially those coming from family backgrounds where money is freely on-hand, are turning in large numbers to day trading on the Stock Exchanges, which to many is akin to a form of gambling, requiring almost no business acumen or entrepreneurial risk-taking. Those without capital, on the other hand, are setting up businesses of all sorts that sometimes succeed and sometimes don't.
A Funnel can be Created as Follows
A group of people from different segments can be attracted and tapped to form the base of the incubator. Funding for the business idea will come from the casually labelled young rich kids segment, whereas the ideas will mostly come from the "jugaroo entrepreneurs segment.
Who should do it?
The role of the incubator is mostly that of a facilitator. The incubator will also add value by training the incubators in required business skills.
In cases where further financing is required, the handshaker organisation (HSO) enters as an angel investor. This is an ideal CSR inroad for the handshaking organisation, creating a win-win situation for itself and the entrepreneur by serving both as investor and downstream partner/purchaser of the entrepreneur's services. For instance, imagine the positive repercussions for both if a food company were to serve as the handshaking organisation to an agricultural entrepreneur whose output would then become part of the HSO's upstream supply chain.
Ideally this initiative would be undertaken under the umbrella of an organisation akin to the Chamber of Commerce in association with VC firms, SMEDA and other entities interested in business value creation, such as forward-thinking, CSR-based HSOs.
Advantages of the Neo-Pakistani Incubator
Channelising business ideas that are lost due to a lack of funding;
Training of youth or rural entrepreneurs in business management in a laboratory environment;
Bringing well-heeled youth into productive enterprise building;
Breaking down group stereo-types or socioeconomic barriers by making diverse people work together;
Paving the way forward for similar institutions to be setup in Pakistan and other comparable developing countries with comparable issues of business value creation; and
Creating an ideal CSR initiative inroad for a variety of businesses.