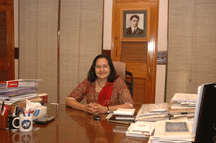 Ameena Saiyid
What is the true measure of success? What is success itself? To answer the second question first, the achievement of material well-being, of great wealth, or of a high social status, is generally perceived as success in everyday terms. A base level definition, this needs further refinement. Take it a few notches higher and success is seen as outstanding personal achievement in one?s vocation or profession. So the intrepid mountaineer who summits Everest, or the fearless sailor who circumvents the planet solo in a sailboat, or the medical scientist who discovers the cure for a dreadful disease, can all be claimants and rightly so, of personal success.
But is that it? Gargantuan as these accomplishments may be, there is still something missing. To understand what that is, it is necessary to ponder over the first question ? what is a true measure of success? Obviously it has to be a feat of great singularity. Though 2700 individuals may have reached the summit of Everest, each one?s ascent to the top of the world is singular. For each faced different conditions in terms of time of the year, weather conditions, age, experience and still other variables. Is the feat of 13 year old Jordan Romero, the youngest person to reach the top of Everest in May 2010 not singular amongst the 2699 others? Perhaps it is Apa Sherpa who needs the greatest adulation on this account for having reached the summit an unbelievable 20 times!
So while success can be looked at in this light of singularity of achievement, it still needs one other element to be truly memorable. It needs to be an achievement that is life-changing for others beyond the individual himself or herself. The true measure of success is making a difference. As simple as that. Converting, leveraging and extending your personal triumphs to positively impact the larger society, the comity of nations, the planet. Perhaps this is a triple bottom-line perspective of success, but isn?t it the success you believe in, if you are reading this publication?
Ameena Saiyid is one lady who qualifies as successful on this account. At the personal level a measure of her success is her being the first woman in Pakistan to become head of a multinational company. Also the first woman in the 150 years history of the Overseas Investors' Chamber of Commerce and Industry (OICCI) to become a Vice President and then the President. And to top it off, she is the only Pakistani woman ever to be awarded the Most Excellent Order of the British Empire (OBE), for services for the promotion of Anglo-Pakistan relations, democracy, women's rights, education and intellectual property rights. Surprisingly, even disappointingly so, our own government still has to confer her an honour or national award. Is anyone in Islamabad listening?
Ameena Saiyid took over the Oxford University Press Pakistan as its Chief Executive in 1988. Though an established and respected name, OUP in Pakistan was still a modest operation. Ameena launched a multi-faceted growth strategy. She rapidly built up OUP Pakistan's publishing programme to such an extent that it began publishing a book a week from the earlier days of a book a year.
She recruited and trained editors, designers and illustrators, and sales and marketing staff, and expanded OUP operations from the cities of Karachi and Lahore to the rest of the country, by opening offices in Islamabad, Peshawar, Multan and Faisalabad. She then went on to establish a network of nine bookshops in Pakistan. Soon thereafter the first nationwide book fair was held simultaneously in twenty towns and cities in Pakistan.
No mean achievements these. In a country with an unenviable literacy rate and a poor reading habit. If we believe mass education is the fundamental requirement for societal development in all its aspects, especially in a developing country context, then the impact of OUP's ever expanding footprint can be better understood. Take any ten CEOs and you will find at least eight out of the ten stating that supporting education is for them a CSR priority area. So what about the CEO who believes that her company's raison dtre itself is education? And if anyone needs a quantitative measure for where Ameena has taken OUP, it may be noted that today there is no school in the private sector in Pakistan which is not using an Oxford book!
Ameena's association with the country's oldest business chamber, the Overseas Investors Chamber of Commerce and Industry (OICCI), established in 1860, has also been a fairly intensive one and extends over a long period. She has been elected to the managing committee of the Chamber some 8 times; then she was elected as Vice-President and finally as the President in May 2010 for a one year term.
While on the managing committee she served as the chairperson of the sub-committee on intellectual property rights (IPR), an issue of vital importance for foreign investors. Her sub-committee developed a position paper on IPR, making recommendations to the provincial government of the Punjab province, which then was regarded as high on piracy especially. She went about raising the profile of the issue by organizing press conferences, meeting with EU, US embassy and other diplomats, made presentations to the judicial academy and carried out advocacy and awareness with other stakeholders, including the police department that is supposed to check IPR violations.
The Overseas Investors Chamber of Commerce & Industry (OICCI) serves as the national point of reference for foreign investors in Pakistan. It promotes foreign investments and in its comprehensive function as a facilitator to foreign investors, OICCI plays a vital role which has multiple impacts. The Chamber is frequently called upon to assist the government in formulating policy in the financial, commercial and industrial spheres, particularly where it affects the foreign investment in Pakistan. The importance of the Chamber can be judged from the fact that its 185 members? collective contribution amounts to more than 29 percent of Pakistan?s total GNP and 22 percent of total tax receipts and spend a billion rupees a year on CSR initiatives.
Now as President of the OICCI, Ameena Saiyid relentlessly pursues the Chamber?s mission and has launched new initiatives like the distinguished lecture series; informative, thought provoking talks for members by distinguished people, and extending IPR advocacy to business schools which produce future leaders for both corporate and government sectors. An example of OICCI?s initiatives to advise investors is the recent publication by it of "An Informative Guide on Inter-national Law Protection for Foreign Investment in Pakistan" by Mahnaz Malik.
So can a person do all this and still have time left over for other things? Apparently so, at least in Ameena's case. She is also a Trustee of the Mohatta Palace Museum, a Trustee, Board of Governors, of The Duke of Edinburgh Scheme, Chairman of the Anti Copyright Infringement Forum, Member, Board of Governors, Infaq Foundation, Member, Board of Governors, LEAD Pakistan, Member, National Council Executive Committee, English Speaking Union of Pakistan, Member, Council of Foreign Relations, Member, Board of Governors, Habib University, Secretary General, The Jinnah Society and Vice Chairperson, Pakistan-India Friendship Forum, Executive Committee.
Men and women who really stand out amongst us in the longer term are those for whom the goal is not limited to personal gain or personal success. These come naturally, almost as a by-product. Their goal is the achievement of an idea or a vision that spells success in its most sublime form ? making a difference in the life of others. This success gives a spiritual satisfaction and has a longevity that can never be matched by purely material success.