Shell-Eco Marathon, a concept that most of us residing in Pakistan, were unaware of until last year, has now become the talk of Pakistan's engineering universities. The Shell Eco-marathon began in 1939 at an American Shell research labo-ratory as a friendly venture between scientists to see who could get the most miles per gallon from their vehicles. It was from here that Shell began orga-nizing competitions for fuel economy. These competitions soon moved to Europe in 1985. Today, the Shell Eco-marathon successfully attracts thousands of young engineers and scientists from around the world.
From 1985 to 2010, a period of 25 years, Shell has been organizing one marathon globally. But, from this year onwards, there has been a twist in the general competition guidelines. The previous concept of One Global Marathon has now been divided into 3 Marathons for Asia, America and Europe respectively.
With the main idea revolving around challenging high school and college student teams from around the world to design, build and test energy efficient vehicles, the marathon offers a practical opportunity for future leaders passionate about testing sustainable solutions to the universal energy challenge. The winner of the marathon is the team that goes the furthest distance using the least amount of energy.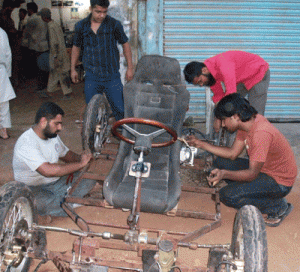 The competition opens its gates with two categories; Prototype Group and UrbanConcept. The Prototype Group entries are focused on futuristic streamlined vehicles where the primary design consideration is reducing drag and maximizing efficiency. The UrbanConcept, on the other hand, has vehicles built to more conventional four-wheel road-worthy criteria and are to necessarily have four wheels, a steering wheel, head and tail lights, doors and other features of mainstream vehicles as we know them.
Last year, four teams from GIKI and PNEC NUST Pakistan participated in the Marathon for the first time. This year, 26 teams from Pakistan are competing.
With this kind of exposure, one can be confident that our youth can change Pakistan's status from a developing country being dependent on imported cars to a developed country self sufficient in producing its own, energy efficient, cars!.
But a key question that comes to mind is, how can these young engineers manufacture a car? Isn't manufacturing a car an expensive and massive task? If the purchase price for our cars hovers around Rs. 4 to 5 million, it would have cost these students more, considering their lacking economies of scale available to mass manufacturers.
To add an element of believability to these entries, a questionnaire was sent to a few participants to get their views on the problems they faced and the support they got – both from their university and from Pakistan's corporate sector.
A key learning from the questionnaires was that our youth did get support from our corporate sector but there were notable disappointments too. On one hand where we have a handful of sponsors assisting them financially, we also have teams with no financial backing at all. More to say, even the ticket costs alone for Malaysia, the host country for Shell Eco Asia, ends up close to Rs. 4 million for a twelve member group.
At tbl, we believe that CSR enables corporations to realize value beyond obvious, mainstream opportunities. If these bright minds have researched to manufacture energy-efficient cars that travel the most miles; with the least amount of carbon emissions; and the least amount of petrol, then this is a golden opportunity for responsible corporations where they have opportunity to realize significant triple bottom-line impact, realizing profits while addressing the universal human need for mobility, with a significantly softer environmental footprint.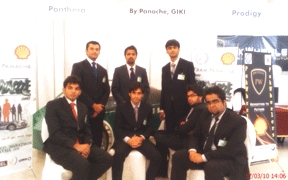 A glimpse at the learning experience of some of the participants from Pakistan
Team Pakistan (NED University of Engineering & Technology):
The foremost problem in making the car, Ajiel, was sponsors. Initially we had all calculations done but the problem faced was how to start the fabrication process without any cash. With the personal contribution of members we started with the chassis. We felt blessed that some sponsorships came through afterwards and we were able to accomplish our tasks. The assistance of our teachers and lab staff was simply great.
Panache (Ghulam Ishaq Khan Institute of Engineering Sciences and Technology):
Our biggest constraint was our logistics and our remote location: our university is located in Topi, 2 hours from any major city. So we always had to travel a minimum of 2 hours whether for sponsorship meetings or buying a bearing. We, the students of Pakistan, have all the necessary capabilities and the talent to develop innovative ideas into hardcore realities that will shape our future in the years to come. However, we lack the support of the industrial sector. It is possible only through such partnered research and development projects that we can overcome the academia-industry trust deficit and work towards a successful Pakistan. Today, we may have reached the end of this project but this project could have been more successful had we received timely assistance from the industrial sector.
Pak-Wheelers (NUST):
There were problems in the import of some parts. We had to change our design specifications many times because of import problems. Foreign vendors were hesitant in providing us with the required equipment. Also, there were problems regarding sponsorships. People were reluctant to give us money. The government helped us in a way that HEC-STEM responded to our call and gave us 0.5 million after a competitive process in which 10 teams participated. We have a message for the corporate sector and that is to please trust us and support us we can be their research hubs. We want to serve this nation and their role in facilitating us is vital.
Team Synergy (University of Engineering & Technology, Lahore):
This learning experience has been the opportunity of a lifetime: holding meetings with the executives of different companies; giving presentations; discussing different designs; their pros and cons; having heated discussions with team members over mundane issues; working till mid night on last minute problems in engines… For our finances, Synergy Earth Global gave us the initial push and later on we got sponsorships from Chawla Aluminum, Ravi Motor Cycles, Honda Cars and FR Cables. Our message for the corporate sector is fairly simple: it's your corporate social respon-sibility to fund academic activities in addition to concerts, gigs, theatrical plays and sports. Only a healthy academic environment can take the country to the heights it is capable of.
Thrill Seekers (NED University of Engineering & Technology):
Research and development is not very common in this country. Companies were reluctant to sponsor our project because of the fear of failure. But Auvitronics, leading Toyota vendors, agreed to give us technical guidance in this project. Even Indus Motors (IMC) agreed to give us their services. Shell Eco Marathon has given us a glimpse of our professional life. Lastly, we urge the corporate sector to not discourage those who think `out of the box'. Support Research and Development and shed your fears about failures.
WinMark (NED University of Engineering & Technology):
We have introduced the Coast/Burn technique, our own creation. This controls petrol intake electronically. The learning experience in terms of manufac-turing, working together as a team from fabrication to painting and arranging finances at critical moments was fabulous. But we really want to request the corporate sector to please help the youth in making projects. There should be special funds for supporting students in these innovative projects, especially when we are representing Pakistan at an international level. Our innovations can also help Pakistan's corporate sector shine.