Pass the Baton: A more personal kind of recycling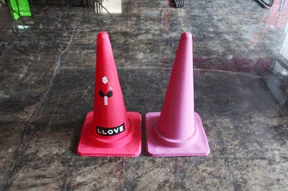 There are lots of ways to get rid of old stuff you don't care about. You can put it on eBay, take it to Goodwill, or just toss it out. But what about when you do care? How do you part with that sweater you got from your first girlfriend or the desk you used to write your novel?
In Japan, a new store called Pass the Baton, a "personal culture marketplace," is promoting a new kind of recycling that lets sellers pass on not just things, but also the stories behind them.
At the Tokyo store and an online web shop, buyers can find vintage clothing, furniture, and art; see pictures of the former owners (some of whom, like A Bathing Ape's NIGO, are design-world celebrities); and read personal anecdotes about the items. As a part of every transaction, the seller can also decide to donate a part of the proceeds to charity. It's like recycling, but more meaningful.
Shared by GOOD – GOOD is a collaboration of individuals, businesses, and nonprofits pushing the world forward.
Professor Invents a Solar-Powered Rainbow Machine
There are few things that everyone can agree upon, though one thing's for certain – everybody loves the sight of a big, majestic rainbow arching through the sky. But now, thanks to one clever professor, those colorful bands of light are even more assessable. Michael McKean, of the Virginia Common Wealth University, has spent the last 8 years working on his invention – a bona fide rainbow-making machine. And, just like its naturally occurring counterpart, these 'artificial' rainbows are produced in an eco-friendly way, too.
Some might wonder why the professor-turned-rainbow-maker would go to all the trouble to produce the colorful phenomena when nature displays them for free – but McKean insists he's expecting no pot of gold. A report from Inhabitat offers more details on what has been dubbed "The Rainbow Project":
McKean, a former resident at the Bemis Center and now a professor at Virginia Commonwealth University, has been conducting tests on rainbow creation since 2002.
The Rainbow Project uses a series of high-powered jet pumps and custom fountain nozzles to spray water into the air, creating the conditions needed for a rainbow to appear. The commercial irrigation equipment is timed in order to create a dense wall of water that mimics a rainstorm, and the sun does the rest of the work.
Sure, it seems simple enough — but McKean aims to make his specially produced rainbows just as low-impact as the real things. To make the arcs, the professor uses rainwater collected from rooftops and pumps them with the help of solar-energy – the natural refraction of sunlight through the water droplets does the rest.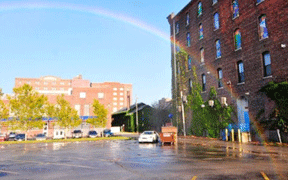 Beginning next June, McKean is intent on dispensing rainbows to the public, free of charge, twice a day for 15 minutes at a time.
No word yet if the professor has managed to pull off a double-rainbow, but I can think of at least one person who would really, really, really love to see it when he does.
Shared by TreeHugger, an online media outlet dedicated to driving sustainability mainstream