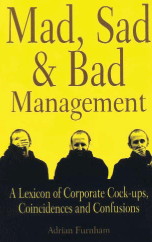 "I believe skepticism & doubt are the first steps to knowledge" says Adrian Furnham, author of the book Mad, Sad & Bad Management. This rather amusing and enlightening book includes an abundance of analyses on aspects of contemporary business and management. Its central theme is focused on incompetence rather than competence, stupidity rather than wisdom and insanity rather than sanity. Instead of painting a rosy picture about Business Management, this book takes a keen, rather than a pessimistic look at management practices, managers and management science.
The book commences with a bang! – An aperitif stating that the essays within the book all focus on people problems. The aperitif further describes the kind of people running businesses, as well as those working beneath these more often than not "difficult, demanding, deranged" senior managers. The author explains that people of a certain nature are attracted to particular sorts of jobs – "obsessives are attracted to 'check-jobs' like quality control, health and safety and so on". The section 'Under New Management' is quite an informative read as Adrian analyses the dramatic effect of a change of board in any business. The change usually always takes place at the top level, when quite suddenly the company sees an altered management team. Here the author draws comparison with what is imperative to ensure the smooth sailing of an oil tanker – "If a good manager puts in place procedures and processes that work, after a time, one has a smooth operation; a happy ship, a nicely tuned engine." Adrian goes on to suggest that new management usually overturns all policies, proceedings, processes and products of the previous boss in attempt to come across as unique and 'in charge from now on'.
The rest of the book is broken down like a dictionary with each chapter so-to-speak, beginning with a letter of the alphabet [A to Z]. Some fifty short essays of 800-2000 words on some characteristic of modern business or management can be found within these pages. The author explains that the source of inspiration for these essays are: [1] 'serious' academic literature on management [2] popular how-to-do-it books written by self-appointed experts [3] newspaper reports / magazine articles on managers and management by 'lazy journalists'.
The book covers aspects of management such as appraisal schemes, the ugly reality of business travel made to "look stylish, romantic, even exotic", creativity and how to measure it, culture change and how to manage it, fitting the right person to the job [or vice versa?], growth, development and getting wiser, guru babble [i.e. management science], how to manage holiday stress, whether integrity can be measured or not, job analysis, managerial courage or as Adrian describes it "people walking over hot coals", managing the under-performer, and managing the customer-facing employee who often deals and behaves with clients as his manager deals and behaves with him [a trickledown effect].
Adrian goes on to talk about the natural history of management fads, stating that stressed managers follow the age old trend of finding "cheap, quick and effective solutions to their intractable problems" never realizing that they don't exist. The author draws a parallel with food diets that never work. Adrian also writes about and criticizes references as a source of data companies rely on while selecting who they hire. He lists the seven secrets of a highly successful company.
The book similar to the Aperitif in the beginning, ends with a substantial digestif where the author describes four sub-civilizations which according to him dominate the business world – the Saxon, Teutonic, Gallic and Nipponic. He also dwells here upon corporate and national culture and how it may or may not affect competence within an organization. Adrian goes on to talk about the approaches used to describe culture and its impact – these he labels as the Categorical and Dimensional Approaches. In his section on Corruption and Incompetence Adrian ponders over and discusses whether it is possible to be competent in a corrupt organization or country. Of particular importance in this section is The 2001 Corruption Perceptions Table which is a corruption index published every year by various organizations. It reflects the degree to which corruption is perceived to exist among public officials and politicians – Pakistan is ranked as one of the most corrupt in this table, with a score of 2.3. Finland is listed as the least corrupt of all.
This is a book to be immersed into as a reader. The author, being a professor in psychology at the University of London, has delved more on the psychological effects of business management aspects. The reader must be warned that Adrian has challenged set business / management practices and forced one to think logically about what makes companies and the individuals working in them, competent.
The language used is witty, and at times sarcastic [maybe a tad too much in places!]. The book is an easy read, owing to the way it has been broken down. Overall the book is informative and may end up changing ones opinion on quite a few important aspects of business management. It may infuriate the reader at times, but it is guaranteed to educate also!