Microenterprises are synonymous to the unstructured, unregistered economy of the poor class. Despite little capital, few people and lack of technology, these businesses are built on hard work, niche markets and can fuel economic development. These enterprises however, mushroom only within the security of local community nets. Within the ambit of microenterprises, Geographical Indications (GIs) are of particular interest for various reasons.
According to the World Intellectual Property Organization (WIPO), "A geographical indication (GI) is a sign used on goods that have a specific geographical origin and possess qualities, reputation or characteristics that are essentially attributable to that origin. An appellation of origin (AO) is a special kind of GI, which is protected in accordance with international treaties and national laws under a wide range of concepts, including laws specifically for the protection of GIs or AOs, trademark laws in the form of collective marks or certification marks, laws against unfair competition, consumer protection laws, or specific laws or decrees that recognize individual GIs.
WIPO administers the number of international treaties dealing partly or entirely with the protection of GIs or Appellations of Origin (AO)s, more notably The Paris Convention for the Protection of Industrial Property (article 10 and 10ter), and the Lisbon Agreement for the Protection of Appellations of Origin and their International Registration. WIPO oversees the Lisbon System which offers protection to AOs through a single registration. Member States and interested organizations work with WIPO through the Standing Committee on the Law of Trademarks, Industrial Designs and Geographical Indications (SCT), to develop the international legal framework for GIs.
Irony of Sorts
"A child is using a swing in a public park. Instead of swinging backwards and forwards she swings from side to side by pulling on one chain first and then the other. A few days later, her parents receive a letter from the Intellectual Property Enforcement Agency, an arm of the police force. The letter states that their daughter was caught by a surveillance camera using a method of swinging that is the subject of a patent. The method has been claimed in a patent belonging to PlayPay Inc. Her parents are given the choice of paying a license fee or facing prosecution for patent infringement," write Peter Drahos and John Braithwaite in their book 'Information Feudalism Who owns the Knowledge Economy.
This is how developed countries are protective of their knowledge base. However, this is not where it ends. The US Patents and Trademarks Office (USPTO) on September 2, 1997, granted a patent to Rice Tec Inc. for deve-loping 'novel rice lines' with traits typical of basmati rice grown in Pakistan and India. If it wasn't for India, the patent would have remained with Rice Tec. What is more alarming is that Geographi-cal Indications (GI) such as these are not given importance in our country. To date, no serious effort has been made to register and contest the case of 'basmati' as native to Pakistan. On the other hand, the significance of this in India can be gauged by an article in Hindu of Sunday: "A GI certi-ficate means that only the rice grown in India will qualify to be called `basmati', thus conferring legal protection on the product and safeguarding against un-authorized use by other countries or producers, besides eliminating unfair competition for the benefit of genuine producers and consumers.
The process of registering basmati as a GI has great significance for India, particularly after the U.S. based RiceTec Inc. was granted a controversial patent in September 1997 on `Basmati Rice Grains and Lines.' And as of January 3, 2009, the Indian Minister of State for Commerce, Jairam Ramesh said, "We have now decided to actively safeguard our special agricultural products worldwide through APEDA that has been recently empowered by passage of the Agricultural and Processed Food Products Export Development Authority (Amendment) Bill, 2008, aimed at protecting IPR of special agricultural products including Basmati." He added that APEDA has already managed to get GI for 104 products, starting from Darjeeling tea in 2003.
The latest that we read from Pakistan was in Dawn (November 9, 2008) when Secretary (Exports), Ministry of Commerce, Azher Ali Chaudhry, met with Joint Secretary of the Indian Department of Commerce, Dinesh Sharma to discuss the possibility of registering Basmati rice as a joint GI despite proofs that the product historically originates from the Pakistan's Punjab. Un-fortunately, nothing materialized.
Such cultural, social and econo-mic infringements will continue to exist if left unnoticed and unchallenged.
A little research revealed that there is no existence of a framework in developing Micro and Small Enterprises (MSEs) in Pakistan. Amongst the 40 plus ministries there is a faint mention of microenterprises by the Ministry of Planning and Development and Finance. On the contrary, our neighbour India has a Ministry of Micro, Small and Medium Enterprises and its plans and programmes are accessible to the public through its website. All over the world MSEs are acknowledged as the fuel for any economy, but our government has not realized their criticality.
Germany is the largest economy within EU and its exports are over US$ 1,300 billion, among the highest in the world. Apparently, Germany is an industrialized country, but SMEs are officially termed as "the backbone" of German economy accounting for about 70 percent employment. Pakistan has a rich culture and heritage with unmatched folklore, traditional knowledge, artifacts, agricultural produce and other edibles. If given the due attention, GIs can help tremendously in promoting our heritage, and providing employment to millions of artisans, skilled workers and the marginalized poor.
Value Creation by GIs
NCCR Trade Regulation: Swiss National Centre for Competence in Research compiled, in March 2009, 7 case studies of Geogra-phical Indications in various parts of the world. It is interesting to note the tremendous contribution of the various GIs studied in the paper to the overall exports of their countries (see table below). Professor Bernard Lehmann, Head of the Agricultural Economics – Agri-food and Agri-environmental Economics Group of the Institute for Environmental Decisions (IED), ETH Zurich illustrated the value creation of GIs in socioeconomic and environmental context ( see diagram on next page).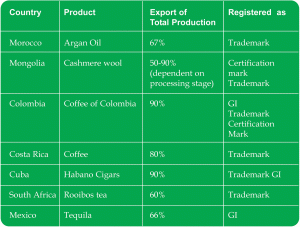 Value creation comes from pro-duct differentiation and its acceptability by final consumers with regard to its high quality and special association that is representative of its originality, region, people and processes. This acknowledgement of a product or anything for that matter being unique in its characteristics commands a premium price. Such is the case with GIs, where a written code of practice defined by the geographical area with legal protection by the government, formalizes the GI operators authorized production processes. Registration of GIs leads to protection rights at the national and international level and because of this, GIs lead a positive socioeconomic impact in the communities identified.
Mongolia is the second largest cashmere producer of the world followed by Iran, Afghanistan, South Africa, the United States, and Australia. Although the commercial performance of Mongolian Cashmere is unsatisfactory, this particular product provides income and employment to over a third of the Mongolian population.
Business Case for Pakistani GIs
No formal study or record has been maintained on the GIs of Pakistan. From a conservative listing there are more than 90 potential GIs waiting to be deve-loped from which a vast popu-lation can benefit directly and indirectly. Mr. Siddique Sheikh, Chairman of the CSR Standing Committee at the Federation of Pakistan Chamber of Commerce and Industry (FPCCI) notes that in Pakistan, GIs can be categorized as follows:

The examples given under each head are not exhaustive and shared for understanding purposes. Even if we start this quest to develop the GIs and pick up top ten potential GIs, thousands of households can benefit from it. These GIs serve as developers of Macro Economic Indicators. The need of the hour is to recognize them and give them their due status as they form the core of our culture and traditions. Otherwise, these GIs will diminish and become extinct, which is already apparent due to consumerism.
Developing GIs requires a multipronged strategy which includes:
Identification of GIs, traditional knowledge and folklore for the creation of a National Register;
Preservation of tradition and talent, augmented with technological advancements;
Familiarization and introduction of latest trends of the world;
Packaging as brands of Pakistan with the promise of quality and distinctiveness;
Documentation of standardized processes of the chosen GI's production;
Setting up of business kit entrepreneur funds, venture capital and fiscal packages which provide seed investment in developing the GIs;
Access to markets and elimination of middlemen by crea-ting outreach points, that is, one national and four provincial GIs emporiums;
International recognition through IPRs registration; and
Pakistanis should serve as ambassadors and ardent advocates of this brand.
As an organization development practitioner and consultant, I have learnt through my experience in working with different organizations, that, if people do not adopt, preserve and promote the strengths and uniqueness of their culture, processes and knowledge, then soon enough these are likely to die, become outmoded or replicated by someone else. And when this happens, clocks would have already turned. We must reflect, gather together, take action and own our identity before it's too late, and the time is now.