A recent study by global management consulting firm A.T. Kearney indicates that firms with "true commitment to sustainability" outperform industry peers in the financial markets. The study, called Green Winners: The Performance of Sustainability-Focused Companies During the Financial Crisis, found that in 16 of 18 industries, sustainability focused companies outperformed their peers by 15 percent in a six month period. The perfor-mance differential translated to an average of $650 million in market cap per company.
The big takeaway for me is seeing that the companies prospering now were the companies who embarked on this journey ten years ago, well before it became a media-worthy item. Now these companies have pulled ahead of the pack in terms of competitive advantage and are building momentum.
The report cited as an example a global consumer packaged goods company that "views sustainability as not just a philanthropic endeavour but a fundamental part of its business strategy." It began its sustainability efforts more than 10 years ago and has incorporated sustainability practices in every link of the value chain.
Despite increasing production volume by 76 percent since 1998, and over the same period reduced greenhouse gas emissions by 16 percent, water consumption by 28 percent and energy use by 3 percent, according to the report. In 2007, improvements in energy efficiency led to a $30 million savings. Over a 16-year period, the company saved more than $500 million by optimizing packaging volume.
And it's not just about savings
IBM has generated $500 million in new contract signings in 2 quarters from their Big Green initiative. Clorox is projecting $40 million in first year sales from its GreenWorks line.General Electric vowed to improve the energy efficiency of its operations by 4 percent a year and double its revenues from relatively clean products to $20 billion by 2010.
This is a trend that is not going away. If your business hasn't committed to baking in sustainability (and/or a social-good outcome that's more directly related to your business) into your business strategy, the mounting data on both consumer expectations and competitive advantage suggest that you will be left behind.
Kearney indicates that firms with "true commitment to sustainability" outperform industry peers in the financial markets. Companies that embraced sustainability before it became in vogue, now have the competitive advantage. These companies increased production volume while reducing greenhouse gas emissions, decreasing water consumption, optimi-zing packaging volume.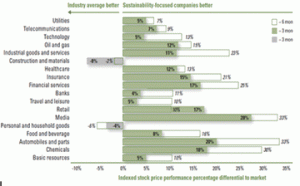 Note
This article has been printed in tbl with permission of The Green Economy Post.