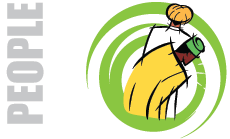 Greenwashing? Sandra Bullock Gets Duped by Big Oil's Restore the Gulf Campaign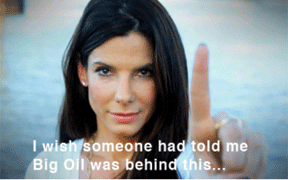 Something's Not Right With This Campaign
Not long ago, many celebrities got together to make a PSA for the "Be The One" campaign, urging people to sign a petition to save the Gulf of Mexico on the website RestoreTheGulf.com (very similar to the government's website at RestoreTheGulf.gov, which might have caused confusion). This all seems good, until you look at the fine print and dig below the surface… Which is what DeSmogBlog did. It turns out that the campaign's sponsors are "America's WETLAND Foundation", a front group for oil companies (Shell, BP, Chevron, ExxonMobil, etc), and "Women of the Storm", a Louisiana group with strong ties to America's WETLAND (the founder of the former is married to the chairman of the latter). Read on for more details.
Are They Trying to Have Taxpayers Pay for BP's Mess?
Now aside from the fact that this campaign has been put together by groups funded by Big Oil or with Big Oil ties, the main problem of the campaign is that it seems to be suggesting that taxpayers need to pay for the restoration of the Gulf of Mexico, not BP and the other oil companies and sub-contractors responsible. Nowhere in the petition or in the campaign's press material are oil companies mentioned, and the petition is extremely vague. The full text (if there's one) doesn't seem available on the website. All you see is this:
"I demand that a plan to restore America's Gulf be fully funded and implemented for me and future generations."
This seems to imply that the petition will be used to try to pressure the U.S. Government to pay for this, sticking taxpayers with the bill (or at least part of it). The oil companies would certainly like you to Be The One for that!
Sandra Bullock Disowns the Campaign
The website Think Progress has contacted Sandra Bullock's people to let her know about this, and her reaction was to immediately disown the campaign, at least until it can be determined that it wasn't greenwashing. Her statement says:
Ms. Bullock was originally contacted through her attorney to be a part of the PSA in order to promote awareness of the oil spill in the Gulf of Mexico. At no time was she made aware that any organization, oil company or otherwise had influence over Women of the Storm or its message. We have immediately asked for her participation in the PSA be removed until the facts can be determined. Her commitment to the Gulf region has been apparent for many years and she will continue to pursue opportunities that will bring awareness and support to the plight of the Gulf region.
There's little doubt that Ms. Bullock and the other celebrities who appear in this campaign had very good intentions, and I wouldn't be surprised if after Bullock's public statement others were to follow suit and withdraw their support. The oil groups were pretty subtle (unless you look at America's WETLAND's sponsor page, that is), and that's
probably why it work. They didn't come out clearly to defend oil companies, and they didn't explicitly say that the taxpayers should pay for the restoration of the Gulf, but they are still trying to shift blame and take themselves out of the equation as much as possible.
Shared by TreeHugger, an online media outlet dedicated to driving sustainability mainstream.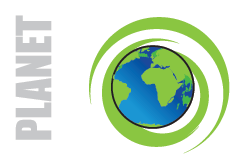 Alaska Airlines, Boeing Create Regional Initiative for Sustainable Aviation Fuels
Alaska Airlines, Boeing (NYSE: BA), Portland International Airport, Seattle-Tacoma International Airport, Spokane International Airport and Washington State University Monday announced a strategic initiative to promote aviation biofuel deve-lopment in the Pacific Northwest.
The first regional assessment of its kind in the United States, the "Sustainable Aviation Fuels Northwest" project will look at biomass options within a four-state area as possible sources for creating renewable jet fuel.
The comprehensive assessment will examine all phases of developing a sustainable biofuel industry, including biomass production and harvest, refining, transport infrastructure and actual use by airlines. It will include an analysis of potential biomass sources that are indigenous to the Pacific Northwest, including algae, agriculturally based oilseeds such as camelina, wood byproducts and others. The project is jointly funded by the participating parties and is expected to be completed in approximately six months.
"The Pacific Northwest is a global gateway for people, cultures and commerce and aviation is a vital contributor to that process," said Boeing Commercial Airplanes CEO Jim Albaugh. "Developing a sustainable aviation fuel supply now is a top priority both to ensure continued economic growth and prosperity at regional levels and to support the broader aim of achieving carbon-neutral growth across the industry by 2020."
The assessment process will be managed by Climate Solutions, a Northwest-based environmental non-profit organization, which will align the effort to sustainability criteria developed by the Roundtable on Sustainable Biofuels. The project objective is to identify potential pathways and necessary actions to make aviation biofuel commercially available to airline operators serving the region.
The project will begin in July with a kickoff meeting, followed by additional meetings throughout the assessment process. The group of biomass producers, refiners, airport operators, environmental and government organizations, airlines, academic representatives and Boeing will address issues such as scale, commercial viability and environmental considerations.
"Washington State University is uniquely poised to tackle this project," said John Gardner, WSU vice president of economic development and global engagement. "It's critical that understanding and policy keep pace with the science and technology as we shape this next era of biofuels that we are convinced will be sustainable."
Because biomass sources absorb carbon dioxide while growing and can have higher energy content than fossil-based fuel, their increased efficiency and use as aviation biofuel could potentially save millions of tons of aviation greenhouse gas emissions. Air travel currently generates approximately 2% of man-made carbon emissions, and the industry has set aggressive goals to lower its carbon footprint, including the use of aviation biofuel when it becomes available.
In December 2009, Seattle-based AltAir Fuels announced a Memorandum of Understanding (MOU) with 14 major airlines to negotiate the purchase of up to 750 million gallons of renewable jet fuel and diesel derived from camelina and produced by AltAir Fuels. The renewable fuel, to be produced at a new facility in Anacortes, Wash., would replace about 10% of the petroleum fuel consumed annually at Seattle-Tacoma International Airport, reducing carbon emissions by about 14 billion pounds over 10 years.
Source: Sustainablebusiness.com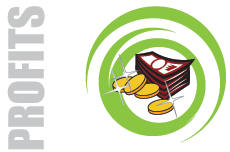 New Power Capacity from Renewables Tops Fossil Fuels SustainableBusiness.com
In 2009, for the second year in a row, both the U.S. and Europe added more power capacity from renewable sources such as wind and solar than from conventional sources like coal, gas and nuclear, according to twin reports launched today by the United Nations Environment Programme and the Renewable Energy Policy Network for the 21st Century (REN21).
Renewables accounted for 60% of newly installed capacity in Europe and more than 50% in the USA in 2009. This year or next, experts predict, the world as a whole will add more capacity to the electricity supply from renewable than non-renewable sources.
The reports detail trends in the global green energy sector, including which sources attracted the greatest attention from investors and governments in diffe-rent world regions.
Investment in core clean energy (new renewables, biofuels and energy efficiency) decreased by 7% in 2009 to the value of $162 billion. Many sub-sectors declined significantly in money invested, including large (utility) scale solar power and biofuels.
However, there was record investment in wind power. If spending on solar water heaters, as well as total installation costs for rooftop solar PV, were included, total investment in 2009 actually increased in 2009, bucking the economic trend.
New private and public sector investments in core clean energy leapt 53% in China in 2009. China added 37 gigawatts (GW) of renewable power capacity, more than any other country.
Globally, nearly 80 GW of renewable power capacity was added, including 31 GW of hydro and 48 GW of non-hydro capacity.
China surpassed the U.S. in 2009 as the country with the greatest investment in clean energy. China's wind farm development was the strongest investment feature of the year by far, although there were other areas of strength worldwide in 2009, notably North Sea offshore wind investment and the financing of power storage and electric vehicle technology companies.
Wind power and solar PV additions reached a record high of 38 GW and 7 GW, respectively. Investment totals in utility-scale solar PV declined relative to 2008, partly a result of large drops in the costs of solar PV. However, this decline was offset by record investment in small-scale (rooftop) solar PV projects.
The reports also show that countries with policies encouraging renewable energy have roughly doubled from 55 in 2005 to more than 100 today–half of them in the developing world–and have played a critically important role in the sector's rapid growth.
The sister reports, UNEP's Global Trends in Sustainable Energy Investment 2010 and the REN21's Renewables 2010 Global Status Report, were released by UN Under-Secretary-General Achim Steiner, UNEP's Executive Director, and Mohamed El-Ashry, Chair of REN21. The UNEP report focuses on the global trends in sustainable energy investment, covering both the renewable energy and energy efficiency sectors. The REN21 report offers a broad look at the status of renewable energy worldwide today, covering power regene-ration, heating and cooling and transport fuels, and paints the landscape of policies and targets introduced around the world to promote renewable
energy.
Source: Sustainablebusiness.com