The very first homicide in the history of mankind took place in Syria. Qabil (Kane), the elder son of Prophet Adam killed his younger brother Habil out of jealousy and wandered around for several days not knowing what to do with the corpse. Eventually the Creator sent down 2 crows to Earth where Qabil was and before his eyes one crow killed the other, then dug a grave and buried the killed one under a pile of stones. Qabil got the message and followed suit, burying Habil on a hilltop very near to where the Syrian border today meets with the borders of Lebanon and Israel, with the infamous Golan Heights looking down solemnly on a steady stream of religious tourists who come to pay homage.
And so from this sad historic fact the city of Damascus, considered to be the oldest continually habited city in the world, got its name. Dam meaning blood and Shak meaning to tear apart – a reference to the earth tearing apart when the blood of Habil was spilt. Over time Damshak became Damishk in Arabic and Damascus in English.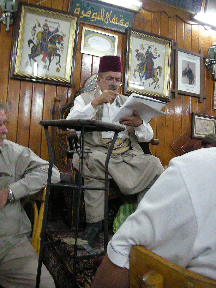 Damascus today is a far cry from its violent and tragic beginning. It is a peaceful city, with gentle and friendly people inhabiting it. It is also one of the safest cities in the world, where anyone, including single women and children can roam around alone at literally any hour of the day or night without a hint of harassment, of any sort. Shopkeepers and street vendors will routinely leave their wares unattended to go off for prayers or even for a quick chore and no one will even consider touching any of the wares, leave alone make off with anything.
The city, as can be expected, teems with history. The 20 feet long grave of Habil is just one of many religious sites to visit. Another notable place is the Ashab-e-Kahf, the cave to which 7 Christian youths had retreated around the year 250 AD, to escape the persecution of an anti-Christian despot and went to sleep for 309 years according to Islamic tradition.
The actual site on a hill over-looking Damascus is reached with some effort and frankly at the end turns out to be rather disappointing. For over the Cave and all around it, there is crowded construction, housing low income families. To see the actual Cave you enter a building, climb some steps, go into a flat and through a couple of rooms, and then enter a small room the sides of which are rock faces, indicating that the room and the building has been constructed on what was once a rocky hill with a cave in it. The veracity of this being the 'real thing' is also disputed as there are also claims that the 'real' Ashab-e-Kahf is in Turkey or in Jordan. Nevertheless this claimed site in Damascus is regularly visited by religious tourists, who are hassled for alms by a local woman, presumably a resident of the flat which has become the thoroughfare to reach the Cave.
The greatest religious site in Damascus is of course the shrine of Bibi Zaynab, the grand-daughter of the Holy Prophet.
Hundreds of thousands if not millions of devotees from all over the world visit Bibi Zaynab's shrine throughout the year to pay their respect to this great lady of Islam. It is a serenely inspiring place in spite of the constant flow of pilgrims, who then go on to visit other shrines in Damascus, including those of Hazrat Bilal and two wives of the Holy Prophet, Bibi Umm e Salma and Bibi Umm e Habiba.
If you have even a basic knowledge of early Islamic history, you cannot but feel greatly moved when performing all these ziarats, because you feel as if you have gone back in time some fourteen hundred years and history is being written in front of you. It's a profound feeling difficult to name exactly. Awe perhaps is one ingredient.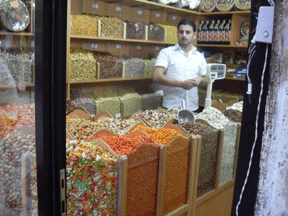 The feeling of going back in time stays with you in large parts of Damascus, as there is a lot of history all around. A portion of the city is still walled, with the crumbling-in-parts wall being several hundred years old. Inside the wall is a maze of undulating cobbled streets, lined with ancient stone houses, picturesque and packed wall to wall.
It is mostly a walking only area with only the rare car of a resident with a special permit allowed to drive in the streets. Some of the meandering streets are quite narrow, as is typical in a lot of old cities and residents have stretched a metal mesh over the street from side to side, and grown grapevines that in large parts cover the mesh completely.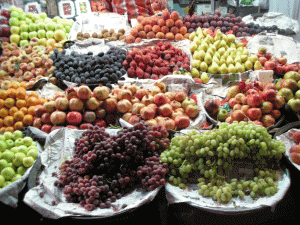 So you stroll gently along the cobbled streets, under the grapevine canopy, looking at the small shops on either side, full of character and great charm. An antiques shop here, an art gallery there. Fabrics in one, hand-knotted carpets in another, of high 'must-have' appeal! The shopkeepers are pleasant and helpful, relying more on gentle persuasion rather than the hard sell. There are tea-houses and coffee places too, where patrons may sit inside or on small tables outside, sipping kava and thoughtfully pulling on a shisha.
On the flight over to Damascus with my family, I read an intriguing article in the in-flight magazine about one such tea-house in the old walled city, which featured daily in the evenings, the last living storyteller in Syria. It sounded fascinating and we decided that going to this tea-house was a must during our stay in Damascus. And one evening we did.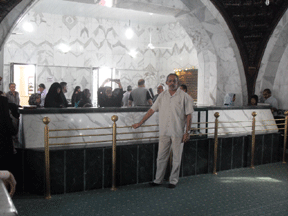 What an experience it was! Perched on a carved wooden chair on a small stage set in the middle of the back wall inside the Al Nawfara Cafe, Rashid Al Halak Abo Shadi, the last living storyteller in Syria was in full flow when we reached there a little late. Reading out a story from a yellowed book in an ancient dialect even the locals were hard pressed to understand, the storyteller had his jam-packed audience held in rapt attention.
It was obvious that the mixed crowd of Western tourists, Arabs of various nationalities and a fair sprinkling of loyal locals understood the story being told from nothing at all to more than a fair bit, with perhaps no one understanding it all. But it didn't matter, for more than the story was the drama Abo Shadi created, with his vocal intonations, piercing eyes, gesticulating hands and overall body language. Sitting there, soaking in the colourful, mystical ambience, you could well have been in Damascus of a few centuries ago.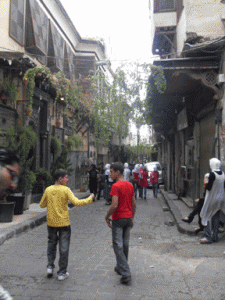 There is a new Damascus too, with elegant, tree-lined boulevards and architecturally appealing apartment blocks, obviously for the ell-heeled. Modern shopping malls and 5-star hotels are sprinkled in this area, but pretty as it is, new Damascus does not have the magic and timelessness of the old city. Damascus is certainly a city one would like to visit again, even for a longer duration. For it would be quite worthwhile to use Damascus as a base and then explore other historic cities in Syria, and even drive over to neighbouring Lebanon.