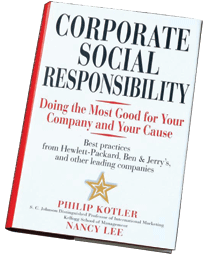 By Philip Kotler & Nancy Lee
All across the world corpo-rations are learning and perhaps the hard way – that success and failure is measured not just by how much money they make in terms of profits, but also by how much effort they make to stand up to their social respon-sibility as a "good corporate citizen". Corporate Social Responsibility is the buzz word in today's corporate world. But whatever is CSR?
The authors define the term as: "A commitment to improve community well-being through discretionary business practices and contributions of corporate resources". The earliest impre-ssions that the book makes on the mind of the reader is that "Corporate Social Responsibility" is not just about some kind of vague theories but supports all that it preaches with practical applications. Labelling the book as "a Bible for today's corporate citizen"- as the publisher does on the flap of the book- may be stretching it a bit too far, but "Corporate Social Responsibility", does provide thoughtful answers to a number of vital questions on how a corporation could do most good for itself and its cause.
Authors Philip Kotler, one of the world's foremost voices on business and marketing and Nancy Lee, President of Social Marketing Services Inc., put their heads together to come up with 25 best practices, assembled to guide decision making in the area of corporate social responsibility. Given the methodical expla-nations on how to apply theories to practice, it might just about be right for the authors to conclude: "It is in the end, intended to help maximize the return on discretionary corporate investments, resulting in efforts that do the most social, environmental and economic good".
The authors hope that by applying the ideas presented in the book, business leaders would learn how to align their business goals with cultural and social ones; choose social issues and charities to support; gain employee support; implement successful initiatives and evaluate their efforts. The book includes first-person stories from twenty-five business leaders of the business world's most admired companies. One corporate executive expresses his appreciation of the work by stating: "Corporate Social Responsibility makes a compelling case that corporate community engagement and maximizing profit are not mutually exclusive, but rather mutually reinforcing".
The thrust of the opening pages identify six major initiatives under which most social responsibility-related activities fall. These include cause promotions; cause-related marketing; corporate social marketing; corporate philanthropy; community volun-teering and socially responsible business practices.
These six corporate initiatives are individually and elaborately discussed in the later chapters, all of which are condensed in the overwhelming idea of the book, namely: "How to do the most good for one's company as well as for a cause". The authors also caution against "potential concerns", which in no way means to discourage the cause, but to identify and reflect upon that side as well.
The book does not leave the readers in the dark but also leads them to "key to success" by citing examples of how corporate giants such as Microsoft; IBM; Body Shop; Ford Motor Company; Hewlett-Packard, Shell Australia, Cisco, Coca-Cola, Motorola and scores of others were able to ride out the challenges.
Few of the top names on Fortune 500 may have been missed, where examples are concerned, which shows the amount of research that the authors must have done. In a book, which essentially must be dry for a reader, there are spots of good humour. In regard to one of the six initiatives, the authors remind the reader that historically, companies' educating campaigns have reflected the founder's social consciousness and have been considered controversial by some, funny by others and inspiring to many.
The book mentions a Cole Corporation advertisement in late 1980's which read: "Our shoes aren't the only thing we encourage you to wear". And those words are accompanied by a graphic of a condom! The book proves to be a professional and practical work of people who understand the subject and know how to convey the ideas. In writing the book, the authors have in mind corporations and their communication agencies and foundations and public sector agencies seeking corporate support and partners for social initiatives. It is intended to guide decision making for corporate managers and executives; besieged on a daily basis with requests and proposals for
support of social causes.
For corporate executives who understandably are busy-bees and may not be able to turn over each of the 307 pages to read the book, the authors have thoughtfully provided a couple of paragraphs of "summary" at the conclusion of each chapter. The final chapter of the book lists ten recommendations under the head: "A Marketing Approach to Winning Corporate Funding and Support for Social Initiatives". These provide valuable guidance to corporate executives of all ranks and file.
"For many years, community development goals were philanthropic activities that were seen as separate from business objectives, not fundamental to them; doing well and doing good were seen as separate pursuits. But I think that is changing. What many of the organisations that are represented here today are learning is that cutting-edge innovations competitive advantage can result from weaving social and environmental considerations into business strategy from the beginning. And in that process, we can help develop the next generation of ideas and markets and employees".
Carly Fiorina
Excerpt from Chapter 1.