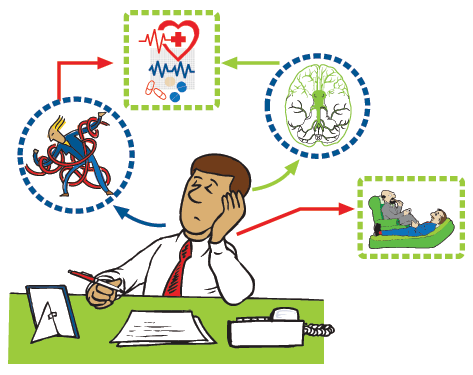 A safety culture is directly dependent on the attitude of employees towards safety – proposes Attock Refinery Limited (ARL). Below it presents an initiative to encourage, promote and instill safe behaviour among its employees, in this case, through the introduction of behavior-based safety concepts and customized process control solutions.
The most commonly used definition of safety culture was coined by the U.K. Health and Safety Commission: "The product of individual and group values, attitudes, perceptions, competencies, and patterns of behaviour that determine the commitment to, and the style and proficiency of, an organization's health and safety management"
Some researchers are increasingly focusing on attitudes when defining safety, states Glendon et al, while others emphasise that safety culture is expressed through employees' behaviour and work activities.
Human behavior is a complex subject as it is linked not only to the work-place environment but is influenced by a number of external factors. On the premise that a safety culture is largely dependent on employees' attitudes towards safety, ARL initiated a study to measure, analyze and control unsafe behaviour in the workplace. In spite of safety management systems, policies and procedures, incident data shows that majority of misfortunes and accidents in the workplace are triggered by employees' attitude, perceptions and patterns of behaviour such as proclivity to take shortcuts and intuitive-based decisions, bypassing Standard Operating Procedures (SOPs).
Health Safety Environment Quality System
ARL is a Refinery that began its operations in 1922, and its 85 year existence has seen it transformed into a state-of-the-art facility incorporating a mix of the old and the new in its hardware.
Following the establishment of its HSE department in 2005, now called the HSEQ Department, ARL had an independent third-party safety audit done by DuPont in 2006 in order to gauge where it stands vis-Ã -vis international best practices, and subsequently use international benchmarks as a basis for making improvements in the organization's HSEQ systems.
The DuPont Audit yielded an excellent evaluation of ARL's systems, as well as a road map for attaining higher conformance with international benchmarks. The first recommendation, which was immediately implemented, was to form a Central HSE Committee chaired by the CEO. The Behavior and System Audit (BSA) Subcommittee was formed to manage the behaviour audit process, track timelines and ensure quality and follow-ups.
ARL Behaviour and System Audit Subcommittee
The BSA, in 2007 carried out a thorough analysis of two years incidents and investigation data and identified that most workplace incidents occur due to unsafe and uninformed behaviour, persistence of inherited traditional beliefs and overconfidence of workers. A need was also felt to develop a tool to put all the data into a systematic format suitable for analysis, and for subsequent development of correctional plans.
The BSA first reviewed the behaviour audit systems of different industrial organizations and analyzed the feasibility of their adoption and implementation at ARL. Eventually, however, BSA developed an in-house question-naire on "Behavioral Safety at Workplace", which was used as a basis for ARL's behaviour-based study.
The questionnaire was based on the Cornell Selectee Index, a question-naire designed to indicate the presence of emotional maladjus-tment, which can be answered by a 'yes' or 'no'. Each question is aimed at revealing the presence of some emotional difficulty, maladjustment tendency, or psychosomatic reaction. In addition to this the Thurstone equal-appearing interval scale was adopted to collect opinions, ranging from very positive to very negative about a certain object, person and activity.
A Ground-based Approach to Safety Management
Traditionally, safety management has been top-down driven, with a tendency to make line managers responsible. This means that floor level workers are most likely to engage in unsafe behavior or to be hurt as they are detached from the safety improvement process. A behavioural-based safety approach is 'bottom-up' so that those who are most likely to be hurt are actively engaged in eliminating the occur-rence of unsafe behaviours. Without the entire workforce's involvement, ownership of, and commitment to the process, such initiatives are most likely to fail.
In the petroleum refining business, even a minor lapse/unsafe beha-vior by employees or contractors has the potential to lead to total disaster. Organizational efficiency is also hampered by the fact that we have inherited a number of beliefs and behaviour patterns from bygone and simpler days.
The results of a well-planned and implemented behavioural safety system can lead to inculcating workforce stewardship of safety systems, lesser accidents or incidents, near misses and property damage, acceptance of the safety systems and increased reporting of defects, near misses, and accidents.
ARL Behavioural Study
ARL developed a customized behavioural assessment tool to gauge employees' behaviour. A psychoanalysis of about 188 employees working in plants, crude and product-handling departments specifically. Operations, Maintenance and HSEQ departments were initially targeted through the customized workplace questionnaire and one-on-one interviews. 19 cross-departmental interviewers were selected from different disciplines to allow the interviewee to answer candidly. Standardized questioning style and recording techniques in a warm and accepting environment were followed to eliminate biases.
The questionnaire comprised of 32 questions divided into the following 8 categories: attitude towards safety within the department; personal attitude towards safety; working conditions at workplace; supervisor attitude to worker safety; job loyalty shown by the employee; mployees attitude and commitment towards safety;
training provided /needed; and employees' view of HSEQ department
Data Analysis
The answers to the 32 questions were given a score ranging from 1 to 4, keeping in view the criticality and nature of the category and ARL's safety culture. The employees' scores were calculated as a whole, as well as for each of the eight areas.
A benchmark was obtained by alloting numbers to the highest scores in each of the eight areas with the highest number attached to the desired safety behaviour. A final benchmark of '76' was fixed for the most desirable safety behavior.
After getting quantitative data for 188 employees, the scores were categorized into four grades.
Therapy and Counselling Needed
The results of this study revealed that 23 percent of the employees had a score equal to or less than 60 and require ARL's immediate attention and therapy and counseling to avoid any misfortune. Majority of the employees – 73 percent – had a score between 60 and 76 (grade B) and required group therapy.
Summarized Results of Behavioural Safety Study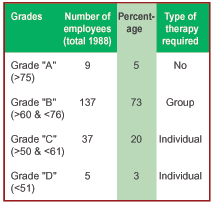 Ensuing Actions Taken
The findings of the study were used by ARL to prioritize training needs for groups of workers, based on their behavioural patterns. The study identified and revealed employees' attitudes, behavioural patterns and potential to engage in unsafe behavior.
Based on these results, ARL carried out subsequent planning and developed customized training programmes and individual/group therapies, which are continually used in ARL, to rectify negative behavioural aspects of personality.